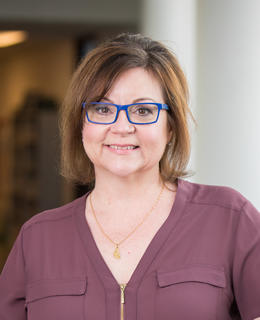 Professor
Werklund School of Education, Specialization, Counselling Psychology
Program Chair
Counselling Psychology
Registered Psychologist
---
Background
Educational Background
Doctor of Philosophy Counselling Psychology, University of Calgary, 2003
M.S. Counselling Psychology, University of Calgary, 1998
B.S. Psychology, University of Calgary, 1994
Biography
Dr. Russell-Mayhew is a professor and registered psychologist with a research program in the prevention and treatment of eating and weight-related issues. Dr. RM's research is unique in that it (a) focuses on the prevention of eating-related issues particularly in school contexts; (b) considers the risk and protective factors that integrate the prevention of eating disorders and obesity with the promotion of mental health wellness and resiliency ; (c) uses mixed methodological designs to capture both process and outcome in an ecological framework; and (d) capitalizes on interdisciplinary knowledge from both participants and the research team.
The primary objective of Dr. Russell-Mayhew's research program is to lead and transform research about weight-related issues like body image (perceptions, attitudes, and experiences about the body), disordered eating (e.g., unhealthy methods of weight change), weight-related disorders (e.g., obesity and eating disorders) and professional conversations and interactions about weight (e.g., weight bias). Body weight and body image (feelings and perceptions about our bodies) are both important to well-being and healthy development. Her research is informed by clinical and research experience in interdisciplinary team contexts, as well as linkages between her work in academia and committee work with policy-makers and community partners.
Her professional journey working with weight-related issues is influenced and fueled by a deeply personal and sometimes troubled relationship with her own body. No one is immune to the cultural discourses about weight. In her work, she reflects on the personal, professional and political 'situatedness' of her research and aspires to embody the change she wishes to see in the world.
Professional & Community Affiliations
Dr. Russell-Mayhew holds membership in a number of professional organizations including: Canadian Counselling and Psychotherapy Association, Canadian Psychological Association (CPA), Canadian Obesity Network, Eating Disorder Association of Canada and the Academy for Eating Disorders (AED). She is the past treasurer for the counselling psychology subsection of CPA, and former co-chair of the special interest group in prevention for AED.
Research
Areas of Research
Scholarly Activity
Body Image Research Lab
Dr. Russell-Mayhew's Body Image Research Lab is unique in the field of education and increasingly influential amongst colleagues. Modelled on science and medicine labs, Russell-Mayhew uses a nested model of supervision where post-docs contribute to the supervision of doctoral students who in turn contribute to the supervision of master's students. This creates dozens of collaborative and interdisciplinary teams working together to advance knowledge and impact. Dr. Russell-Mayhew is a nationally recognized supervisor (UCalgary Graduate Research Supervision Award 2018 and Canadian Psychological Association Feminist Mentor Award 2018), having supervised to completion 47 graduate students (36 masters/11 doctoral) and 7 postdocs. Her trainees have won major national awards, including a CIHR Banting Postdoctoral Fellowship. Six of my seven former postdoctoral scholars are currently in tenure-track assistant professor positions in North America. Russell-Mayhew's translation of the methods of research organization and supervision to the field of education is significantly impacting both the research and practices of other educational researchers. Best practices have been translated across school boards, public health agencies, and other health organizations (i.e., Alberta Education approved Body Image Kits; Canadian Public Health Association report on childhood obesity).
Dr. Russell-Mayhew's Body Image Research Lab provides opportunities for (a) collaboration on existing data sets and research projects; (b) contributions to research supervision of undergraduate and master's students; (c) participation in within- and across- faculties research team meetings on interdisciplinary projects and across universities on provincial and national projects; and (d) dissemination opportunities both written and oral in individual and group contexts. Dr. Russell-Mayhew create a research milieu that is a collaborative learning experience for her students, capitalizes on their individual strengths, provides opportunities to be mentored and be a mentor, creates interdisciplinary skills, and is directly in line with the future career objectives of each student. Her supervision follows a scientist-practitioner model and involves intensive individual supervision as well as at least monthly group supervision in the lab.
Interests:
Body image
Collaborative, school-based research
Counselling and health issues
Eating disorders
Obesity
School-based prevention programs
Mental health and well-being
Risk and protective factors
Developmental wellness and resiliency
Weight bias
Participation in university strategic initiatives
Projects
Current:
Dr. Russell-Mayhew is a national leader in mental health research and translation, bridging the gap between the eating disorder and obesity fields to find integrative and preventative interventions. Through skillful integration of social and medical sciences, and deep collaboration with practitioners, Dr. Russell-Mayhew has changed how we understand the effects of weight bias on mental health. She is leading a transformation in wellness teaching and practice.
2021. Update for the Podclass: Conversations on school health lecture series from EDUC 551. Werklund T&L Support Grant. ($1500)
2021. Interpreting the complexity of body image in adolescent and young adult cancer survivors. SSHRC Insight Development. ($71,255) CO-INVESTIGATOR. NPI: Alana Ireland. Co-I: Nancy Moules; Collaborator: Michael Lang.    
2021. Measure what matters: Identifying key indictors to align health and social policy and service delivery with child health and well-being. BMO Endowed Research Award in Healthy Living the Branch Category of the Child Health and Wellness Grand Challenge Catalyst Fund ($199, 709). CO-PRINCIPAL. NPI: Brent Hagel CoPIs: Jennifer Zwicker, Kelly Schwartz, Lynden Crowshoe, Health Boynton; Co-Is: Gina Dimitropoulos, Suzanne Tough, Amy Metcalfe, Deinera Exner-Cortens.
2021. Werklund School of Education Special Request Fund Grant. Exercise clothing for those living in large bodies: Equity of access and representation ($2,000) Supervisor; Co-PIs: Maxine Myre and Oliver Wilson.
2020. Eyes High Postdoctoral Match-Funding Program, University of Calgary. Pandemic perspectives – Weight-related issues and concerns among youth ($25,000). Supervisor; PDS Maxine Myre.
2020. How does communication of COVID-19 risk factors influence weight stigma? Faculty of Education COVID-19 Emergency Research Fund ($5 000), University of Victoria. Co-Applicant. PI: Dr. Sarah Nutter.
2020. UCalgary Teaching and Learning Development and Innovation Grant. $7500. From Plenaries to Podcasts: Advancing Student Learning in EDUC 551. PRINCIPAL. (Co-applicants: Kerri Murray, Louise McClelland, Sarah Nutter, Jessica Saunders).
2019. SSHRC Partnership Engage Grant. $18, 305. Policy, Practice, and Partnership: Comprehensive School Health in School Communities. PRINCIPAL. (Co-Applicants: Palliser School District; Kupery, Cranston, Alberta Health Services; McKernan, Wierl).
2018. SSHRC Insight Grant. $59,940. Weight of the World: Expert Conceptualizations of the Complexities of Weight. PRINCIPAL. (Co-Applicants: Drs. Nancy Moules and Andrew Estefan).
Awards
UCalgary Teaching and Learning Award for Full-Time Academic,

2019

WSE Community Engagement Award,

2019

Canadian Psychological Association Feminist Mentorship Award,

Canadian Psychological Association .

2018

UCalgary teaching and Learning Award for Educational Leadership (Group),

2018

UCalgary Teaching and Learning Award for Graduate Research Supervision,

2018

WSE Research Excellence Award,

2018

Canadian Guidelines for the Management and Prevention of Obesity,

2019

Werklund Research Professor Werklund School of Education,

Werklund School of Education.

2020
More Information
Comprehensive School Health Online Hub (https://cshhub.com) is both a directory for wellness resources in K-12 educational spaces and a repository for post-secondary wellness resources. This online hub is a digital repository of CSH resources for post-secondary institutions and a central place for uploading and downloading resources and for collaboration across institutions. In this way, course materials, outlines, classroom activities, case studies, lesson plans, assignments, reading materials, journal articles, and other successes build collaboratively, allowing other BEd programs to accelerate their timeline in implementing this work. Reciprocally, the our team learns from experts across Canada in terms of signature pedagogies and successful teaching practices.
The PodClass: Conversations on School Health is a podcast series with professionally edited interviews. The 25 experts we talk with cover over 20 topics concerning school health. As a podcast series, it is available through the HUB website (registration required) and Spotify, Apple, and other podcast platforms where anyone can access it for free. The PodClass presents content to be consumed outside of class time, as a flipped pedagogy that has replaced block week and lecture content previously presented in EDUC 551 face-to-face offerings. Our team wanted students to be able to participate in course content in a way that enabled them to concurrently do something that improved their own wellbeing such as walking, cooking, exercising or resting. As part of more recent offerings of EDUC 551, there are assigned podcast episodes that are discussed and applied to teaching practice and philosophy in smaller student groups during lab sections.
Building Healthy School Communities is a free, 4-part online course that lays the foundations for understanding wellbeing in the context of education settings. The intended audience is in-service or pre-service teachers who can access the course through the CSH Online Hub (registration required). The course consists of four modules: conceptualizing wellbeing, wellness in education settings, introduction to CSH, and sources of health information. The entire course takes approximately 90 minutes to complete and includes a number of additional readings and resources that participants are encouraged to access. Each section contains a short multiple-choice quiz to test the learner's knowledge and it graded automatically.
Select Recent Media:
Russell-Mayhew, S. (November 2021). Now innovating: A research-to-impact podcast. Episode 8: Innovation done differently with Dr. Shelly Russell-Mayhew. www.ucalgary.ca/innovation-podcast
Russell-Mayhew (Fall 2021). Podcast. Weight-neutral health promotion in schools. Teacher Fan Club. https://open.spotify.com/episode/57Hg7wpyY0UBIKTGo7t7rp
UCalgary Blogs. Teaching and Learning. Flipped Classroom
http://flipped.ucalgaryblogs.ca/2021/10/08/educ-551-comprehensive-school-health-and-wellness/
EdCanRadio. Well At Work Podcast. (May 2021).  Body Image and the Alberta PE and Wellness Curriculum https://voiced.ca/podcast_episode_post/body-image-and-the-alberta-physical-education-and-wellness-curriculum/
RealTalk with Ryan Jesperson (May 11, 2021). Live zoom interview https://www.youtube.com/watch?v=UYlymlaiJMc
CBC news and radio (May 6 ,2021). Alberta's draft K-6 health and wellness curriculum promotes disordered eating habits, experts warn https://www.cbc.ca/news/canada/calgary/alberta-draft-health-wellness-curriculum-eating-habits-1.6013847
The EdCan Network Announces it 2020-2021 Advisory Council.
EdCan Network. Well at Work Podcast: July 2020. How should we be talking about weight in schools? https://www.edcan.ca/articles/weight-in-schools/
EdCan Network. Well at Work Podcast: July 2020. It takes a village: A comprehensive school health approach to well-being. https://www.edcan.ca/articles/it-takes-a-village
The Conversation (August 4, 2020). Are we over weight yet? New guidelines aim to reduce obesity stigma in health care. https://www.google.com/search?client=safari&rls=en&q=conversation+canada+are+we+over+weight+yet&ie=UTF-8&oe=UTF-
Obesity Canada. Weight bias, mental health, and COVID-19 Webinar: July 2020.
https://obesitycanada.ca/snp/upcoming-oc-snp-covid-19-webinar/
The Conversation. January 2019. How weight bias is harming us all. https://theconversation.com/how-weight-bias-is-harming-us-all-107352