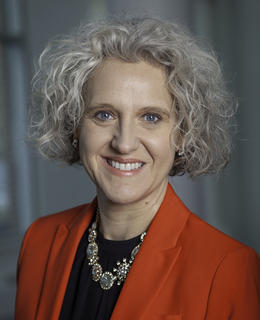 Sandra Davidson, PhD, MSN, RN, FAAN
Positions
Dean (on RSL leave until Jan 1, 2024)
Faculty of Nursing, Dean's Office
Professor
Faculty of Nursing, Faculty
Background
Credentials
PhD, Gonzaga University, 2011
MSN, Gonzaga University, 2001
BN, University of Lethbridge, 1996
Registered Nurse Diploma, Lethbridge Community College, 1994
Biography
Dr. Sandra Davidson was appointed as Dean of the Faculty of Nursing at the University of Calgary in August 2018. Dr. Davidson joined UCalgary from the University of Alberta, where she served as the Associate Dean for Undergraduate Programs (ADUP) in the Faculty of Nursing. She joined the University of Alberta in 2013 and assumed this administrative role in mid 2016. In her role as ADUP she oversaw the largest portfolio within the faculty. Dr. Davidson co-led the Curriculum Renewal Project that resulted in a renewed undergraduate curriculum that launched in fall 2018.
She has served in a variety of positions in the United States, including Dean of Nursing and then Senior Director of Academic Affairs for Carrington College based in Phoenix, Arizona, and as the Director, Master of Healthcare Innovation Program Arizona State University. Dr. Davidson is originally from Lethbridge Alberta, and has considerable practical experience as a nurse before entering an academic career. She is well known in each position she has been for her entrepreneurial thought and creative innovation.
Dr. Davidson has also served as the Organizational Development and Clinical Education Specialist for Cancer Treatment Centers of America (CTCA) in Goodyear, Arizona. In this position she worked with the Vice-President of Patient Care Services and nursing staff to implement and evaluate an innovative adaptable care delivery model on the inpatient oncology unit. She has served in a wide range of academic and practice environments that span private, for-profit; private, not-for profit; and both large and small public universities.
Davidson obtained her PhD in Leadership Studies from Gonzaga University in 2011. She earned her Master of Science in Nursing at the same institution in 2001 and received her Bachelor of Nursing from the University of Lethbridge in 1996. Prior to that, she received her Registered Nurse Diploma from Lethbridge Community College in 1994.
Research
Areas of Research
Chronic disease and aging, Undergraduate student socialization to the care of older adults, Teaching and learning, Simulation