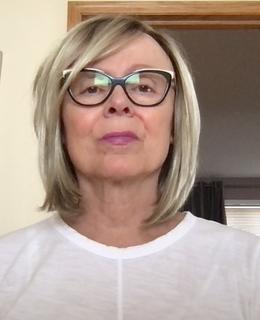 Dr. Pamela Banting, BA, Cert Ed, MA, PhD
Background
Educational Background
B.A. English Literature and Philosophy, University of Manitoba, 1976
Cert Ed Secondary Education , University of Manitoba, 1977
MA English, University of Manitoba, 1986
PhD English, University of Alberta, 1990
Research
Areas of Research
Environmental Literature, Nature Writing, Eco-Theory and Ecocriticism
I have been working on North American (particularly Canadian) nature writing, environmental literature, ecocriticism, and eco-theory for over twenty years. 
I was honoured to be the first non-American elected to serve on the Executive Council of ASLE.
I was the principal organizer in creating and setting up ALECC, the Canadian sister organization to ASLE. 
Petrocultural Studies
This new area of study and research is referred to, variously, as petrocultural studies, oil cultures, petrocriticism, and/or the energy humanities. I am currently working on thinking about the subsurface -- the underground and under foot -- and about decolonization of our extractive relationship with the earth. I'm interested in theory, fiction, literary nonfiction, and poetry about energy, extraction, fossil fuels, fossils, fracking, bitumen, climate change, etc.
Literature and Culture of the Anthropocene
What will the world be like in the very near future? Will we have a sufficiently stable climate, abundant clean water, healthy food, energy, and sociopolitical cohesion to live in relative security? How will plants and wild animals fare? How does it feel to be alive during the current Sixth Great Extinction? During the Anthropocene? Which new (and old) ideas, stories, ethics, and practices might help us live on, and which ones do we need quickly to dismantle or abandon? How does literature and the arts and humanities more broadly help us envision alternate ways of living? How can interdisciplinary approaches be incorporated into our practices in the arts, humanities and social sciences? Can we relearn the value of community following decades of neoliberalism and globalization? 
I teach courses and have conducted research on and am interested in theories and literature of the Anthropocene, climate change, bioregionalism, community, energy, indigeneity, traditional ecological knowledge, subjectivity, food and food security, water, infrastructure, pandemics, animals and animality, extinctions, materiality, plastic, carbon, slow violence, activism, resilience, and the important role played by the arts and humanities with respect to all of these issues. How, in short, can we develop healthier relationships with the ecosystems that underwrite our existence?
Psychogeography: The Literature of Walking and Other Forms of Motion
Psychogeography; walking in literature and art; epic journeys, pilgrimages; hiking, kayaking, cycling, and other narratives of outdoor movement; the figure of the flaneur; walking with other-than-human animals; motion; feet, boots and shoes; journeys and/as activism; landscape as text / reading the land; and much more. 
Multispecies Studies
Recent research in the arts and humanities in the areas of animal studies, plant studies, extinction studies, fungi, and rethinking the mineral have given rise to the field of multispecies studies and fascinating new interdisciplinary methodologies for scholarly investigation.  How does it feel to be a tree, a bird or a chimpanzee adopted and raised like a human boy in a suburb? Are plants "intelligent"?  Does a form of life have to be conscious in order to be intelligent? What constitutes consciousness?  How can we rethink animacy?  How does humanism blind us to the lives of other forms of life and living?
Participation in university strategic initiatives
Courses
| Course number | Course title | Semester |
| --- | --- | --- |
| ENGL 426 | Selected Topics in Literary Theory (Animal, Vegetable, Mineral) | Fall 2022 |
| ENGL 517 | Psychogeography in the Wild | Fall 2022 |
| ENGL 253.05 | Introduction to Nonfiction | Winter 2023 |
| ENGL 309 | Introduction to Literature and the Environment | Winter 2023 |
Publications
"Anim-Oils: Wild Animals in Petro-Cultural Landscapes.".

Pamela Banting. On Active Grounds: Agency and Time in the Environmental Humanities, eds. Mario Trono and Robert Boschman. (2019)

The ontology and epistemology of walking: Animality in Karsten Heuer's Being Caribou: Five Months on Foot with an Arctic Herd.

Pamela Banting. Greening the Maple: Canadian Ecocriticism in Context, eds. Ella Soper and Nicholas Bradley. (2013)

"Ecocriticism in Canada." .

Pamela Banting. The Oxford Handbook of Canadian Literature. ed. Cynthia Sugars. 727 - 754. (2015)

"Geography as Intertext: Toward a Non-Representational Reading of Thomas Wharton's Novel Icefields." .

Pamela Banting. Process: Landscape and Text, eds. Catherine Brace and Adeline Johns-Putra. . (2010)

"Magic is Afoot: Hoof Marks, Paw Prints and the Problem of Writing Wildly." .

Pamela Banting. Animal Encounters. eds. Tom Tyler and Manuela Rossini.. 27 - 44. (2009)

"H2Ocean: The Wet Ontology and Blue Ethics of Sue Goyette's Ocean." .

Studies in Canadian Literature 45.2 (2021). 122 - 140. (2021)

"Suddenly." Article on Canada in the Anthropocene. .

The Otter, the NICHE (Network in Canadian History and Environment) . (2018)

Fresh Tracks: Writing the Western Landscape.

Pamela Banting, ed.. Polestar. 350 pp.. (1998)

Body Inc.: A Theory of Translation Poetics.

Pamela Banting. Turnstone Press. 250 pp.. (1995)

The Papers of Dorothy Livesay.

Pamela Banting, Kristjana Gunnars. Archives and Special Collections, University of Manitoba. 419 pp.. (1986)

"From Beowulf through Virginia Woolf to the Coastal Wolves of British Columbia: Animals, Interdisciplinarity and the Environmental Humanities." .

The Goose 18.2 . 1 - 10.. (2020)

"Walking Through Lightning: A Peripatetic Bioregional Reading of a Novel.".

PAN: Philosophy, Activism, Nature 12. 179 - 94. (2016)

"Becoming Fish: Settler Deeds, Salmon Resistance, and Multi-Species Accords in Gail Anderson-Dargatz's The Spawning Grounds".

Banting, Pamela. Studies in Canadian Literature 47.1. 73 - 94. (2022)