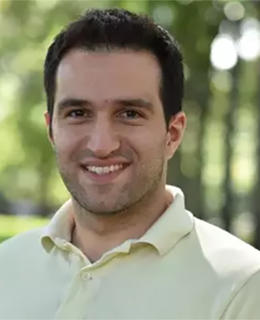 Dr. Omid Haji-Ghassemi
Positions
Full Member
Libin Cardiovascular Institute
Background
Educational Background
Ph.D Biochemistry, University of Victoria, 2015
B.Sc. (Honours) Microbiology, University of Victoria, 2009
Biography
I moved from Norway to pursue post-secondary education in Canada in 2005. I completed a BSc (with honours) in Microbiology at the University of Victoria in 2009, and subsequently pursued a PhD in Biochemistry under the guidance of Dr. Stephen Evans at the same institution. During this time I used a number of different methods including X-ray crystallography, Mass Spectrometry, and ELISA to study the structure and function of antibodies that bind a wide range of novel targets. In total I determined the structures of >20 different antibodies, and a number of different carbohydrate-binding proteins and enzymes. I joined the lab of Dr. Filip Van Petegem in 2016 at the University of British Columbia as a postdoctoral fellow. There I mainly employed X-ray crystallography and single particle cryo-EM to answer fundamental questions about ion channel regulation. Haji-Ghassemi completed his postdoctoral work at the University of British Columbia before joining University of Calgary faculty in 2022.

In my spare time, I enjoy being outdoors, playing soccer, running, and hiking.
Research
Areas of Research
Protein kinase regulation of ion channels at neuromuscular junctions
Disease Mechanisms
Structural Biology
Activities
Our lab is interested in uncovering the molecular mechanisms of under-studied enzymes, called kinases, which play a critical role in regulating different biological mechanisms, including the beating of our hearts.
Although these enzymes are critical to normal cardiovascular and neurological function, their dysregulation may lead to numerous diseases, such as cancer, Alzheimer's disease and many heart conditions.
It's the connection to disease that we are especially interested in. The goal of our work long-term is to develop novel therapeutic tools that alter the activities of protein kinases that underlie disease.

Specifically, our lab will focus on protein kinase targeting of ion channels. Ion channel proteins form molecular gateway that opens and closes in response to electrical, chemical or mechanical signals, allowing cellular communication that are important in many physiological processes.

Our lab makes use of structural biology tools, like X-ray crystallography and single particle cryo-electron microscopy, that allow us to visualize individual atoms of proteins and form new hypothesis regarding their biological function.

Teaching interests
I teach courses on ion channels, proteins, and enzymes. I also enjoy teaching about methods and tools we use in structural biology and protein biochemistry.
Libin Cardiovascular Institute
I have also recently been welcomed as a researcher at the Libin Cardiovascular Institute, focusing on molecular mechanisms behind heart, skeletomuscular and neuronal diseases (read UToday news article).
Participation in university strategic initiatives