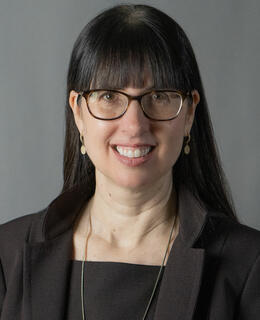 Nathalie Jette, MD MSc FRCPC FAAN FAES FANA
Positions
Professor and Department Head
Cumming School of Medicine, Department of Clinical Neurosciences
Full Member
Hotchkiss Brain Institute, Brain and Mental Health Research Clinics Initiative
Zone Clinical Department Head
Alberta Health Services
Background
Credentials
MD, University of Ottawa,
MSc Neurosciences, McMaster University,
FRCPC Neurology, University of Ottawa,
Fellowship Epilepsy, Columbia University,
Biography
Nathalie Jette, MSc, MD, FRCPC is a Professor of Neurology and Head of the Department of Clinical Neurosciences (neurology, neurosurgery, physical medicine & rehabilitation and translational neuroscience) at the University of Calgary and in the Calgary Zone of Alberta Health Services.
She rejoined the University of Calgary in her current leadership role in May 2023 from the Icahn School of Medicine at Mount Sinai (ISMMS) in NY where she was the Bludhorn Professor of International Medicine and Vice Chair for Clinical Research Neurology. She was also Chief of the Division of Health Outcomes and Knowledge Translation Research across the ISMMS health system. She is a health services researcher and an epileptologist.
She is past President of the Canadian League Against Epilepsy (CLAE), past Chair of ILAE North America of the International League Against Epilepsy (ILAE) and Chair of the ILAE Standards and Best Practice Council. She is a member of the CLAE, ILAE and American Epilepsy Society executive committees and a member of the WHO mhGAP Guideline Development Committee. She is Associate Editor for Epilepsia the leading international epilepsy journal and sits on the editorial board of JAMA Neurology. She has published over 300 peer reviewed articles and her work has been cited more than 29,000 times. She has been the recipient of over 50 research, teaching and clinical awards, including the ILAE Ambassador for Epilepsy Award in 2017.
As part of her research program, she studies appropriateness and quality-of-care, disparities in care, health outcomes (especially surgical) and psychiatric comorbidities, and determines how best to optimize these outcomes in people living with epilepsy and other neurological conditions. Her team uses a variety of data sources (e.g., electronic health records, administrative data, registry data) and statistical approaches to study neurological outcomes and to develop prediction tools and decision models to help clinicians provide the best possible care to persons living with epilepsy and other neurological conditions. She is also involved in knowledge translation research (including development of e-tools and apps) to enhance the dissemination of evidence-based practice to improve neurological care.
She maintains an active inpatient epilepsy practice within Alberta Health Services. Her ultimate goal as a department leader, researcher, teacher and clinician is to make sure that people living with neurological conditions receive timely, appropriate and cost-effective quality care.
Research
Areas of Research
Epilepsy
Activities
Health services research, neuro-epidemiology, outcomes research, translation research
Participation in university strategic initiatives