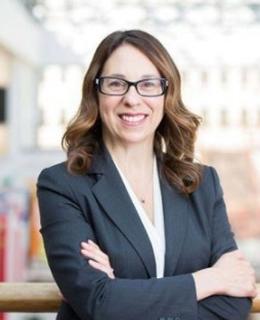 Positions
Professor
Haskayne School of Business, Organizational Behaviour and Human Resources [OBHR]
Senior Associate Dean
Haskayne School of Business, Research & Faculty
Future Fund Professor in Equity Diversity and Inclusion
Haskayne School of Business
Background
Educational Background
Bach of Comm Accounting, University of Calgary, 2001
Doctor of Philosophy Management, Queen's University, 2006
M.S. Management, Queen's University, 2002
Biography
Dr. Sandy Hershcovis is the Future Fund Professor in Equity, Diversity, and Inclusion at the Haskayne School of Business. Her research focuses on sex-based harassment, workplace mistreatment, and employee well-being. In particular, she is currently interested in bystander intervention on workplace harassment. Her research is funded by the Social Sciences and Humanities Research Council of Canada.
In 2020, Sandy was inducted as a member of New Scholars, Artists, and Scientists of the Royal Society of Canada, and in 2021 she was elected as a Fellow of the Society of Industrial and Organizational Psychology. Sandy has published her research in leading journals in her field, including the Academy of Management Review, Academy of Management Annals, Journal of Applied Psychology, and the Journal of Management.
Sandy has provided expert testimony on workplace harassment cases before House of Commons and Senate committees aimed to introduce policy and law related to workplace harassment. Furthermore, she has provided expert witness testimony on a number of legal cases (both civil and criminal) related to sexual, racial, and other forms of workplace harassment. She has presented her research to a number of organizations, including the Alberta Network of Immigrant Women and the Canadian Forces and Department of National Defense.
Sandy joined Haskayne in 2015. She holds a PhD and an MSc in Management from Queen's University, and a BComm from the University of Calgary.
Research
Areas of Research
Workplace Bullying, Sexual Harassment, Equity, Diversity, and Inclusion
Awards
Fellow,

Society of Industrial and Organizational Psychology.

2021

Member of College of New Scholars, Artists and Scientists,

Royal Society of Canada.

2021
Publications
Understanding Perpetrator Reactions to Bystander Intervention in Interpersonal Workplace Aggression.

Vranjes, I., Lyubykh, Z, Hershcovis, M.S., & Caza, B.B.. Academy of Management Review. (2023)

Mitigating or Magnifying the Harmful Influence of Workplace Aggression: An Integrative Review.

Zhong, Rui, Huiwen, L., Hershcovis, M.S., & Robinson, S.L.. Academy of Management Annals. (2022)

A Meta-Analysis of Leadership and Workplace Safety: Examining Relative Importance, Contextual Contingencies, and Methodological Moderators.

Lyubykh, Z., Turner, N., Hershcovis, M.S., Deng, C.. Journal of Applied Psychology. (2022)

The embodiment of insult: a theory of biobehavioral response to workplace incivility.

Cortina, L.M., Hershcovis, M.S., Clancy, K.B.H.. Journal of Management. (2021)

See no evil, hear no evil, speak no evil: Theorizing network silence around sexual harassment.

Hershcovis, M.S., Vranjes, I., Berdahl, J.L., Cortina, L.M.. Journal of Applied Psychology. (2021)

Observer reactions to workplace mistreatment: It'sa matter of perspective.

Reich, T.C., Hershcovis, M.S., Lyubykh, Z., Niven, K., Parker, S.K., Stride, C.B.. Journal of Occupational Health Psychology. (2021)

Employee performance and abusive supervision: The role of supervisor over‐attributions.

Lyubykh, L., Bozeman, J., Hershcovis, M.S., Turner, N., Shan, J.V.. Journal of Organizational Behavior. 125-145. (2021)

Social and situational dynamics surrounding workplace mistreatment: Context matters.

Hershcovis, M.S., Cortina, L.M., & Robinson, S. L. Journal of Organizational Behavior, 41. 699-705. (2020)

The effects of confrontation and avoidance coping in response to workplace incivility.

Hershcovis, M.S., Cameron, A.F., Gervais, L., & Bozeman, J. Journal of Occupational Health Psychology, 23. 164-174. (2018)

Witnessing wrongdoing: The effects of observer power on incivility intervention in the workplace.

Hershcovis, M.S., Neville, L., Reich, T.C., Cortina, L.M., Christie, A. & Shan, J. V. . Organizational Behavior and Human Decision Processes, 142. 45-57. (2017)

When fellow customers behave badly: Witness reactions to employee mistreatment by customers.

Hershcovis, M.S. & Bhatnagar, N.. Journal of Applied Psychology, 102. 1528-1544. (2017)

Observing Workplace Incivility..

Reich, T.C. & Hershcovis, M.S. Journal of Applied Psychology, 100. 203-215. (2015)

Integrating workplace aggression research: Relational, contextual, and method considerations..

Hershcovis, M.S. & Reich, T.C.. Journal of Organizational Behavior, 34 (S1). 26-42. (2013)

Incivility, social undermining, bullying...Oh my! A call to reconcile constructs within workplace aggression research..

Hershcovis, M. S. Journal of Organizational Behavior. 32. 499-519. (2011)

Comparing victim attributions and outcomes for workplace aggression and sexual harassment..

Hershcovis, M.S., & Barling, J.. Journal of Applied Psychology. 95. 874-888. (2010)

Moderating effect of equal opportunity support and confidence in grievance procedures on sexual harassment from different perpetrators.

Hershcovis, M.S., Parker, S.K., Reich, T.C. Journal of Business Ethics, 92. 415-432. (2010)

Towards a multi-foci approach to workplace aggression: A meta-analytic review of outcomes from different perpetrators.

Hershcovis, M.S. & Barling, J. Journal of Organizational Behavior, 31. 24-44. (2010)