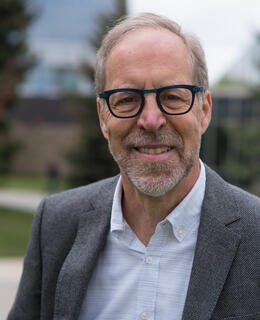 David C Hodgins, PhD., R.Psych. FCAHS FRSC
Positions
Associate Member
Hotchkiss Brain Institute
Full Member
Mathison Centre for Mental Health Research and Education
Adjunct Professor
Cumming School of Medicine, Department of Psychiatry
Background
Credentials
Psychologist, College of Alberta Psychologists,
Educational Background
B.A. Psychology, Carleton University, 1981
Doctor of Philosophy Psychology, Queen's University, 1987
M.A. Psychology, Queen's University, 1983
Research
Areas of Research
Activities
I am associated with the Program of Clinical Psychology as a core faculty. This accredited program provides doctoral level training in clinical psychology using a scientist - practitioner model. My research is focused on a number of aspects of addiction including understanding the process of recovery from gambling and substance abuse addictions. This line of research includes treatment research exploring the mechanisms underlying brief motivational treatments for gambling problems as well as applied research focusing on increasing treatment-seeking among affected individuals.
In addition, I am interested in understanding the functional relationship between addiction and other mental health comorbidities (e.g., depression and alcohol disorders, behavioural addictions).
Participation in university strategic initiatives
Awards
Great Supervisor- Faculty of Graduate Studies,

2018

Killam Annual Professor,

The University of Calgary.

2017

Cognitive and Behavioural Therapy Expert,

2012

2010 Scientific Achievement Award,

National Center for Responsible Gaming.

2010

Excellence in Supervision Award,

Psychologists Association of Alberta.

2011

Excellence in Supervision Award, Psychologists Association of Alberta,

2011

Lifetime Research Achievement Award,

National Council on Problem Gambling.

2011

Scientific Achievement Award, US National Center for Responsible Gaming,

2010

Distinguished Research Award- Faculty of Social Sciences,

The University of Calgary.

2005

Distinguished Research Award, Faculty of Social Studies, University of Calgary,

2004

Outstanding Achievement in Supervision Award - Faculty of Graduate Studies,

The University of Calgary.

2004

Outstanding Achievement in Supervision Award, Faculty of Graduate Studies, University of Calgary,

2004

First Runner-up, President's Award, M.A. Dissertation Competition,

Ontario Psychological Associations.

1984

Doctoral fellowship,

Social Sciences and Humanities Research Council of Canada (SSHRC).

1986

Ontario Graduate Scholarship,

Province of Ontario.

1983

In course scholarship,

Carleton University.

1981

Senator Frank Carrel Graduate Fellowship,

Queen's University at Kingston.

1982

Summer undergraduate research award,

Natural Sciences and Engineering Research Council of Canada (NSERC).

1981

Fellow,

Canadian Academy of Health Sciences.

2020

Fellow,

Amercian Psychological Association.

2020