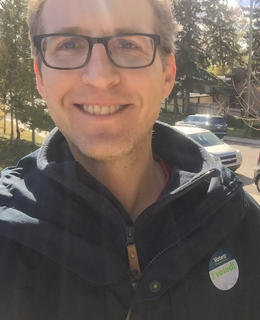 Charles Tepperman
Background
Educational Background
PhD Cinema and Media Studies, University of Chicago, 2007
M.A. Film Studies, Carleton University, 2000
B.A. Cinema Studies, University of Toronto, 1998
Research
Participation in university strategic initiatives
Courses
| Course number | Course title | Semester |
| --- | --- | --- |
| FILM 321 LAB 01 B01 | History Of Popular Cinema | Fall 2022 |
Projects
Amateur Movie Database Project
Amateurcinema.org is an online resource for learning more about the history of amateur moviemaking.
---
International Amateur Cinema Between the Wars (1919-1939): Amateur Movie Database Partnership Project
SSHRC Partnership Development Grant (Primary Investigator and Project Director), 2020-2023. Project partners: University of Calgary, Ryerson University, Concordia University, University of East Anglia, Università degli Studi di Udine, Filmoteca de Catalunya. 
---
Fashion Interpretations: Dress, Medium & Meaning
AHRC (UK) Networking Grant (Project participant; PI: Rebecca Arnold, Courtauld Institute), 2019-2021
---
Extending an Alternative Film History: Amateur Movie Database International Partnership Pilot Project (Basque Films Project)
University Research Grants Committee (University of Calgary) Partnership Seed Grant (Primary Investigator), 2018-2019. Project partner: Elías Querejeta Zine Eskola.
---
Film Production Culture in Canada: Case Study of a Creative Producer
SSHRC Insight Development Grant (Primary Investigator), 2015-2017
---
Mapping an Alternative Film History: A Database of Significant Amateur Films (1928-1971)
SSHRC Insight Grant (Primary Investigator), 2015-2018
Awards
GREATSupervisor Award,

University of Calgary.

2020

Faculty of Arts Research Award (Established Scholar),

University of Calgary.

2016

Kraszna-Krausz Book Awards - Shortlisted,

2015

Society for Cinema and Media Studies Dissertation Award,

2008
Publications
Canadian Cinema in the New Millennium.

Charles Tepperman and Lee Carruthers, eds.. McGill-Queen's University Press. (2022)

Dossier: The Complex Materialities of Amateur Cinema: Texts, Archives and Digital Methods.

Charles Tepperman. Screen, Volume 61, Issue 1, Spring 2020. 119-128. (2020)

'A Recognized Screen': The New York Little Movie Parties from Parlor to Public.

Charles Tepperman. Film History, Vol. 30, No. 1: 2018. 58-85. (2018)

Albert Tessier's 'Gloire à l'eau'.

Charles Tepperman. University of Calgary Press. 104-107. (2018)

'All the Wonderful Possibilities of Motion Pictures': Hiram Percy Maxim and the Aesthetics of Amateur Filmmaking.

Charles Tepperman. Indiana University Press. (2017)

Bureaucrats and Movie Czars: Canada's Feature Film Policy Since 2000.

Charles Tepperman. Media Industries Journal. 4.2 (Fall 2017). (2017)

Amateur Cinema: The Rise of North American Moviemaking, 1923-1960.

Charles Tepperman. Berkeley: University of California Press. (2014)

Uncovering Canada's Amateur Film Tradition: Leslie Thatcher's Films and Contexts.

Charles Tepperman. Cinephemera: Archives, Ephemeral Cinema, and New Screen Histories in Canada, edited by Zoë Druick and Gerda Cammaer. Montreal: McGill-Queen's University Press,. (2014)

Color Unlimited: Amateur Color Cinema in the 1930s.

Charles Tepperman. Color and the Moving Image, edited by Simon Brown, Sarah Street and Liz Watkins. London: Routledge. (2012)

Mechanical Craftsmanship: Amateurs Making Practical Films.

Charles Tepperman. Useful Cinema, edited by Charles Acland and Haidee Wasson. Durham: Duke University Press.. (2011)

Stolen from the Realm of Night: Modernity, Visual Culture and the Reception of Cinema in Ottawa.

Charles Tepperman. Canadian Journal of Films Studies, 18.2 (Fall 2009).. 2-25. (2009)

Digging the Finest Potatoes from their Acre': Government Film Exhibition in Rural Ontario.

Charles Tepperman. Hollywood in the Neighbourhood: Historical Case Studies of Local Moviegoing, edited by Kathryn H. Fuller-Seeley, University of California Press. (2008)