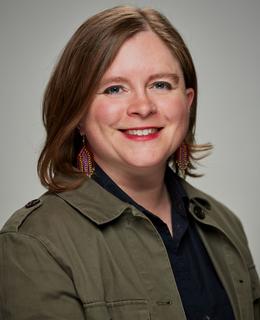 Dr. Aubrey Hanson, BA, BEd, MEd, PhD
Positions
Associate Professor
Werklund School of Education
Background
Educational Background
Doctor of Philosophy Educational Studies in Curriculum and Learning, University of Calgary, 2017
M.Ed. Sociology and Equity Studies in Education / Women's and Gender Studies, University of Toronto, 2008
Bachelor of Education Secondary Education, University of Toronto, 2004
Bachelor of Arts English, Honours, University of Victoria, 2001
Biography
Aubrey Jean Hanson is a member of the Métis Nation of Alberta and grew up in Calgary. Her ancestors trace back to Métis, German, Icelandic, French, Scottish, and English communities. Aubrey earned a BA (Honours) in English from the University of Victoria. She graduated from her BEd at OISE/UT and subsequently taught for the Toronto District School Board while completing her MEd at OISE/UT. After returning to Calgary, Aubrey taught in the Calgary Board of Education and then completed a PhD in Curriculum and Learning here at the University of Calgary. She joined the Werklund School of Education as a faculty member in 2015. Aubrey's research spans Indigenous literary studies, curriculum studies, and Indigenous education, looking in particular at how Indigenous literary arts can precipitate relationships between non-Indigenous learners and Indigenous resurgence.
Professional & Community Affiliations
Dr. Aubrey Hanson is Métis and is the Director of Indigenous Education for the Werklund School of Education. She Co-Coordinates the MEd Interdisciplinary Option Indigenous Education: A Call to Action. She has served as an Executive member of the Indigenous Literary Studies Association (ILSA), on the Alberta Métis Education Council, and as the President of the Canadian Association for the Study of Indigenous Education (CASIE), a constituent association of the Canadian Society for the Study of Education (CSSE).
Research
Areas of Research
Scholarly Activity
Aubrey Hanson's research focuses on the relationships between Indigenous literatures, education, and the resurgence of Indigenous communities. She investigates how the imaginative work of the Indigenous literary arts matters to Indigenous peoples' ongoing efforts to sustain healthy communities. In this work, she focuses on gender, sexuality, resilience, and urban space in relation to Indigenous literary arts.
Interests:
Anti-oppression education
Cultural studies
Curriculum studies
First Nations, Metis and Inuit education
Gender studies
Indigenous studies
Interpretive research
Language arts
Lesbian, gay, bisexual transgender and queer studies
Social justice and equity in education
Courses
| Course number | Course title | Semester |
| --- | --- | --- |
| EDER 78304 LEC 01 01 | Adv Topics Curriculum & Learn | 2021 |
| EDUC 435 SEC 09 S09 | Literacy, Language and Culture | 2021 |
| EDUC 530 SEC 32 S32 | Indigenous Education | 2020 |
| EDER 69320 LEC 02 02 | Interpretive Study of Curric | 2021 |
| EDUC 530 SEC 01 S01 | Indigenous Education | 2020 |
Projects
Current:
Indigenous Creativity and Presence in the City: Unsettling and Reframing Calgary (SSHRC Insight Development Grant)
Books to Build On: Indigenous Literatures for Learning (Indigenous Strategy Grant & WSE Intercultural Capacity Grant)
Oo'mahn'istay Iikakimaaks: You've Got a Story - Next Steps to a New Beginning (Werklund School of Education, Welcoming Indigenous Students to Campus)
Investigating Student Experiences Learning in Indigenous Education with and through the Land (Teaching and Learning Grant)
Awards
Experiential Learning Project in Sustainability Award,

University of Calgary Sustainability Awards.

2020

F.E.L. Priestley Prize,

Association of Canadian College and University Teachers of English (ACCUTE).

2019

Award for Teaching in Online Environments,

University of Calgary Teaching Awards.

2018

Top 40 Under 40,

Avenue Magazine.

2017

Award for Indigenous Ways of Knowing,

University of Calgary Teaching Awards.

2022