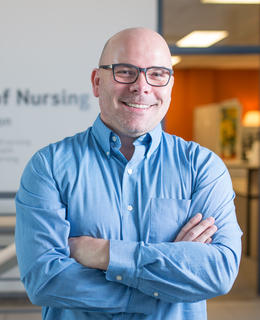 Andrew Estefan
Positions
Associate Professor
Faculty of Nursing, Faculty
Associate Dean - Curriculum Development & Program Evaluation (on leave)
Faculty of Nursing
Background
Educational Background
PhD Nursing, Griffith University, 2008
MN Nursing, Griffith University, 2003
BN Nursing, Griffith University, 2001
Diploma Nursing Sciences Mental Health Nursing, University of Southampton, 1993
Biography
Dr. Andrew Estefan joined the Faculty of Nursing in 2008. Since this time he has taught undergraduate, master's and doctoral students in the areas of philosophy, research methods, and mental health/psychiatric nursing. Between 2014 and 2016 he served in the role of Associate Dean, Teaching and Learning. Before coming to Calgary, Dr. Estefan taught in nursing, health and social care programs in Australia and the United Kingdom.
His research program focuses on narrative inquiry and he has published work relating to narrative practice and pedagogy in postsecondary undergraduate and graduate learning. He was the recipient of the inaugural University Teaching Award for assistant professors in 2014 and is a member of the Teaching Academy at the Taylor Institute for Teaching and Learning at the University of Calgary.
Dr. Estefan's program of research inquires at the intersections of sexuality, gender, and people's experiences of mental health and illness. His research work in narrative inquiry and philosophical hermeneutics, alongside faculty colleagues, has been published extensively; he supervises numerous master's and doctoral students undertaking narrative and hermeneutic studies.
His teaching, research, and scholarship have been recognized with international awards from the American Educational Research Association.
Research
Areas of Research
Self-injury and suicide, Gender, sexuality and identity, Narrative inquiry, Interpretive methodologies, Psychotherapeutic interventions, Therapeutic relationships
Courses
| Course number | Course title | Semester |
| --- | --- | --- |
| NURS 605 SEC 01 S01 | Phil Knowledge & Adv Nurs Prac | 2020 |
Awards
Early Career Award,

The American Educational Research Association.

2015 American Education Research Association Outstanding Publication Award,

2015

University of Calgary Teaching Award,

2014

Covenant Health Faculty of Nursing Teaching Excellence Award,

2013
Publications
Narrative Inquiry.

Vera Caine; D. Jean Clandinin; Andrew Estefan. Sage. (2019)

Stephen's Story: A Culture Infused Perspective of Life-Making in Therapeutic Work with Transgender Clients.

Robert A Roughley; Andrew Estefan. Springer Nature. 155-180. (2018)

Building Resilience in Challenging Healthcare Situations.

Kim Foster; Andrew Estefan. Springer. 123-146. (2019)

Practicing Ethical Decision Making.

Andrew Estefan; Adam Burston; Anthony Tuckett. Springer. 85-103. (2019)