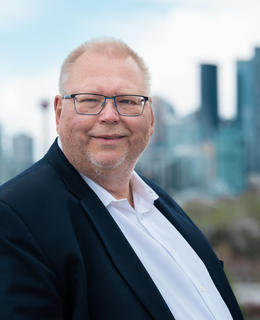 Associate Dean - Research & Business Impact
Haskayne School of Business
BMO Professorship in Sustainable Finance
Haskayne School of Business
---
Background
Educational Background
Doctor of Philosophy Finance, INSEAD, 1999
Masters of Social Sciences Economics, University of Helsinki, 1991
Biography
Yrjö Koskinen the Associate Dean of Research and Business Impact and the BMO Professor of Sustainable and Transition Finance at the Haskayne School of Business. Previously he has served on the faculties of Stockholm School of Economics, Boston University's Questrom School of Business, and the Wharton School of the University of Pennsylvania. He holds an MSc degree in Economics from the University of Helsinki, and a PhD in Management (Finance) from INSEAD. Prior to his academic career, Yrjö worked as a financial journalist and as an economist at the Bank of Finland.
Yrjö currently serves on the advisory board of the Institute of Sustainable Finance at Queen's University, the academic advisory panel for Globe and Mail's Report on Business, and the steering committee for the Canadian Sustainable Finance Network. He is also a fellow at the Nordic Initiative in Corporate Economics and a research member at the European Corporate Governance Institute. He is the past co-president of the Northern Finance Association.
Yrjö's main research areas are corporate finance and governance, and sustainable finance. His current research focuses on environmental, social and governance (ESG) issues and how they affect trading and prices in financial markets. His research has been published in the leading finance and management journals, such as the Journal of Financial Economics, Review of Financial Studies, Management Science, Journal of Financial and Quantitative Analysis, and Review of Finance. He is the recipient of the Standard Life Investments Finance Prize for his research on corporate social responsibility and firm risk.
Research
Areas of Research
Sustainable Finance, Corporate Governance, ESG
Courses
| Course number | Course title | Semester |
| --- | --- | --- |
| FNCE 668 | Seminar in Sustainable Finance | Spring 2022 |
Projects
Mutual Fund Trading and ESG Stock Resilience During the COVID-19 Stock Market Crash
We study the trading behavior of U.S. actively managed equity mutual funds during the COVID-19 market crash. Using proprietary monthly holdings data from Morningstar, we show that Environmental, Social, and Governance(ESG) funds traded in a way consistent with catering to their clientele, thus helping to stabilize the market for ESG stocks, but interestingly non-ESG funds also provided support for ESG stocks.
---
Does Limited Liability Matter? Evidence from a Quasi-Natural Experiment
We use the enactment of limited liability legislation across Canadian provinces to examine the effect of the change in liability status on firm outcomes for a group of public firms known as income trusts. We show that the switch from unlimited to limited liability increases trusts' institutional ownership, net external financing, investments, profitability, payouts, and riskiness. Our results are stronger for energy trusts, which are more capital-intensive and face potentially greater liability risks. 
Awards
Finnish Securities Markets Foundation research award,

Finnish Securities Markets Foundation.

2020

Dean's Research Scholar,

Haskayne School of Business.

2019

The Standard Life Investments Finance Prize,

European Corporate Governance Institute.

2014

Best paper award, Geneva Summit on Sustainable Finance,

University of Geneva.

2013

Professor of the Year,

Questrom School of Business, Boston University.

2011

Broderick Award for Excellence in Research,

Questrom School of Business, Boston University.

2007

Best paper award,

Financial Management Association.

2001