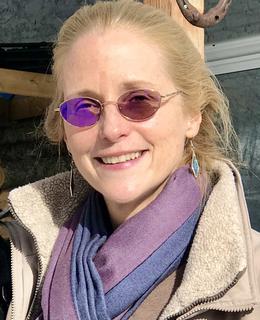 Dr. Wendi Adamek, Numata Chair in Buddhist Studies
Pronouns:
She, hers. I support non-binary usages.
Background
Educational Background
B.A. International Relations, Stanford University, 1981
Doctor of Philosophy Religious Studies, Stanford University, 1998
M.A. Asian Studies, Stanford University, 1981
Biography
Wendi L. Adamek is Professor in the Department of Classics and Religion at the University of Calgary and holder of the Numata Chair in Buddhist Studies. Her research interests include medieval Chinese Buddhism and living systems theory. Her most recent book Practicescapes and the Buddhists of Baoshan (University of Hamburg Press) centers on a 6th-7th-century community in north-central China. Previous publications include The Mystique of Transmission: On an Early Chan History and its Contexts (AAR Award for Excellence in Textual Studies, 2008) and The Teachings of Master Wuzhu (Columbia University Press Asian Classics Series, 2011). Born in Hawai'i, she earned her degrees at Stanford University and has held research fellowships at Kyoto University (BDK, Fulbright), Peking University (NEH, Fulbright), the Stanford Humanities Center, the Institute for Advanced Study (Princeton), and the Calgary Institute for the Humanities.
Research
Areas of Research
Buddhist Studies, Cultural Studies
East Asian Buddhism, living systems theory, process philosophy, phenomenology, food and soil sustainability studies, permaculture, contemplative studies, dialectical practice in therapeutic modalities
Participation in university strategic initiatives
Courses
| Course number | Course title | Semester |
| --- | --- | --- |
| RELS 360 | Buddhist Practice Traditions | Fall 2023 |
| RELS 313 | Introduction to Buddhism: Philosophy | Winter 2024 |
| RELS 440 | Religion and Economic Systems | Winter 2024 |
| RELS 603/703 | Studies in Eastern Religions: Religion and Economic Systems | Winter 2024 |
Awards
Residence Fellowship,

Calgary Institute for the Humanities.

2018

Grand Prize, Subul Scholarly Awards,

University of California, Los Angeles.

2018

Residence Fellowship, School of Historical Studies,

Institute for Advanced Study, Princeton University.

2015

Residence Fellowship, Stanford Humanities Center,

Stanford University.

2009

Award for Excellence in Textual Studies,

American Academy of Religion .

2008

Research Fellowship,

Fulbright (CIES, China).

2004

Research Fellowship,

National Endowment for the Humanities.

2000

Dissertation Fellowship,

Jacob K. Javits Foundation.

1994

Research Fellowship,

Bukkyō Dendō Kyōkai (Society for the Preservation of Buddhism).

1992

Graduate Research Fellowship,

Fulbright (IIE, Japan).

1990
Publications
Practicescapes and the Buddhists of Baoshan.

University of Hamburg Press. (2021)

The Mystique of Transmission.

Columbia University Press. (2007)

The Teachings of Master Wuzhu.

Columbia University Press. (2011)

Kunlun.

New Wuxia Press. (2014)