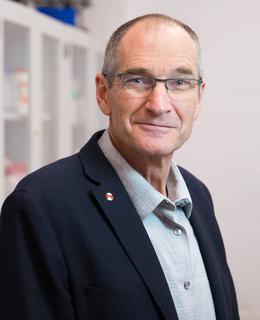 Dr. Walter Herzog, PhD
Positions
Professor
Faculty of Kinesiology
Co-Director of the Human Performance Lab
Faculty of Kinesiology
Full Member
McCaig Institute for Bone and Joint Health
Child Health & Wellness Researcher
Alberta Children's Hospital Research Institute
Background
Educational Background
Postdoc Biomechanics, University of Calgary, 1987
PhD Biomechanics, University of Iowa, 1985
Diploma II Physical Education, Federal Technical Institute Zurich, 1978
Diploma I Physical Education , Federal Technical Institute Zurich, 1977
Research
Areas of Research
Movement Science & Musculoskeletal Health
Osteoarthritis
Neuro-Biomechanics
Biomechanics
Activities
Dr. Herzog is the Co-Director of the Human Performance Lab, and holds the Benno Nigg Chair in Biomechanics, Mobility and Longevity. 
Dr. Herzog's research is focused on the neuro-biomechanics of the musculoskeletal system with emphasis on mechanisms of muscle contraction focusing on the role of the structural protein titin, and the biomechanics of joints focusing on mechanisms of onset and progression of osteoarthritis. Expertise is in the area of growth, healing, and adaptation of soft (ligament, tendon, muscle, and articular cartilage) and hard (bone) tissues. Within this area he works experimentally and theoretically on the molecular/cellular, in vitro, in situ, and in vivo level. It also includes cell manipulation and mechanical testing and finite element modeling, continuum mechanics, simulations and theories of growth and adaptation.
Dr. Herzog has more than 600 publications in scientific refereed journals, as well as author/editor of six books, more than 50 book chapters, and more than 900 refereed conference proceedings. Please view his CV for publications. 
Participation in university strategic initiatives
Courses
| Course number | Course title | Semester |
| --- | --- | --- |
| KNES/MDSC/ENME 663 LEC 01 | Advanced Muscle Mechanics and Physiology | 2023 |
| BIOL 507 LAB 01 | Capstone Res Proj in Bio Sci | 2022 |
| KNES 60412 LAB 01 B01 | Directed Study | 2021 |
| BIOL 530 LAB 01 B01 | Hnrs Res Proj in Bio Sci | 2021 |
| KNES 60409 LAB 01 B01 | Directed Study | 2021 |
| KNES 664 | Bone and Joint Biomechanics | Fall 2021 |
| KNES 60409 LAB 01 B01 | Directed Study | 2021 |
| MDSC 663 LEC 01 01 | (Enme/Knes 663)Adv Mech & Phys | 2020 |
| BIOL 530 LAB 01 B01 | Hnrs Res Proj in Bio Sci | 2020 |
| KNES 663 LEC 01 01 | (Enme/Mdsc 663)Adv Mech & Phys | 2020 |
| CMMB 528 LAB 01 B01 | Independent Studies in CMMB | 2020 |
| CMMB 528 LAB 01 B01 | Independent Studies in CMMB | 2020 |
| CMMB 530 LAB 01 B01 | Honours Res Proj in CMMB | 2020 |
Awards
University of Calgary Internationalization Career Achievement Award (UCIA),

University of Calgary.

2022

Killam Annual Professor,

University of Calgary, Killam Trust.

2022

Outstanding Reviewer, 2020 Fall Grant Competition,

CIHR College of Reviewers.

2021

2020 Journal of Biomechanical Engineering (JBME) Editor's Choice Paper for manuscript "Direct validation of model-predicted muscle forces in the cat hindlimb during locomotion",

ASME Journal of Biomechanical Engineering.

2021

Named Award "Dr. Walter Herzog Award for Excellence in Undergraduate Research",

Brazilian Society for Biomechanics.

2021

Researcher of the Year,

Alberta Science and Technology Leadership (ASTech) .

2021

1st Prize and Award for "Excellence in Basic, Clinical, and Translational Science" for manuscript "Multiparametric MR imaging reveals early cartilage degeneration at 2 and 8 weeks after ACL transection in a rabbit model",

Orthopaedic Research Society.

2020

Outstanding Reviewer, 2019 Fall Grant Competition,

CIHR College of Reviewers.

2020

Killam Prize,

Canada Council for the Arts.

2018

Geoffrey Dyson Career Award,

International Society of Biomechanics in Sports.

2017

Muybridge Award,

International Society of Biomechanics.

2017

Best Paper Award,

Korean Society of Precision Engineering Fall Conference.

2015

BME Graduate Program Outstanding Supervisor Award, UofC,

2015

Hero of Biomechanics,

International Society of Biomechanics.

2015

Kinesiology Outstanding Supervisor Award, UofC,

2015

University of Calgary Biomedical Engineering Graduate Program Outstanding Supervisor Award,

The University of Calgary.

2015

University of Calgary Kinesiology Outstanding Supervisor Award,

The University of Calgary.

2015

GSA Supervisory Excellence Award Nomination,

2013

GSA Supervisory Excellence Award Nomination (Student Nominated Finalist),

Graduate Student Association.

2013

Isaak Walton Killam Graduate Student Supervision and Mentoring Award,

Killam Foundation.

2012

Izaak Walton Killam Graduate Supervision & Mentoring Award,

2012

Killam Memorial Chair,

University of Calgary.

2011

First prize, Paper of highest public interest 2009 award, Sportorthopadie Sporttraumatologie,

2010

Killam Fellowship,

2009

President of the International Society of Biomechanics,

International Society of Biomechanics.

2009

ASB Borelli Award, Premier Research Award, Presentation Title: Of myosins, muscles and mechanisms of contraction,

American Society of Biomechanics.

2006

Career Award from the Canadian Society for Biomechanics,

Canadian Society for Biomechanics.

2006

Inaugural Award of Excellence,

University of Calgary.

2003

President's Circle Award,

University of Calgary.

2002

Inaugural Research Excellence Award,

University of Calgary.

2001

Scott Haldeman Award,

World Council of Chiropractic.

1999

Best Scientific Paper,

Journal of Applied Biomechanics.

1998

CCA Centennial Research Competition,

Consortium of Spinal Research.

1998

JCCA Award of Excellence,

Editorial Board.

1996

First Prize for Spinal Research,

Centennial Conference Organizers.

1995

Award - CDN Assoc for Sports Med Research,

The Canadian Society for Sports Medicine.

1994

Int'l Conference on Spinal Manipulation,

Conference Organizers.

1994