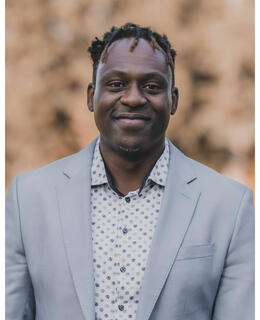 Positions
Associate Professor
Haskayne School of Business, Organizational Behaviour and Human Resources [OBHR]
Background
Educational Background
Doctor of Philosophy Work/Organizational Psychology, The University of Calgary, 2009
Masters Degree Psychology, McGill University, 2006
BSc Honours Psychology, The University of Calgary, 2004
Biography
Dr. Tunde (roughly pronounced Toon-day) Ogunfowora is an associate professor in the Organizational Behaviour and Human Resources area at the Haskayne School of Business (2013-present). He earned his BSc from the University of Calgary, his Master's degree from McGill University, and his PhD from the University of Calgary. Prior to joining Haskayne, Tunde was an assistant professor of Human Resources and Organizational Behaviour at the Faculty of Business Administration, University of Regina and the Goodman School of Business, Brock University. Tunde's teaching portfolio includes courses in organizational behaviour, talent management, and organizational leadership. He regularly teaches in the MBA and executive MBA programs. He also teaches advanced applied statistics at the PhD level.
Research
Areas of Research
Current Research Interests
Tunde's research interests include leadership (both positive and negative), moral cognitions, moral emotions, and personality in the workplace. In the leadership stream, he has examined the implications of ethical leadership and abusive leadership for understanding employee attitudes and behaviors at work. In the moral cognitions and emotions stream, Tunde is interested in understanding the roles of constructs such as moral disengagement, moral efficacy, and moral courage for understanding employee ethical behavior and decision making. He also examines how experiences of moral emotions, such as envy, resentment, guilt, and shame, influence how employees act in the workplace. In addition, a common thread across many of his studies is understanding the role of personality in understanding the behavior of individuals and work teams. The intersect among his lines of research entails understanding how external (leadership) and internal (personality, moral emotions, moral cognitions) factors interact to shape employee conduct. His work has been published in mainstream organizational behavior journals, such as the Journal of Management, Journal of Organizational Behavior, The Leadership Quarterly, Journal of Applied Psychology, and Human Relations.
Courses
| Course number | Course title | Semester |
| --- | --- | --- |
| MGST 79912 LEC 01 01 | Topics in Management Studies | 2020 |
| OBHR 601 LEC 03 03 | Organizational Behaviour | 2021 |
| OBHR 621 LEC 01 01 | Advanced Leadership | 2021 |
Awards
Eyes High Doctoral Recruitment Scholarship,

The University of Calgary.

2021

Dean's Research Grant,

The University of Calgary.

2017

Vice President's Research Grant,

The University of Calgary.

2015
Publications
Do Moral Disengagers Experience Guilt following Workplace Misconduct? Consequences for Emotional Exhaustion and Task Performance.

Ogunfowora, B., Nguyen, V. Q., Lee, C. S., Babalola, M. T., & Ren, S.. Journal of Organizational Behavior. 1-19. (2022)

A meta-analytic investigation of the antecedents, theoretical correlates, and consequences of moral disengagement at work.

Ogunfowora, B., Nguyen, V.Q., Steel, P., Hwang, C. C. Journal of Applied Psychology, 107(5). 746-775. (2022)

Stronger together: Understanding when and why group ethical voice inhibits group abusive supervision..

Babalola, M., Garcia, P., Ren, S., Ogunfowora, B., Gok, K. Journal of Organizational Behavior. (2021)

How do leaders foster morally courageous behavior in employees? Leader role modeling, moral ownership, and felt obligation..

Ogunfowora, B., Maerz, A., & Varty, C. T.. Journal of Organizational Behavior, 42(3). 483-503. (2021)

Abusive supervision differentiation and employee outcomes: The roles of envy, resentment, and insecure group attachment..

Ogunfowora, B., Weinhardt, J. M., & Hwang, C. C.. Journal of Management, 47(3). 623-653. (2021)

The impact of team moral disengagement composition on team performance: The roles of team cooperation, team interpersonal deviance, and collective extraversion.

Ogunfowora, B., Stackhouse, M., Maerz, A., Varty, C., Hwang, C., & Choi, J.. Journal of Business and Psychology, 36. 479-494. (2020)

The mind is willing, but the situation constrains: Why and when leader conscientiousness relates to ethical leadership.

Babalola, M. T., Bligh, M. C., Ogunfowora, B., Guo, L., & Garba, O. A.. ournal of Business Ethics, 155 (1). 75-89. (2019)

Media depictions of CEO ethics and stakeholder support of CSR initiatives: The Mediating Roles of CSR Motive Attributions and Cynicism..

Ogunfowora, B., Stackhouse, M., & Oh, W.. Journal of Business Ethics, 150 (2),. 525-540. (2018)

Targeted workplace incivility: The roles of belongingness, embarrassment, and power. .

Hershcovis, M. S., Ogunfowora, B., Reich, T. C., & Christie, A. M.. Journal of Organizational Behavior, 38. 1057-1075. (2017)

Safety in the c-suite: How chief executive officers influence organizational safety climate and employee injuries. .

Tucker, S., Ogunfowora, B., & Diekrager, D.. Journal of Applied Psychology, 101(9). 1228-1239. (2016)

The impact of ethical leadership within the recruitment context: The roles of organizational reputation, applicant personality, and value congruence..

Ogunfowora, B.. The Leadership Quarterly, 25 (3). 528-543. (2014)

It's all a matter of consensus: Leader role modeling strength as a moderator of the links between ethical Leadership and employee outcomes..

Ogunfowora, B. Human Relations, 67 (12). 1467-1490. (2014)

When the abuse is unevenly distributed: The effects of abusive supervision variability on work attitudes and behaviors..

Ogunfowora, B. Journal of Organizational Behavior, 34(8). 1105-1123. (2013)

No person is an island: The effects of group characteristics on individual trait expression..

Schmidt, J., Ogunfowora, B., & Bourdage, J. Journal of Organizational Behavior, 33(7). 925-945. (2012)

Similarity and assumed similarity in personality reports of well-acquainted persons..

Lee, K., Ashton, M. C., Pozzebon, J.A., Visser, B. A., Bourdage, J. S., & Ogunfowora, B.. Journal of Personality and Social Psychology, 96(2). 460-472. (2009)

Personality traits beyond the Big Five: Are they within the HEXACO space? .

Lee, K., Ogunfowora, B., & Ashton, M. C.. Journal of Personality, 73(5). 1437-1463. (2005)