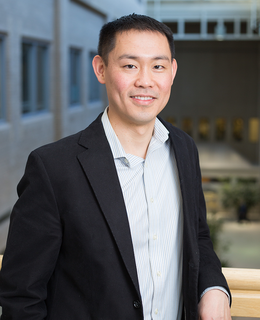 Dr. Tuan Trang, PhD
Positions
Professor
Cumming School of Medicine
Full Member
Hotchkiss Brain Institute
Child Health & Wellness Researcher
Alberta Children's Hospital Research Institute
Full Member
Mathison Centre for Mental Health Research and Education
Background
Educational Background
BSc (Honours) Life Sciences, Queen's University,
PhD Pharmacology & Toxicology, Queen's University,
Biography
Dr. Trang received his PhD in Pharmacology and Toxicology at Queen's University and completed a fellowship at SickKids Hospital. He is a Professor at the University of Calgary, leads the Spinal Cord, Nerve Injury, and Pain (SCNIP) NeuroTeam, and CEO and co-founder of a biotherapeutics company, AphioTx. His team is committed to unlocking the causes of chronic pain at the level of genes, cells, and circuits. An area of focus is on understanding how opioids impact the nervous system and on improving the safety of these medications. The work from his team has been recognized by national and international awards.
Research
Areas of Research
Pain and opioids
How does our body tell us something is painful? Why do certain people go on to develop chronic pain whereas others, with apparently similar disorders or injuries, do not? And why is pain so difficult to treat? To begin to unravel the great paradox of pain, our research focuses on discovering the fundamental molecules and processes involved in chronic pain and enhancing the utility of opioid drugs in treating pain conditions. Understanding the key molecules and processes that underlie chronic pain and that contribute to the unwanted side effects of opioid use is a major step towards improving current therapies and identifying novel targets for creating entirely new, more effective strategies for treating pain. The discoveries arising from our work has direct and important benefits for the clinical management of pain conditions in children and adult chronic pain patients.
Participation in university strategic initiatives
Awards
Research Excellence Award,

Faculty of Veterinary Medicine.

2019

Young Investigator Award - International Narcotics Research Conference,

International Narcotics Research Conference.

2018

Peak Scholar,

University of Calgary.

2018

Young Investigator Award,

Canadian Association for Neuroscience.

2017

Piafsky Young Investigator,

Canadian Society for Pharmacology & Therapeutics .

2017

Award in Pain ,

Rita Allen Foundation & American Pain Society.

2014

New Investigator Salary Award,

Canadian Institutes of Health Research.

2014