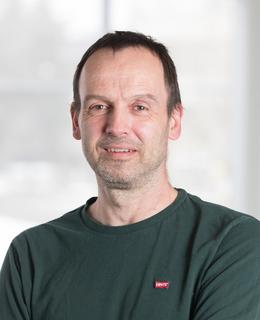 Dr. Thilo Pfau, PhD
Positions
Professor
Faculty of Kinesiology
Professor
Faculty of Veterinary Medicine
Contact information
Preferred method of communication: email
Background
Biography
Thilo graduated in Information Technology from the Technische Universität München (Technical University, Munich, Germany) in 1996 and joined the Institut für Mensch-Maschine-Kommunikation (Human-Machine-Communication) at the Technical University Munich to undertake a PhD in the area of automated speech recognition focusing on the effects of speaking rate for large vocabulary speech recognition which he finished in the year 2000. He then went on to join the International Computer Science Institute (ICSI), University of Berkeley, California for a postdoctoral position in the area of speech detection.
In 2002, he moved to the Royal Veterinary College, London, United Kingdom joining the Structure and Motion Lab undertaking research in animal locomotor biomechanics. His studies covered the fundamentals of locomotion (gait selection in quadrupeds, horses, camels) and applied fields such as lameness detection in cows and horses.
In 2008, he joined the department of Veterinary Clinical Sciences (later Clinical Science and Services) at the Royal Veterinary College and focused on the application of traditional (3D motion capture, force platforms) and emerging (inertial sensors) techniques for quantifying gait deficits. This work has resulted in a body of publications with a particular focus on movement symmetry in horses relevant for the clinical investigation of lameness and poor performance.
In 2021, in the middle of the pandemic, Thilo and his family moved to Calgary to join the Faculty of Kinesiology with a joint appointment in the Faculty of Veterinary Medicine, where he is continuing to enjoy his work in the field of animal locomotor biomechanics with an emphasis on quadrupedal locomotion.
Research
Areas of Research
Quadrupedal Locomotion
At this moment in time, Thilo's research covers a range of aspects of quadrupedal locomotion.  
One topic of particular interest is the complex relationship between different ground surfaces and the horse in the context of performance, injury and detection and prevention of impairments of the musculoskeletal system: 
How do hoof and limb asymmetries influence upper body movement symmetry (Hong Kong Jockey Club funded research)? 
How do stride parameters change in galloping horses in association with surface characteristics (UCVM Clinical Research Fund)? 

How do factors such as age, breed and 'use' (e.g. racing, Dressage, Show Jumping, Reining etc) affect movement symmetry and back movement? (HorseTrust UK funded) 
In addition, Thilo is very much interested in the use of different technological approaches for measuring animal movement applied to answering practically relevant questions that have the potential contribute to improving animal well being through early detection and ultimately prevention of impairments of the musculoskeletal system. In Thilo's opinion, a crucial – yet quantitatively vastly understudied – field is how podiatry (trimming and shoeing in horses) can be optimized in the context of preventing injuries while simultaneously optimizing performance. He is passionate about involving footcare providers into the process of generating quantitative evidence. 
Aiming to bring together his background in information technology and pattern recognition with his expertise in locomotor biomechanics, the use of more advanced pattern recognition techniques is becoming more and more interesting, since quantification of movement is becoming increasingly easy with sensors (e.g. Smartphones) and artificial intelligence based video processing techniques.  
Participation in university strategic initiatives
Courses
| Course number | Course title | Semester |
| --- | --- | --- |
| KNES 263 | Quantitative Biomechanics | |
| KNES 363 | Biomechanics of Biological Materials | |
Publications
Stride frequency derived from GPS speed fluctuations in galloping horses.

T Pfau, O Bruce, WB Edwards, R Leguillette. Journal of Biomechanics. (2022)

Timing of Vertical Head, Withers and Pelvis Movements Relative to the Footfalls in Different Equine Gaits and Breeds.

M Rhodin, IH Smit, E Persson-Sjodin, T Pfau, V Gunnarsson. Animals. (2022)

Changes in Head, Withers, and Pelvis Movement Asymmetry in Lame Horses as a Function of Diagnostic Anesthesia Outcome, Surface and Direction.

E Marunova, K Hoenecke, A Fiske-Jackson, RKW Smith, DM Bolt. Journal of Equine Veterinary Science. (2022)

Hoof Impact and Foot-Off Accelerations in Galloping Thoroughbred Racehorses Trialling Eight Shoe–Surface Combinations.

K Horan, J Coburn, K Kourdache, P Day, H Carnall, L Brinkley. Animals. (2022)

Linear discriminant analysis for investigating differences in upper body movement symmetry in horses before/after diagnostic analgesia in relation to expert judgement.

T Pfau, DM Bolt, A Fiske-Jackson, C Gerdes, K Hoenecke, L Lynch. Animals. (2022)

The Effect of Strip Grazing on Physical Activity and Behavior in Ponies.

A Cameron, A Longland, T Pfau, S Pinnegar, I Brackston, J Hockenhull. Journal of Equine Veterinary Science. (2022)

Upper body movement symmetry in reining quarter horses during trot in-hand, on the lunge and during ridden exercise.

T Pfau, WM Scott, T Sternberg Allen. Animals. (2022)

The effect of horseshoes and surfaces on horse and jockey centre of mass displacements at gallop.

K Horan, K Kourdache, J Coburn, P Day, H Carnall, D Harborne, L Brinkley, L Hammond, S Millard, B Lancaster, T Pfau. Plos one. (2021)

Influence of speed, ground surface and shoeing Condition on hoof breakover duration in galloping Thoroughbred racehorses.

K Horan, J Coburn, K Kourdache, P Day, D Harborne, L Brinkley, H Carnall, L Hammond, M Peterson, S Millard, T Pfau. Animals. (2021)

How low can we go? Influence of sample rate on equine pelvic displacement calculated from inertial sensor data.

T Pfau, P Reilly. Equine Veterinary Journal. (2021)

Effect of speed and surface type on individual rein and combined left–right circle movement asymmetry in horses on the lunge,.

T Pfau, E Persson-Sjodin, H Gardner, O Orssten, E Hernlund, M Rhodin. Frontiers in Veterinary Science. (2021)

Smartphone-based pelvic movement asymmetry measures for clinical decision making in equine lameness assessment.

E Marunova, L Dod, S Witte, T Pfau. Animals. (2021)