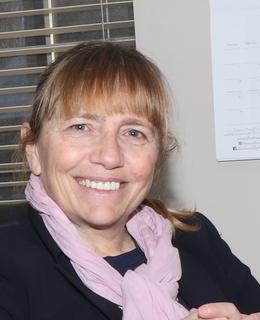 Associate Dean, Research
Werklund School of Education
Professor
Werklund School of Education, Specialization, Language and Literacy
---
Background
Educational Background
Doctor of Philosophy Curriculum Teaching and Learning , University of Toronto, 2002
M.A. Didactique d'une langue seconde-Linguistics , University of Quebec in Montreal , 1996
Biography
Dr. Sylvie Roy received her PhD at the University of Toronto (Ontario Institute of Studies in Education). She completed her MA at the Université du Québec à Montréal in Didactique des langues secondes. Her areas of expertise are : sociolinguistic for change, sociolinguistique pour le changement, linguistic ideologies, discourse analysis, French immersion, bilingualism, ethnography. She is the Past President of the Canadian Applied Linguistics Association. She was the Chair of Languages and Literacy until 2015. In 2018, she became the Associate Dean Research in Werklund School of Education.
Professional & Community Affiliations
Research
Areas of Research
Scholarly Activity
Dr. Sylvie Roy's research focuses on discourses and practices of learning and teaching French as a second language. Related to this work, she is looking at macro and micro understanding of language issues, ideologies, discursive practices in francophone or French immersion contexts in Canada. She also looks at what people say about bilingualism and multilingualism from a sociolinguistic for change point of view. Sociolinguistic for change looks at language practices from a critical lenses and situated in historical context, in time and space. Sociolinguistic of change allows researchers and participants to understand that they are part of constructing discourses and linguistic ideologies. Social dynamics are explicitly discussed and utilized for change in schools and other public institutions.
Sylvie Roy est professeure au Werklund School of Education à l'université de Calgary depuis une vingtaine d'années. Elle a écrit un livre sur l'immersion française en 2020 qui démontre les idéologies linguistiques qui sont rattachées à l'apprentissage et à l'enseignement du français langue seconde au Canada, surtout en immersion française. 
Interests:
Bilingual/Second Language Education
French Immersion School
Second Language Teaching and Learning
Sociolinguistics
Discourse Analysis
Qualitative Research - Ethnography
Participation in university strategic initiatives
Projects
Current:
2018-2023 SSHRC Insight Grant. 435-2018-1459 PI: Dr Julie Byrd Clark, Co-PI, Sylvie Roy. French immersion for new social realities in contemporary, transnational times. $209,882
Publications
Ideologies of French and commodification: What does meaning making imply for multilinguals in transnational times?.

Roy, S. & Byrd Clark, J. In J. E. Petrovic & B. Yazan (Eds.), The Commodification of language. Conceptual concerns and empirical manifestations. New York. (2021)

French Immersion Ideologies in Canada.

Roy, S. Lanham: Lexington Books. (2020)

How do school re-entry plans impact research in schools?.

Brown, B. & Roy, S. Knowledge Engagement Spotlight. Knowledge Engagement (Research Services) Newletter. September. (2020)

Bravo, vous êtes bilingues ! Journal de l'immersion.

Roy, S. Ottawa: Les Presses de l'université d'Ottawa. Spring. (2020)

Pre-Service Teachers Reflect On Their Journey to Becoming French Immersion Teachers: Looking Back and Thinking Forward.

Da Silva, N., S. Roy, R. Dressler & K. Mueller. Réflexions. Canadian Association of Second Language Teachers. (2020)

Understanding education graduate students' experience with publication .

Maisha Syeda; Jonathan Woodend; Sylvie Roy Dr.; JIngzhou Liu. (2019)

Creating Spaces of Learning for InternationalDoctoral Students: The Role of Transcultural Learning..

Janet Elizabeth Groen; Sylvie Roy. (2018)

Language pedagogy in bilingual and immersionprograms in Spain and Canada: A Comparison Study..

Pérez Hoyos; Sylvie Roy. (2017)

Understanding education graduate students' experience with publication .

Maisha Syeda; JIngzhou Liu; Jonathan Woodend; Sylvie Roy Dr.. (2017)

Bilingual education in majorityEnglish speaking countries: Case studies in Australia and Canada.

Karen Dooley; Simone Smala; Sylvie Roy. (2017)

Creating Spaces of Learning for InternationalDoctoral Students: The Role of Transcultural Learning..

Janet Elizabeth Groen; Sylvie Roy. (2017)