Dr. Suzette Mayr
Pronouns:
she/her/they/them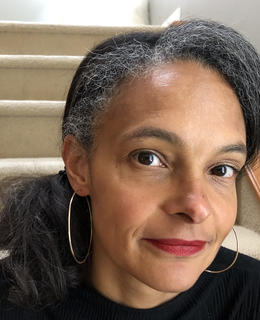 ---
I prefer email for all correspondence.
Background
Educational Background
PhD Creative Practice, University of New South Wales, 2016
M.A. English, University of Alberta, 1992
B.A. English (Hons.), University of Calgary, 1990
Biography
Dr. Suzette Mayr is the author of six novels, including her most recent book The Sleeping Car Porter. Their novel Monoceros won the ReLit and the City of Calgary W. O. Mitchell Awards, and was nominated for the 2011 Giller Prize, the Ferro-Grumley Award for LGBT Fiction, and Georges Bugnet Award for Fiction. Her novel The Widows was a finalist for the Commonwealth Prize for Best Book in the Canada-Caribbean region. Mayr is a former president of the Writers' Guild of Alberta, and has been teaching creative writing at the University of Calgary since 2003. Dr. Mayr's research interests include: Creative Writing, Canadian Literature, Haunted House / Horror Literature, and Australian Literature.
Research
Areas of Research
Creative Writing, Contemporary Canadian Literature, Haunted House / Horror Literature, Australian Literature
Courses
| Course number | Course title | Semester |
| --- | --- | --- |
| ENGL 387 | The Harlem Renaissance | Fall 2022 |
| ENGL 594 | Creative Writing: Popular Genre | Fall 2022 |
| ENGL 694 | Topics in Creative Writing: Popular Genre | Fall 2022 |
Projects
The Sleeping Car Porter (novel)
Published Sept. 2022. Funded by a SSHRC Insight grant (2013-2017)
Awards
Georges Bugnet Award for Best Novel for Dr. Edith Vane and the Hares of Crawley Hall, Finalist,

Writers' Guild of Alberta.

2018

ReLit Award,

2012

City of Calgary W.O. Mitchell Award ($5000),

2012

Scotiabank Giller Prize Longlist Nominee,

2011

SSHRC Insight grant,

Social Sciences and Humanities Research Council of Canada.

2013

Ferro-Grumley Award for LGBT Fiction Nominee,

2012

Supervisory Excellence Award Nomination,

2013

Faculty of Arts Distinguished Research Award,

2012

Toronto Public Library Book of the Month,

2012

Globe and Mail's "Best 100 Books of 2011" List,

2011

Maisonneuve's "Maisy's Best Books of 2011" List,

2011

Vancouver Sun's "2011's Top 10 Books" List,

2011

Relit Award nominee,

2005

Commonwealth Prize for Best Book for in the Canadian-Caribbean Region, finalist,

1998

Georges Bugnet Award for Best Novel for Moon Honey, finalist,

Writers' Guild of Alberta.

1996

Henry Kreisel Award for Best First Book for Moon Honey, finalist,

Writers' Guild of Alberta.

1996