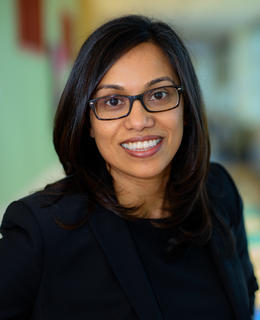 Dr. Susan Samuel, MD
Positions
Professor
Cumming School of Medicine, Department of Pediatrics
Professor
Cumming School of Medicine, Department of Community Health Sciences
Education Director, Clinical Research
Alberta Children's Hospital Research Institute
One Child Every Child Transdisciplinary Training Research Lead
University of Calgary
Contact information
For media enquiries, contact
Kelly Johnston
Senior Communications Specialist
Please submit your media request here
Background
Educational Background
B.S. Life Sciences, University of British Columbia, 1998
Doctor of Medicine Medicine, University of British Columbia, 2001
M.S. Epidemiology, University of Toronto, 2007
Biography
Dr. Samuel is a professor in the departments of Pediatrics and Community Health Sciences at the University of Calgary's Cumming School of Medicine, and a member of the Alberta Children's Hospital Research Institute and the O'Brien Institute of Public Health. She received her undergraduate medical degree from the University of British Columbia, and completed postgraduate medical training in pediatrics and nephrology at SickKids Hospital in Toronto. She has a MSc in Clinical Epidemiology from the Institute of Health Policy Management and Evaluation at the University of Toronto.
She is passionate about mentoring and guiding clinicians towards academic and scientific careers. In her role as the Director of the Canadian Child Health Clinician Scientist Program, she is helping clinicians, from diverse disciplines, establish successful careers in health research. She has received awards for research and community contributions, including the University of Calgary Petro Canada Community Innovator Award, Top 40 under 40 Award from Avenue Magazine in Calgary, and BMO Endowed Research Award from the Alberta Children's Hospital Research Institute.
Research
Areas of Research
Health Services Research
Nephrology
Transitional Care
Activities
Dr. Samuel's research goal is to improve care and outcomes of children with chronic disease, in particular those with kidney disease. She leads the Canadian Childhood Nephrotic Syndrome Project, a national initiative designed to evaluate the impact of care variation on patient outcomes and to conduct registry based clinical trials. She also leads the Transition Navigator Trial research team, a multi-disciplinary group evaluating effectiveness of interventions to improve transition to adult care. Her work is funded by the Canadian Institutes of Health Research and various foundations. She serves on national and international committees working to increase research capacity, and to improve translation of evidence into practice.
Participation in university strategic initiatives