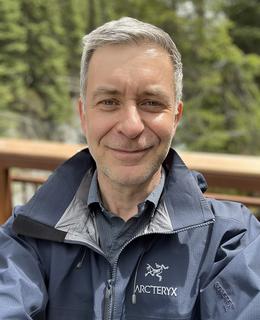 Dr. Steven Michael Vamosi
Positions
Scientific Director
Biogeoscience Institute
Background
Educational Background
BSc Honours Marine Biology, University of Guelph, 1993
MSc Zoology, University of British Columbia, 1996
PhD Zoology, University of British Columbia, 2001
Research
Areas of Research
Evolutionary and Conservation Ecology
The research conducted in my lab primarily focuses on conservation and evolutionary ecology of threatened aquatic and semi-aquatic species in NW Canada (especially AB and YT). Currently, lab members are studying [1] population and conservation genetics of long-toed salamanders, [2] the potential for conservation translocations in bull trout, [3] the fate of microplastics in aquatic environments, and [4] impacts of beavers on biodiversity in montane streams.
Lab EDI statement
Successfully achieving our research goals will not be possible without the inclusion of people with diverse experiences, backgrounds, and ways of thinking and interacting with the natural world. Accordingly, we seek to recruit, support, and retain members from diverse backgrounds, with an active focus on folks from historically marginalized groups. We acknowledge that the sciences have not always been a welcoming space for everyone, and we actively work to create an inclusive environment. We also acknowledge that doing so is a lifelong journey, not a "one and done" item to be crossed off a checklist.

To that end, while I make an attempt to respond to all unsolicited inquiries from prospective graduate students, increasingly I will be purposely recruiting through the use of ads posted to various job boards (including CSEE and TAMU). I believe this leads to more equitable outcomes, relying less on networks and prior knowledge, while removing the mystery of project areas, appropriate coursework and research backgrounds, etc. Preference may still be given to Canadian citizens and permanent residents, in part because of the relatively high costs (notably, but not exclusively, tuition) associated with being an International student.
Participation in university strategic initiatives
Courses
| Course number | Course title | Semester |
| --- | --- | --- |
| ECOL 413 | Field Course in Ecology | Fall 2023 |
| ECOL 425 | Quantitative Biology II | Fall 2023 |
Awards
New Faculty Award,

Alberta Ingenuity.

2004