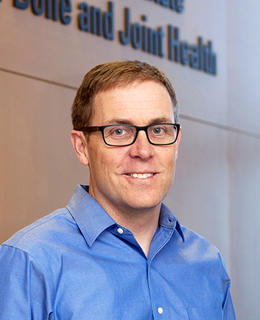 Steven Boyd, PhD, PEng
Positions
Professor
Cumming School of Medicine, Department of Radiology
Scientific Director
McCaig Institute for Bone and Joint Health
Professor, Joint Appointment
Faculty of Kinesiology
Background
Educational Background
Bachelor of Engineering (BEng) Mechanical Engineering, University of Victoria, 1994
Masters of Science (MSc) Mechanical Engineering (Biomedical), University of Calgary, 1997
Doctor of Philosophy (PhD) Mechanical Engineering (Biomedical), University of Calgary, 2001
Postdoctoral Fellow (PDF) Biomedical Engineering, Swiss Federal Institute of Technology, ETH Zürich, 2002
Biography
Dr. Steve Boyd holds a PhD in Biomedical Engineering (Mechancial Engineering). He is a Professor at the Cumming School of Medicine in the Department of Radiology at the University of Calgary, and holds a joint position at the Schulich School of Engineering and Faculty of Kinesiology. He is Director of the McCaig Institute for Bone and Joint Health.
More details can be found at his homepage.
Research
Areas of Research
Medical imaging
Our research group uses state-of-the-art medical imaging technologies to provide an understanding of the mechanisms related to bone loss, often by performing longitudinal analyses. In addition to our research goals, we have developed several custom analysis tools and techniques. These tools are applied in our preclinical (animal) and clinical laboratories, enabling our research group to draw strength from the controlled settings of our preclinical studies and translate that knowledge effectively into a clinical setting.
Bone degeneration mechanisms
Our research focus is on understanding mechanisms and improving therapies for bone degenerative conditions, including osteoporosis and osteoarthritis. We study the role of bone mineralization and bone microarchitectural development contributing to bone quality and providing bone strength.
Participation in university strategic initiatives
Courses
| Course number | Course title | Semester |
| --- | --- | --- |
| MDSC 689.03 | Advanced Medical Image Processing | Winter Term |
Awards
Students Union 2010-2011 Teaching Excellence Award,

2011

Alberta Innovates - Health Solutions (AIHS), Senior Scholar (2010-2017),

2010

2008-2009 Third and Fourth Year Teaching Excellence Award,

2009

Alberta Heritage Foundation for Medical Research (AHFMR) Scholar (2005-2010),

2009

Graduate Students' Association 2008-09 Supervisor Excellence Award,

2009

2007-2008 First and Second Year Teaching Excellence Award,

2008

European Society of Biomechanics SM Perren Award,

2008

Top 40 Under 40 Class of 2008,

2008

Roger Jackson Centre for Health and Wellness Faculty Member of the Year,

2007

Schulich School of Engineering's Mechanical and Manufacturing Engineering Departmental Teaching Award,

2007

Alberta Heritage Foundation for Medical Research (AHFMR) Scholar,

2005

Faculty of Engineering Teaching Excellence Award,

2005

Outstanding Teaching Excellence in 2nd Year Engineering,

2005

Outstanding Teaching Excellence in 2nd Year Engineering,

2004