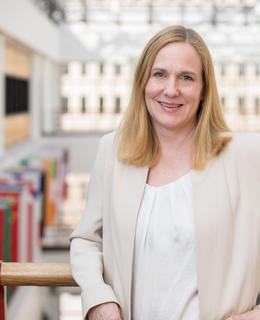 Sherry Weaver, B.A.Sc (Engineering), B.Ed., MBA
Positions
Associate Professor (Teaching)
Haskayne School of Business, Operations and Supply Chain Management [OSCM]
Background
Educational Background
B.A.Sc. Industrial Engineering, University of Toronto, 1989
B.Ed. Gifted Education, Senior Math and Science, University of Toronto, 1992
M.B.A. (Thesis) - Operations Management, University of Calgary, 1999
Ph.D. Candidate (ABD) Industrial Engineering, University of Toronto,
Biography
Sherry is an instructor in the Operations and Supply Chain Management area. She began teaching at the Haskayne School of Business in 1999 and she has recently returned from a leave of absence to pursue her PhD in Industrial Engineering at the Centre for Research in Healthcare Engineering (CRHE), University of Toronto. She has her CPIM designation and previous degrees in Business and Education. Prior to joining Haskayne, Sherry worked in government services and the healthcare industry as a consultant at Andersen Consulting. She also was a systems specialist at CP Rail and a load research engineer at TransAlta. Sherry taught for the Calgary Board of Education and University of Toronto Schools before returning to school for her MBA at Haskayne. She was part-owner/manager of a startup retail bagel chain in Calgary while writing her MBA thesis entitled "Modeling ACD Data to Improve Computer Simulation of Call Centers". Building upon her experience in IT and operations, Sherry helped develop the BPMA program at Haskayne.
Sherry is completing her PhD in Industrial Engineering at the University of Toronto. She has specialized in Healthcare Engineering for the past 6 years and has worked on many projects in wait time management. Her research interests include scheduling, capacity planning and process improvement. She is currently completing her PhD research with the Concordia Joint Replacement Group (Winnipeg) where she is developing a discrete event simulation (DES) and a patient booking decision support system. Sherry co-authored the Waitlist Management section of the Bone and Joint Canada Toolkit and is working on the development of an Operation Research Toolkit with WCWL and the OA Alberta Team. She is working with Saskatchewan Health to develop a resource allocation model for the province to address surgical access. Sherry is also working again with Bone and Joint Canada at four clinical sites across Canada to deliver a workforce allocation model for osteoarthritis specialists over the next 20 years. She is a named researcher on three major interdisciplinary team research grants: AHFMR, CIHR and Health Canada.
Sherry received the Dean's Award for Teaching Excellence in 2003, the Commerce Undergraduate Society Award for Outstanding Teaching & Learning, Haskayne School of Business in 2002 and 2000, and the Superior Service Award, Academic Staff, Haskayne School of Business in 2001.
Research
Areas of Research
Research Interests
Strategic Research Themes:
Ethical Leadership
Decision Making
Healthcare Management
Teaching & Learning:
Courses
| Course number | Course title | Semester |
| --- | --- | --- |
| DATA 612 LEC 01 01 | Decision Analytics | 2020 |
| MGST 35903 LEC 01 01 | Selected Topics in Management | 2021 |
| MGST 59704 LEC 01 01 | Directed Study in MGST | 2021 |
Awards
Instructional Innovation Award, Decision Sciences Institute (DSI), Honourable Mention,

2005

Membership in Alpha Iota Delta, Honourary Chapter (Decision Sciences Institute),

2005
Publications
Case-MotherLand Air: Using Experiential Learning to Teach Revenue Management Concepts.

S. Weaver with R. Metters, V. Vargas. INFORMS Trans. Ed. 9(3). 124-134. (2009)

An Interactive VBA Tool for teaching Statistical Process Control (SPC) and Process Management Issues.

S. Weaver with Jaydeep Balakrishnan. INFORMS Transactions on Education, 5, 3. (2005)

A Simulation-Enabled DSS for Allocating Check-in Agents.

S. Weaver with Kar-Li Chong, Manvir Grewal, Judy Loo. INFOR vol. 41, no 3. 259-273. (2003)

Hip and Knee Replacement Surgery Toolkit.

S. Weaver, Editors Waddel JP, Frank C. Phase III Report, Bone and Joint Canada collaborators. (2009)

An OR/MS Case demonstrating Yield Management. Accompanied by Teaching Note and Spreadsheet Teaching Files..

S. Weaver, Metters et al.. Successful Service Operations Management, Thompson Learning. (2002)