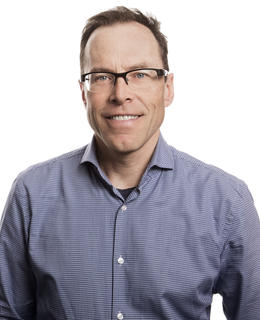 Shaun Fluker
Positions
Associate Professor
Faculty of Law
Background
Educational Background
BComm Finance, University of Alberta, 1992
LLB , University of Victoria, 1995
LLM , University of Calgary, 2004
Biography
Shaun joined the Faculty of Law in 2007. He was called to the Alberta bar in 1996, and remains an active member of the Law Society of Alberta. Shaun has appeared as counsel before all levels of Alberta courts, and the Supreme Court of Canada. Shaun works closely with the Faculty's Public Interest Law Clinic, and served as its Executive Director until January 2019. When he is not at the law school, Shaun enjoys skiing and climbing in the mountains west of Calgary with family and friends.
Research
Areas of Research
Public participation and transparency in resources and environmental decision-making
Effective public participation is widely considered essential in the legitimate exercise of state power over resource development and environmental decision-making. My research examines legal frameworks which govern public participation. I also study procedural and substantive rules governing access to legal process, judicial review and access to information (transparency). Research methodologies include doctrinal analysis, comparative study, case study, qualitative assessment (interviews), and quantitative empirical work.
The implementation of environmental norms with law
The Supreme Court of Canada has noted environmental protection is a fundamental value in Canadian society, but questions remain on how to implement substantive environmental norms into law. My research has focused primarily on the legal implementation of preservation norms such as ecological integrity in relation to endangered species and protected areas. Research methodologies include doctrinal analysis, comparative study, and case studies.
Shaun presented "Biodiversity Offsets 101: Case Studies and Best Practices for Alberta" for the Alberta Land Institute and the Miistakis Institute. Watch the video.
Public interest litigation
I engage in public interest litigation with the Faculty's Public Interest Law Clinic. The Clinic takes cases with the potential to result in law reform to areas such as public participation, access to justice, and transparency. See here for more information on the Clinic. My general research interest is in this area involves examining the relationship between the courts and public policy.
Publications
"The long road to protecting critical habitat for species at risk: The case of southern mountain woodland caribou".

Palm, EC, Fluker, S, Nesbitt, HK, Jacob, AL, Hebblewhite, M.. Conservation Science and Practice. (2020)

"Funding Environmental Projects with Regulatory Prosecutions: Transparency and Accountability in Creative Environmental Sentencing".

Fluker, Shaun, Paskey, Janice, and Balaton, Fiona. 32 Journal of Environmental Law and Practice. 243 – 272. (2019)

"Seeking Leave to Appeal a Statutory Decision: What is the Legal Test?".

Shaun Fluker. 32 Canadian Journal of Administrative Law and Practice. 81 – 110. (2019)

"An Analysis of Costs Awarded by the Alberta Energy Regulator".

Fluker, Shaun and Dalke, Eric. 55 Alberta Law Review. 805-838. (2018)

"The Right to Public Participation in Resources and Environmental Decision-Making in Alberta".

Shaun Fluker. 52 Alberta Law Review. 567-603. (2015)

"Ecological Integrity in Canada's National Parks: The False Promise of Law".

Shaun Fluker. 29 Windsor Review of Legal and Social Issues. 89 - 123. (2010)
"The Alberta Disadvantage on Public Participation: Martha Kostuch v Ken Kowalski".

Shaun Charles Fluker. in Alastair Lucas and William Tilleman, eds, Litigating Canada's Environment: Leading Canadian Environmental Cases By the Lawyers Involved. 191 - 214. (2017)

How Legal Design May Constrain the Power of Law to Implement Environmental Norms: The Case of Ecological Integrity in Canada's National Parks.

Shaun Charles Fluker. University of Calgary Press. 131 - 141. (2019)

"Defending the Wild": Time to Think Beyond Legislated Wilderness" .

Shaun Fluker. in Robert Boschman and Mario Trono, eds, Found in Alberta: Environmental Themes for the Anthropocene. (2014)
Critical Habitat and the Species at Risk Act: Current Shortcomings, Future Challenges.

Shaun Charles Fluker. (2019)

The Law on Recovering Alberta's Westslope Cutthroat Trout to Secure Status.

Shaun Charles Fluker. (2018)