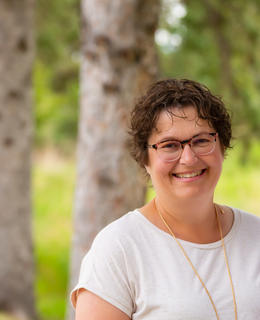 Positions
Associate Professor (Teaching)
Faculty of Nursing, Faculty
Contact information
Please contact me by email.
Background
Educational Background
Master of Nursing , University of Calgary, 2015
Bachelor of Nursing University of Calgary, 2003
Bach of Phys Health Education University of Calgary, 1996
Biography
Shannon is an Associate Professor (Teaching) with extensive experience working with undergraduate students in simulation suites, large & small classrooms, and clinical areas. She creates authentic learning experiences with students primarily in Term 3 and 4 of the Bachelor of Nursing program. Her scholarship focuses on psychomotor skill acquisition, specifically the application of high performance sport knowledge to undergraduate nursing education. Shannon has been a faculty member since 2008 and has served on numerous faculty committees. Her service now includes the Bragg Creek & Redwood Meadows Wellness Network, Canadian Nurses Association Professional Nursing Associations and Membership roundtable, and Alberta Health Strategic Clinical Networks.
Research
Areas of Research
Innovation in healthcare
Developing expertise: Increasing psychomotor skill success in healthcare
Description: Healthcare professionals perform many skills that require them to think and move their bodies to perform a task. Patients suffer if clinicians are unable to perform these psychomotor skills competently. Undergraduate student and novice nurses have trouble learning and performing psychomotor skills competently in clinical practice. For example, peripheral intravenous catheterization (PIVC) is a complex skill commonly taught in nursing education. PIVC first attempt success rates vary widely between novice and expert nurses resulting in patients enduring multiple painful procedures, treatment delays, and increased mortality.
There is evidence that expert surgeons and athletes use a specific gaze, the Quiet Eye, which is essential to successful motor performance. However, the link between gaze, skill acquisition, and motor performance has not been examined in the complexity of nursing. In our robust research program we are working to examine this link to test and implement new teaching and learning strategies for multiple psychomotor skills in healthcare education.
Scholarship of Teaching & Learning
Participation in university strategic initiatives
Courses
| Course number | Course title | Semester |
| --- | --- | --- |
| NURS 387 | The Science of Health: Families in Transition | Winter 2023 |
| NURS 289 | Integrating Nursing Roles & Practice I: Learn, Praxis & Scholarship Practicum Setting | Fall 2022 |
| NURS 389 | Integrating Nursing Roles & Practice II: Learn, Praxis & Scholarship Practicum Setting | Spring 2022 |
| NURS 389 | Integrating Nursing Roles & Practice II: Learn, Praxis & Scholarship Practicum Setting | Winter 2022 |
| NURS 289 | Integrating Nursing Roles & Practice I: Learn, Praxis & Scholarship Practicum Setting | Winter 2022 |
| NURS 387 | The Science of Health: Families in Transition | Winter 2020 |
| NURS 289 | Integrating Nursing Roles & Practice I: Learn, Praxis & Scholarship Practicum Setting | Winter 2020 |
Awards
Vice President Research Catalyst Grant,

University of Calgary.

2022

Taylor Institute for Teaching and Learning Grant: Developing Nursing Expertise: Application of the Quiet Eye to Nursing Education,

University of Calgary.

2017
Publications
Engaging learners in a large classroom: An authentic family nursing simulation experience.

O'Rae, A., Parker, S.I.A., Ferreira, C.. Canadian Association of Schools of Nursing Conference. (2021)

Successful integration of dedication simulation and research teams.

Parker, S.I.A., Prince, P., Morgan, P., & Goldsworthy, S.. National League for Nursing Education Summit. (2017)

The changing landscape: Integrating addiction medicine with nursing education..

Stachan, S., Parker, S.I.A., Cullen, M.. Canadian Society of Addiction Medicine. (2017)

Development of simulations to address difficult conversations across clinical specialties: For senior nursing students.

Prince, P., Parker, S.I.A., Morgan, P., & Goldsworthy, S. International Nursing Association for Clinical Simulation and Learning. (2017)