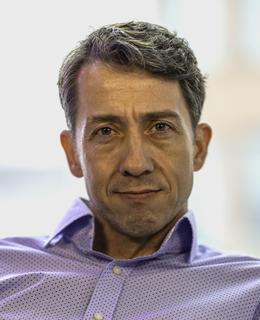 Positions
Professor
Faculty of Nursing, Faculty
Adjunct Professor
Cumming School of Medicine, Department of Oncology
Director
Compassion Research Lab
Full Member
Arnie Charbonneau Cancer Institute
Child Health & Wellness Researcher
Alberta Children's Hospital Research Institute
Background
Educational Background
Canadian Institutes of Health Research Postdoctoral Fellowship University of Manitoba, 2012
PhD The University of Calgary, 2009
Specialist - Spiritual Care Clinical Spiritual Care, Canadian Association for Spiritual Care, 2003
Biography
Dr. Shane Sinclair (PhD'09) is a Full Professor in the Faculty of Nursing at the University of Calgary. He is also the Director of the Compassion Research Lab and an Adjunct Professor within the Division of Palliative Medicine, Department of Oncology, Cumming School of Medicine. His nationally funded, internationally recognized research focuses on compassion in health care, including the development and validation of the Sinclair Compassion Questionnaire. Dr. Sinclair is a former Canadian Institutes of Health Research Postdoctoral Fellow (University of Manitoba), a recipient of the Canadian Association for Spiritual Care Lifetime Achievement Award, the Canadian Institutes of Health Research CAPO Award for Research Excellence, and the International Psycho-Oncology Society New Investigator Award, and a Top 40 Under 40 awardee from Calgary's Avenue magazine. He has given over 200 invited lectures, has over 125 peer reviewed publications, and is considered an international subject matter expert on the topic of compassion.
Research
Areas of Research
Cancer
Patient and Family Centred Care
Psychosocial outcomes
Compassion
Psycho-social oncology
Spirituality and health
Palliative Care
Qualitative Research
Activities
Dr. Sinclair's research focuses on psychosocial and spiritual issues within oncology and palliative care. He is recognized as an international leader on the topic of compassion within healthcare. His nationally funded programme of research on compassion developed the first patient informed empirical model of compassion; delineated between patients' perspectives of sympathy, empathy and compassion; and led to the reconceptualization of compassion fatigue and self compassion. He is currently focused on a multi-centre, CIHR funded study to develop and validate a patient reported compassion measure.
Participation in university strategic initiatives
Courses
| Course number | Course title | Semester |
| --- | --- | --- |
| NURS 683 SEC 01 S01 | Qualitative Design And Analyses | Fall 2022 |
Awards
Canadian Institutes of Health Research Award for Research Excellence,

Canadian Association of Psychosocial Onocology.

2021

Verda Rochen Distinguished Service Award,

Canadian Association for Spiritual Care.

2021

Award in Graduate Teaching Excellence,

The University of Calgary.

2018

Carmelita Lawlor Lectureship in Palliative Care Award,

University of Toronto.

2018

CIHR- Institute of Cancer Research New Investigator Award,

Canadian Institutes of Health Research.

2018

Great Supervisor Award,

The University of Calgary.

2018

Neil MacDonald Lectureship in Palliative Care Award,

Covenant Health, Palliative Care Institute.

2018

Palliative Medicine, Paper of the Year,

Palliative Medicine (Sage Publishing).

2018

Graduate Teaching Excellence Award (nominee),

The University of Calgary.

2017

Canadian Cancer Society Research Institute Junior Investigator Travel Grant Award,

Canadian Cancer Society Research Institute.

2016

Emerging Researcher Award,

Covenant Health.

2016

International Psycho-Oncology Society Hiroomi Kawano New Investigator Award,

International Psycho-Oncology Society.

2016

Peak Scholar,

The University of Calgary.

2016

President, Canadian Association of Psychsocial Oncology,

Canadian Association of Psychosocial Oncology.

2017

Student Union Teaching Award (nominee),

The University of Calgary.

2016

Calgary's Top 40 Under 40,

Avenue Magazine.

2013

Canadian Institutes of Health Research/Canadian Cancer Society New PI Best Poster Award, Canadian Cancer Research Conference,

Canadian Cancer Care Research Alliance.

2013

CancerCare Research Professorship,

The University of Calgary.

2016

Award of Excellence in Research,

Canadian Association for Spiritual Care.

2012

Marlene Mysak Oncology Education Award,

Alberta Cancer Foundation.

2011

Canadian Institutes of Health Research post-doctoral fellowship,

Canadian Institutes of Health Research.

2012

Solomon Levin Memorial Award,

Alberta Cancer Foundation.

2010

Governor General's Gold Medal (Nominee),

The University of Calgary.

2009

Graduate Research Scholarship,

The University of Calgary.

2010

Graduate Research Scholarship,

The University of Calgary.

2009

Student Travel Award,

Canadian Agency for Drug and Technologies in Health.

2008

Graduate Research Scholarship,

The University of Calgary.

2006

Undergraduate Medical Education Grant,

The University of Calgary.

2008

Graduate Research Scholarhip,

The University of Calgary.

2005

Doctoral Education Grant,

Alberta Cancer Board, Palliative Care Research Initiative.

2005

Dean's Award,

The University of Calgary.

2004

Doctoral Tuition Grant,

Calgary Health Region.

2007

Spiritual Care Services Doctoral Studies Scholarship,

Alberta Health Services.

2008
Publications
Family and Patient Narratives in the ICU: Bridging Discourses Through Compassion.

S. Sinclair; G. Netzer; S. Lasair. Springer. (2018)

Spiritual Care as an Essential Component of Palliative Care.

H. Jafari; C. Puchalski; S. Sinclair; R. Vitillo; S. Connor; X. Gomez-Batiste; R. Bauer. Worldwide Hospice and Palliative Care Association. 317-348. (2017)

Spiritual Communication.

S Ragan; M Glajchen; B Ferrell; Shane Sinclair; E Wittenberg-Lyles; J Goldsmith; G Handzo; Tania Sona Smith. Oxford University Press. (2015)

Research and Practice: Spiritual Perspecties of a Good Death within Evidence Based Health Care.

Shane Sinclair; H M Chochinov; K. Stajudhar; H. Coward; P. Bramadat. Suny Press. 97-125. (2013)

Dignity: A Novel Pathway into the Spiritual Landscape of The Human Heart.

B. Rumbold; Shane Sinclair; M. Cobb; H M Chochinov; C. Puchalski. Oxford University Press. 145-150. (2012)

Dignity Conserving Care: Research Evidence.

Shane Sinclair; H M Chochinov; B. Rumbold; M. Cobb; C. Puchalski. Oxford University Press. 285-292. (2012)

Spiritual Care.

N Macdonald; Shane Sinclair; Nora Hagen; D. Oneschuk. Oxford University Press. 209-220. (2012)
The Initial Validation of a Patient Orientated compassion Measure: Exploratory Factor Analysis.

Shane Aaron Sinclair; Susan McClement; Parneet Jaggi; Tom Hack; Cara C MacInnis; Harrison Boss. Palliative Medicine. 322. (2019)

Implementing a Palliative Care Program in Long Term Care Homes Reduces Hospital Use at the End of Life.

S., Sinclair; S. Kaasalainen; S., Parker; TS., Sussman. Palliative Medicine. 49. (2019)

The Colours and Contours of Compassion: The Findings from a Systematic Review on the Perspectives of Compassion among Ethnically Diverse Patients and Healthcare Providers.

S. Sinclair; P. Singh; K. King-Shier. Palliative Medicine. 49. (2019)

Compassion Without Borders: Palliative Care Providers' Perspectives on Challenges and Facilitators to Compassion..

H M Chochinov; Nora Hagen; K Stajduhar; T Hack; S McClement; S Raffin-Bouchal; P Singh; Shane Sinclair. Palliative Medicine. 24. (2019)

Experiences of South Asians in Receiving Compassionate Care: How South Asian Populations Perceive and Experience Compassion in the Healthcare System .

P. Singh; S. Sinclair; Kathryn . King-Shier. Palliative Medicine. (2019)

Compassion in the Margins: The Perspectives, Experiences, Challenges and Facilitators of Compassion According to Long Term Care Patients, Their Family Members and Their Healthcare Providers..

Lorraine Venturato; L Smith-MacDonald; Shane Sinclair; S Kaasalainen; T Sussman. Palliative Medicine. 48. (2019)

Development of a Patient Reported Measure of Compassion: An Update and Insights from the Initial Stages of Measure Development.

S McClement; L Cuthbertson; T F Hack; the Compass; Shane Sinclair; P Jaggi. Palliative Medicine. 291. (2019)

The Strengthening of a Palliative Approach in Long Term Care (SPALTC) Program: An Evaluation..

Graham Thompson; Lorraine Venturato; T Sussman; the SPA-LTC team; Shane Sinclair; D Parker; K Brazil; L McCleary; S Kaasalainen. Palliative Medicine. 214. (2018)

South Asians' Perceptions and Experiences of Compassion in the Healthcare System: A Grounded Theory Study..

P Singh; Kathryn King-Shier; Shane Sinclair. Palliative Medicine. 249. (2019)

Back to the Future: A Historical Analysis of Sympathy, Empathy, and Compassion Within Medicine, Nursing, and the Humanities.

Shane Sinclair; A Soto-Rubio. Palliative Medicine. 270. (2019)

Mindfulness and Compassion-Oriented Practices Trained Directly at the Workplace Results - Results of a Mixed-Method Study for Palliative Care Practitioners..

M Kern; C I Orella-Rios; Y Regel; L Radbruch; S Schmidt; Shane Sinclair. Psycho-Oncology. 22. (2019)

Fact or Fiction: The Findings of Two Comprehensive and CriticalMeta-Narrative Reviews of Self-compassion and Compassion Fatigue..

Shane Sinclair; Kathryn . King-Shier; L . Smith-MacDonald; P. Singh; L. Venturato; S., Raffin-Bouchal. Sage. (2017)

Compassion is a Two-way Street: The Development of a Healthcare Provider Model of Compassion.

S . Raffin-Bouchal; N. Hagen; A. Sinnarajah; H. M. Chochinov; P. Singh; TF. Hack; S. McClement; K. Stajduhar; S. Sinclair. (2017)

Tailored Education Required Across the Long termCare Workforce to Ensure Quality Palliative Care..

T. Sussman; S. Sinclair; R. Bonifas; S. Kaasalainen; D. Parker; L. Young; L. Venturato; P. Strachan; G. Thompson; M. Bui. (2016)

Strengthening a palliative approach in long-termcare (SPA-LTC): A stakeholder analysis of a Canadian, evidence informed, multi-component program..

D Parker; Sussman; Shane Sinclair; the SPA-LTC Team; Graham Thompson; S Kaasalainen; K Brazil; Lorraine Venturato. (2017)

Digging in the dirt: Findings and lessons learned from a comprehensive scopingreview of compassion within clinical care.

Shane Sinclair; T Hack; H Chochinov; Raffin Bouchal S; Hagen; Julian Norris; S McConnell; S McClement. (2017)

Charting a Course to Develop and Validate a Patient ReportedCompassionate Care Measure: Findings from a Narrative Synthesis Literature Review and an Overview of the COMPASS Study..

TF. Hack; The COMPASS; S. Sinclair; J. Kondejewski; R. Sawatzky; L. Russell. (2017)

What are the differences among occupational groups related to their educational and supportiveneeds in providing palliative care in long-term care homes?.

Shane Sinclair; Graham Thompson; S Kaasalainen; K Brazil; Lorraine Venturato; D Parker; T Sussman. (2017)

An 'expert'model of compassion: Advanced cancer patients' perspectives and experiences of compassionate care.

S. Sinclair. (2017)

The Nuts and Bolts of Compassion: A Patient-informed Conceptual Model of CompassionateCare at the End of Life..

S Raffin-Bouchal; T Hack; H Chochinov; S* McConnell; S McClement; Shane Sinclair; Nora Hagen. (2017)

Towards a Global and Culturally Sensitive Understanding of Spiritual Care: An International Study of Patients' and FamilyMembers' Views and Experiences of Spiritual Care Across 9 Countries.

J. Hunter; M. Glajchen; R. A. Powell; I. Karvinen; E. Deskur; M. Vermandere; N. Gikaara; J. Yong; C. Puchalski; L. E. Selman; S. Sinclair. (2016)

Peeling the Onion: Patients' Perspectives and Experiencesof the Similarities and Differences of Sympathy, Empathy, and Compassion.

S. McClement; S Raffin-Bouchal; S. Sinclair; T. F. Hack. (2016)

Frequenting Death's Doorstep: A mixed method studyon issues related to patients'spiritual well-being and their healthcare providers' ability to addressspiritual needswithin a bone marrow therapy clinic.

B Enns; T Fung; S McConnell; Raffin Bouchal S; R Booker; K Beamer; N Ager; Shane Sinclair. (2016)

Exploring the Cultural, Spiritual and Religious Perspectives of Palliative Care.

Mckenzie; G Horst; R Barker; Shane Sinclair. (2015)

Obtaining funding for research in existential issues: An example of a programme of research on compassion in Canada.

Chochinov; Hagen; Raffin-Bouchal; Hack; Shane Sinclair; K Stajduhar; McClement; SE; HM. (2015)

Compassion: Understandings from the Literature and the Bedside.

Shane Sinclair; H M Chochinov; S McClement; T Hack; Nora Hagen; Raffin Bouchal S. (2014)

Understanding Compassion: An Empirical Approach to Cancer Patients Perspectives and Experiences of Compassion at the End-of-Life.

Nora Hagen; T Hack; H M Chochinov; S Raffin-Bouchal; S E McClement; Shane Sinclair. (2013)

Start the Talk: Supporting Children and Adolescents When a Family Member Has Cancer - A Guide for Educators and Health Care Professionals..

Shane Sinclair; L Corsini; A Warnick; G MacKenzie; D McLeod; J Taylor-Brown; A Laizner; M J Esplen; L Labelle; J Hamilton. (2013)

Holding on and Letting Go: Families Experience of Anticipatory Mourning in Terminal Cancer..

Nancy Moules; Shane Sinclair; L Rallison; Raffin Bouchal S. 68-68. (2012)

The Impact of Death and Dying on the Personal and Professional Lives of Palliative and Hospice Care Professionals..

Shane Sinclair. (2011)

The contours and cultivation of compassion: Advanced cancer patients' perspectiveson sympathy, empathy, and compassion and the feasibility of compassion training.

Shane Sinclair. (2016)

'She listened to my stories very carefully'--An International Study of Caregivers' Views and Preferences Regarding Spiritual Care.

M. Vermandere; P. Speck; R. A. Powell; E. Deskur; C. Puchalski; M. Glajchen; S. Sinclair; I. Karvinen; S. R. Adler; J. Hunter; N. Gikaara; J. Yong; L. Selman; L. Brighton; Collaborative., InSpirit; R. Egan. (2016)