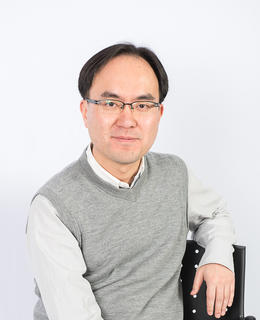 Dr. Seonghwan (Sam) Kim, PhD, PEng
Background
Educational Background
Ph.D. Mechanical Engineering, University of Tennesee, Knoxville, TN USA, 2008
M.S. Aerospace Engineering, Seoul National University, Seoul, South Korea, 2000
B.S. Aerospace Engineering, Seoul National University, Seoul, South Korea, 1998
Biography
Dr. Seonghwan (Sam) Kim is a Professor and Tier 2 Canada Research Chair in Nano Sensing Systems in the Department of Mechanical and Manufacturing Engineering, Schulich School of Engineering (SSE) at the University of Calgary (UCalgary). He received his BSc (1998) and MSc (2000) degrees in Aerospace Engineering from Seoul National University, Seoul, South Korea and PhD (2008) in Mechanical, Aerospace and Biomedical Engineering from the University of Tennessee, Knoxville, USA. He was a Postdoctoral Research Associate at Oak Ridge National Laboratory, USA (2008-2010) and an Acting Research Associate at the University of Alberta (2010-2013) prior to his current faculty position.
In August 2013, Dr. Kim has founded the Nano/Micro-Sensors and Sensing Systems Laboratory (NMS3, https://www.ucalgary.ca/labs/nanosensors/home/) at UCalgary to develop point/standoff sensors and sensing systems and to explore novel characterization techniques for nanomaterials, nanocomposites, and biological materials. He is an active member of the Pipeline Engineering Centre in UCalgary which focuses on new technology development for pipeline integrity and monitoring. In addition, he is a founding director of a start-up company, ESPARK Energy Inc., since January 2015 and actively developing new technologies for energy industry.
Research
Areas of Research
Micro/Nanoelectromechanical systems
Integration of current micro/nanoelectromechanical systems (M/NEMS) with infrared (IR) spectroscopy to create highly sensitive and selective sensors and materials characterization platforms.
Scanning probe microscopy
Development of novel nano-metrologies based on scanning probe microscopy (SPM) that enables the multi-physical and chemical material property characterization for energy, environment, and biomedical applications.
Metal organic frameworks
Novel synthesis of metal organic frameworks (MOFs) and functionalized MOFs nanocomposites for various chemical/biological sensing applications.
Sensing
Theoretical, numerical, and experimental study of multi-scale fluid-structure interaction phenomena for physical/chemical/biological sensing applications.
Quantum materials for new sensing devices.
Additive manufacturing
Additive manufacturing of polymer-derived ceramics.
Participation in university strategic initiatives
Courses
| Course number | Course title | Semester |
| --- | --- | --- |
| ENME 599 LEC 01 | Vibrations & Machine Dynamics | Fall 2022 |
| ENME 619 | Fundamentals of Optics and Optical Engineering | Fall 2022 |
| ENGG 204 | Fundamentals of Engineering Materials | Fall 2023 |
Awards
Research Excellence Award,

Schulich School of Engineering, University of Calgary.

2023

Renewal of Tier II Canada Research Chair in Nano Sensing Systems,

Canada Research Chairs (NSERC).

2020

Korean Federation of Science and Technology Societies (KOFST) Engineer of the Year Award,

Korean Federation of Science and Technology Societies.

2019

Research Achievement Award,

University of Calgary.

2017

Early Research Excellence Award,

Schulich School of Engineering, University of Calgary.

2016

Tier II Canada Research Chair in Nano Sensing Systems,

Canada Research Chairs (NSERC).

2015