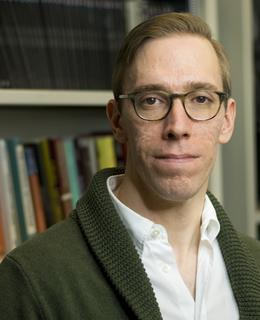 Contact information
For media enquiries, contact
Background
Educational Background
B.A. Film Studies, University of Georgia, 2004
Doctor of Philosophy English, University of Pittsburgh, 2012
M.A. Cinema Studies, New York University, 2005
Research
Areas of Research
History and Theory of Animation
I am primarily a historian and theorist of animated film, who also does research in classical film theory, modernism, and the history of design.
Participation in university strategic initiatives
Courses
| Course number | Course title | Semester |
| --- | --- | --- |
| FILM 30522 LEC 01 01 | Topic in Genre | 2021 |
| FILM 40325 LEC 01 01 | Topic in the Director's Cinema | 2021 |
| FILM 40908 LAB 01 B01 | Special Topics in Film Studies | 2021 |
| FILM 591 LEC 01 01 | Senior Seminar in Film Studies | 2021 |
Projects
Pragmatic Visions: Vachel Lindsay's "Democratic" Spectatorship and Early Cinema
This SSHRC-funded project investigates the ideas of poet Vachel Lindsay on the then-new medium of cinema. In 1915, as cinema was coalescing into a major industry, American poet Vachel Lindsay wrote the first book of film theory, arguing for film as a tool of aesthetic enlightenment and political engagement. Pragmatic Visions traces Lindsay's little-understood theory of how cinema engages viewers. Lindsay argued that film's sensuous power could offer spectators "visions," in something like a religious sense, of society's potential future. But the public nature of film exhibition meant that, unlike private religious visions, cinema's visions could be debated democratically. This project also unearths the cultural context around Lindsay's ideas. By locating Lindsay's encounters with print culture, Progressivism, and primitivism, this project reveals disturbing tensions between the ideal and practice of democracy in turn-of-the-century America—tensions that still exist today.
Awards
Naomi Lacey Resident Fellowship,

Calgary Institute for the Humanities.

2021