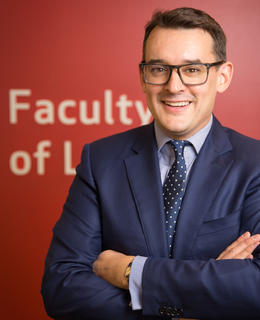 Dr. Rudiger P. Tscherning, PhD
Positions
Associate Professor
Faculty of Law
Background
Educational Background
PhD Ruprecht-Karls-Universität Heidelberg, 2019
LLM Climate Change and Energy Law and Policy, The Centre for Energy, Petroleum and Mineral Law and Policy, University of Dundee, 2011
LLM International Commercial Law, The University of Nottingham, 2003
LLB Trinity College Dublin, 2002
Biography
Dr. Rudiger Tscherning is a PhD graduate of the Institute for Comparative Law, Conflict of Laws and International Business Law at the Ruprecht-Karls-Universität Heidelberg and is a past global research fellow of the Canadian Institute of Resources Law. Prior to his PhD studies at the University of Heidelberg, Dr. Tscherning was the founding Executive Director of the Center for Energy and Sustainability Law at Qatar University College of Law, where he also was a Lecturer of Law teaching in energy and sustainability law and policy. Before joining academia, he practiced as a solicitor in London, England and was called to the Law Society of England and Wales in 2007.
Since joining the University of Calgary, Tscherning has secured research funding from the Rocky Mountain Mineral Law Foundation, the Canadian Foundation for Legal Research, and the Alberta Law Foundation. He was awarded the Faculty of Law's Stikeman Elliott LLP Fellowship in Corporate Law in 2018 and in 2020. Dr. Tscherning received honorable mention for a University of Calgary Sustainability Teaching Award in the spring of 2020, in recognition of his efforts of embedding sustainability and the principles of the UN Sustainable Development Goals 2030 in his law courses.
Research Activities
Dr. Tscherning researches and teaches in the areas of domestic and international energy and natural resources law, infrastructure and construction law, and private international law. His activities are focused on clean energy, including renewables, hydrogen and nuclear energy; critical strategic minerals/raw materials; the construction of energy infrastructure; climate adaptation of critical infrastructure; and private international law (the conflict of laws).
Prospective Graduate Students
Dr. Tscherning has very limited capacity for graduate student supervision until the academic year 2024/25. Unsolicited graduate supervision solicitations (including via LinkedIn) may not be replied to. Your topic of study must relate directly to either offshore wind energy, nuclear energy or CSM mining. Given the geographic focus of ongoing projects, applications by prospective graduate students from the EU/EEA, UK, Australia, Japan, Botswana, Namibia and South Africa are encouraged.
Research
Areas of Research
Critical Infrastructure and Construction Law, Transportation of Energy and Commodities, Clean Energy - LNG, Hydrogen, Nuclear Energy, Renewable Energy - Offshore & Onshore Wind, Solar, Tidal/Marine Energy, The Conflict of Laws (Private International Law), Climate Adaptation of Critical Energy Infrastructure
Participation in university strategic initiatives
Courses
| Course number | Course title | Semester |
| --- | --- | --- |
| LAW 403 | Legislation | |
| LAW 613 | Conflict of Laws | |
| LAW 617 | Alternative Energy Law | |
| Law 640 | Energy Transportation and Infrastructure Law | |
Publications
"Charting the Trans-Pacific Clean Hydrogen Trade from Canada to Japan".

Oil, Gas and Energy Law Journal, Special Issue on Carbon-Neutral Energy, advanced publication, (with Kenryo Mizutani). (2022)

"Enabling the EU 'Fit for 55' Transition: Canada as a Strategic Partner to Address Hydrogen and Raw Material Vulnerabilities".

Oil, Gas and Energy Law Journal 1, Special Issue on the Energy Transition. (2022)

"Developing a Canadian Clean Hydrogen Economy: Maximising the Export Potential".

Oil, Gas and Energy Law Journal 2, Special Issue on the Hydrogen Economy. (2021)

"Navigating the Emerging Lithium Rush: lithium extraction from brines for clean-tech battery storage technologies".

39(1) Journal of Energy & Natural Resources Law 13 (with Brady Chapman). (2021)

"Climate Litigation and the Class Action Mechanism — The Potential Role of the UN Sustainable Development Goals".

33:2 Journal of Environmental Law and Practice. (2020)

"The Role of Cross-Border Energy Infrastructure in Accelerating Germany's Energy Diversification and Renewable Energy Expansion: Implications for Alberta's Energy Transition".

Canadian Institute of Resources Law, Occasional Paper #72. (2020)

"Corporate Risk and Climate Impacts to Critical Energy Infrastructure in Canada".

42:2 Dalhousie Law Journal. (2019)

"Construction Disputes in Major Infrastructure Deliveries: Lessons from the United Kingdom for the Introduction of Statutory Adjudication in Canada".

18 Asper Rev of International Business and Trade Law. (2018)

"De-Escalating Construction Disputes in Major Infrastructure Delivery".

121 Resources Law. (2018)

"Nuclear Law and Policy".

11:1 Oil, Gas and Energy Law Journal 1, Special Issue on Nuclear Law and Policy (with Paul Rice). (2013)

"Transportable Nuclear Power Plants for Natural Resources Extraction in the Arctic – International Environmental, Proliferation and Security Concerns".

10:2 Oil, Gas and Energy Law Journal 1, Special Issue on Polar Energy Law. (2012)

"The European Offshore Supergrid and the Expansion of Offshore Wind Energy in Germany, Ireland and the United Kingdom – Legal, Political and Practical Challenges Part I".

20:3 European Energy and Environmental Law Review. (2011)

"The European Offshore Supergrid and the Expansion of Offshore Wind Energy in Germany, Ireland and the United Kingdom – Legal, Political and Practical Challenges, Part II".

20:4 European Energy and Environmental Law Review. (2011)

"The European Union Emission Trading Scheme Rules on Carbon Leakage and Energy Intensive Industry in the Federal Republic of Germany".

20:1 European Energy and Environmental Law Review 2. (2011)

"Long-Term Liabilities for Carbon Dioxide Capture and Storage in Germany: What Contribution can Legal Developments in the USA Make to a Revised Draft Carbon Capture and Storage Law?".

14 CEPMLP Annual Review of Energy, Petroleum and Mineral Law and Policy. (2011)

"Decommissioning Oil and Gas Installations in the North Sea: To What Extent Should the United Kingdom Experience Influence the Decommissioning Regime for Offshore Wind Energy Installations on the United Kingdom Continental Shelf?".

14 CEPMLP Annual Review of Energy, Petroleum and Mineral Law and Policy. (2011)

"Indirect Expropriation of Carbon-Intensive Investments and the Fair and Equitable Treatment Standard in International Investment Arbitration: A Commentary on the Pending Vattenfall v Federal Republic of Germany Dispute".

14 CEPMLP Annual Review of Energy, Petroleum and Mineral Law and Policy. (2011)
Construction Disputes in International Energy and Natural Resources Infrastructure Project Delivery.

Verlag Dr Kovac. (2020)

"Climate Risk and Physical Resilience: Adapting Natural Gas Pipeline Infrastructure for the Clean Energy Transition in Canada".

in Olawuyi, D. and Pereira, E. (eds.), Palgrave Handbook of Natural Gas and Global Energy Transitions, Palgrave McMillan, London/UK. (2022)

"Canada's Emerging LNG Export Industry and the Project Approval Challenge".

in Oyewunmi, T. et al. (eds.), Decarbonisation and the Energy Industry: Law, Policy and Regulation in Low-Carbon Energy Markets. (2020)

"Transportable Nuclear Power Plants – An Update on Regulatory Responses in International Nuclear Law".

in Proceedings of the International Nuclear Law Association Conference 2013. (2014)

"Renewable Energy for Food and Water Security in Dry-Land Countries: A Model Legal Framework for the Qatar National Food Security Programme".

in Talus, K. (ed.), Handbook on International Energy Law. (2013)
Alberta's Future Sector Opportunities, Panel Discussant - Agriculture, April 6, 2022.

Economic Developers Alberta EDA XPERIENCE 2022, Kananaskis County, Canada. (2022)

"A Canada-Germany 'Clean' Energy Collaboration: Potential versus Reality", March 23, 2022, invited speaker.

ABBY-NET Online Lecture Series 2022. (2022)

"Commercializing Resilient Global Food Systems - International and Climate Law Challenges and Opportunities for Alberta's Ag Sector".

Hunter Hub for Entrepreneurial Thinking, University of Calgary, October 6, 2021 (presenter). (2021)

"Towards Net-Zero: Low Carbon and Clean Tech Innovations for Alberta's Energy Transition", Canadian Institute of Resources Law, Webinar.

(2021)

"The Business of Hydrogen: A Focus on Canada and Japan", November 9, 2021, with The Japan Society and BLG LLP (co-organiser and presenter).

(2021)

"The Business of Hydrogen: A Focus on Canada and Germany", April 12, 2021, with BLG LLP, Bird & Bird LLP, German Institute for International and Security Affairs, and Cummins (co-organiser and presenter).

(2021)

"There must be Something in the Water. Let's Talk Hydrogen", Virtual Panel Event with Alberta's Associate Minister of Natural Gas and Electricity, McMillan LLP .

(2021)

"Corporate Risk and Climate Impacts to Critical Energy Infrastructure in Canada".

Canadian Bar Association, Environmental Law Section – Alberta South. (2020)

"Class actions in Canada: Finding a safe space for mass environmental and climate justice tort claims".

Second Canadian Law of Obligations Conference. (2019)

"Risks and resilience in climate adaptation of critical energy infrastructure – the adaptive corporation".

Dalhousie University Schulich School of Law Purdy Crawford Business Law Workshop. (2018)

"De-escalating Construction Disputes in Major Infrastructure Delivery: Lessons from the United Kingdom as Canada moves to Statutory Dispute Adjudication", he Asper Review of International Business and Trade Law's 4th Annual INTLaw Conference.

(2018)

"Climate Change, Resources and Infrastructure Use", William & Mary Law School and the World Resources Institute, Washington D.C.

(2014)

"Transportable Nuclear Power Plants – the Need for a Global Legal Framework?", International Nuclear Law Association (INLA) International Nuclear Law Conference.

(2013)

"Best Case Practices in Renewable Energy for the GCC", Second Qatar Alternative Energy Investor Summit.

(2013)

"Opportunities and Challenges of Nuclear Energy in the Middle East", Power-Gen Middle East Conference.

(2013)

"Renewable Energy Policy and Law Roadmap for the State of Qatar", World Future Energy Summit Abu Dhabi.

(2012)