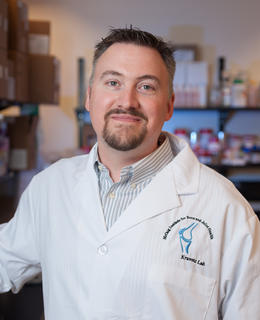 Roman Krawetz
Positions
Associate Professor
Cumming School of Medicine, Department of Cell Biology and Anatomy
Academic Director
Cumming School of Medicine, Centre for Advanced Technologies
Full Member
McCaig Institute for Bone and Joint Health
Background
Educational Background
B.S. Cell Biology, University of Western Ontario, 2001
Doctor of Philosophy Zoology, University of Western Ontario, 2006
Biography
Since January 1, 2013, I have been in the Department of Cell Biology & Anatomy and the dept. of Surgery. I am also a full member of the McCaig Institute for Bone and Joint Health. Our research in osteoarthritis and regenerative medicine has been funded by CIHR, NSERC, CIHR/IMHA, CFI, AO Foundation, Canadian Arthritis Network and Canadian Stem Cell Network. In 2013 I became the Grace Glaum Professor in Arthritis Research and in 2015 I was awarded a Tier II Canada Research Chair In Bone and Joint Stem Cell Biology.
I have always been fortunate to benefit from productive a range of mentorship experiences beginning as a trainee and progressing to mentor and supervisor; therefore, it is important to me to strike a balance between trainee participation in my research as well as developing opportunities that reflect the interests of everyone involved in the research. A unintended consequence of this approach is that sometimes trainees can start taking on a similar appearance and mannerisms.
Projects
Synovial Stem Cell Biology
My lab's research in this area has demonstrated that tissue resident adult human stem cells present in the joint environment are regulated by tissue resident immune cells (macrophages). Specifically, the polarization state of the synovial macrophages (e.g. pro-inflammatory vs. anti-inflammatory) regulates the differentiation potential of the synovial stem cells. These findings are particularly interesting since we were also able to demonstrate that in synovium from normal and arthritis patients, the co-localization of the stem cells and macrophages is altered with the onset and further throughout the progression of arthritis. Our previous work in this area suggested that one of the more potent molecules expressed by macrophages that regulate stem cells is CCL2/MCP1, and we now have demonstrated that this pro-inflammatory cytokine and its downstream signaling pathway play a regulatory role in endogenous cartilage repair after injury. While these data support long recognized clinical observations that cartilage only has minimal repair capacity after injury, our lab has contributed to the field by discovering novel insights into this stem cell – macrophage interaction and how this cellular relationship potentially inhibits joint resident stem cells from contributing to cartilage repair.  
---
Cellular Basis of Endogenous Cartilage Regeneration
Very few mammals demonstrate endogenous cartilage repair after injury. To understand the mechanisms involved in this regenerative phenotype, my lab has focused on spontaneous and transgenic mouse models that display cartilage regeneration. My work in this area has shown that the systemic immune system does not play a significant role in this cartilage regeneration phenotype and instead it is the synovial stem cells within the joint that are responsible. The tumor suppressor gene, p21 appears to play a significant role in this regenerative response and this is conserved in humans as p21 levels are correlated with the differentiation potential of human synovial stem cells. Our contributions to the field in this area of research have identified synovial stem cells as cartilage repair effectors in these models and reinforces the concept of using stem cell therapies for the treatment of cartilage injury and/or osteoarthritis.
---
Bone and Joint Tissue Engineering
While my research program is focused on the potential of using the body's own stem cells to induce endogenous repair, I recognize that many types of musculoskeletal injuries will always require some level of external intervention. Therefore, my group also examines the use of exogenous stem cells to repair bone and joint tissues and we have made progress over the past 4 years in bone and cartilage tissue engineering. In collaboration with biomedical engineers at the University of Calgary, we have developed novel methods to stimulate osteogenesis of embryonic stems with the goal of developing bone replacement therapies. In collaboration with biomedical engineers at Technische Universität Dresden, we have developed new bioreactor methodologies for the production of cartilage and bone from embryonic stem cells. These studies complement our endogenous repair research for the treatment of bone and joint injuries/disease.     
Awards
CRC Tier II in Bone and Joint Stem Cell Biology,

Canada Research Chairs.

2020

Grace Glaum Professor in Arthritis Research,

Calgary Foundation.

2018