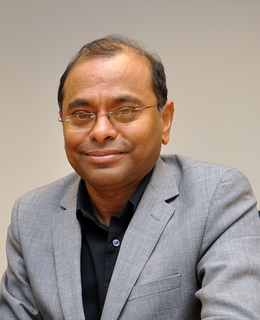 Dr. Rajamannar Ramasubbu, MD,MRCPsych, FRCP(C), MSc
Positions
Clinical Professor
Cumming School of Medicine
Full Member
Hotchkiss Brain Institute
Full Member
Hotchkiss Brain Institute, Mathison Centre for Mental Health Research and Education
Clinical Professor
Cumming School of Medicine, Department of Clinical Neurosciences
Background
Educational Background
Bach of Med and Surgery Medical Specializations, Madurai Kamaraj University, 1978
Doctor of Medicine Psychiatry, Bangalore University, 1985
M.S. Medical Specializations, University of Toronto, 1998
Biography
Dr. Ramasubbu is a clinician investigator and Professor in the Department of Psychiatry and Clinical Neurosciences at the University of Calgary. He is a full member at the Hotchkiss Brain Institute, and Mathison Centre for Mental Health Research & Education. Dr. Ramasubbu's clinical and research interests include neuroimaging and neurostimulation of mood disorders. Current studies include imaging markers of treatment response to antidepressant medications, Theta Brain Stimulation (TBS), and Subcallosal Cingulate -Deep Brain Stimulation (SCC-DBS) for treatment-resistant depression (TRD). He is the Principal investigator of imaging studies in depression, TBS research, machine learning analysis in the prediction of antidepressant treatment response, and Co-Principal Investigator in Deep Brain Stimulation of SCC for TRD, funded by Alberta Innovates and Health Solutions (AIHS).
Papers generated from SCC-DBS project have been published in high-impact journals such as Lancet Psychiatry, Neuropsychopharmacology and Brain Stimulation. He is a current member of many professional societies including the Canadian Psychiatric Association, Society of Biological Psychiatry, and the Canadian College of NeuroPsychopharmacology (CCNP). Dr. Ramasubbu has authored and co-authored around 90 articles in peer-reviewed journals. He serves on editorial boards, committees in professional societies, and as an external reviewer.
Research
Areas of Research
Mental Health
Stress
Activities and Mood Disorders
My research interests focus on studying neurobiology of mood disorders. Current studies include investigation of neural markers and predictors of treatment response to antidepressant treatment using fMRI, genetic imaging in mood disorders, and Deep Brain stimulation treatment for resistant depression.
Participation in university strategic initiatives
Awards
Invited comments,

2017

Invited Editorial on CANMAT guidelines-2016,

2017

Media coverage,

Global TV.

2014

award,

2013

Media coverage,

2013

Pfizer Canadian Psychiatric Research Award.,

2013

award,

2012

CBC- Radio Interview,

2011

Canadian Psychiatric Research Foundation-Fellowship Award,

1993

Sigmund Freud Memorial Prize in Psychiatry,

1977