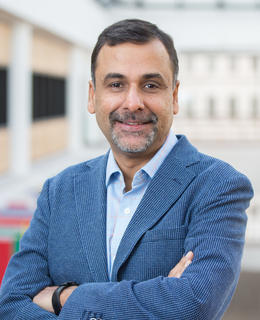 Associate Professor
Haskayne School of Business, Accounting [ACCT]
---
Background
Educational Background
PhD, Accounting, University of Texas at Dallas,
PGDM (MBA), S.P. Jain Institute of Management & Research,
B.Engg., Mechanical Engineering, Gujarat University,
Biography
Raj is an associate professor of accounting at the Haskayne School of Business. He earned his PhD from the University of Texas at Dallas. Prior to joining Haskayne, Raj held academic positions at Washington University in St. Louis and at the University of Illinois at Chicago. He teaches management accounting in the Undergraduate, MBA, Executive MBA, and PhD programs.
Raj's research lies at the intersection of management accounting and financial accounting, with a focus on issues related to cost behavior, interfirm relationships, performance measurement, and earnings management. He serves on the Editorial Boards of Contemporary Accounting Research, Journal of Management Accounting Research, and Advances in Management Accounting. He is also an Associate Editor at Decision Sciences and Accounting Perspectives, and an ad-hoc Editor at Contemporary Accounting Research.
Courses
| Course number | Course title | Semester |
| --- | --- | --- |
| ACCT 361 LEC 01 01 | Cost Accounting | 2020 |
| ACCT 603 LEC 02 02 | Management Accounting | 2020 |
| ACCT 661 LEC 01 01 | Cost Accounting | 2021 |
| ACCT 661 LEC 02 02 | Cost Accounting | 2020 |
| ACCT 361 LEC 02 02 | Cost Accounting | 2021 |