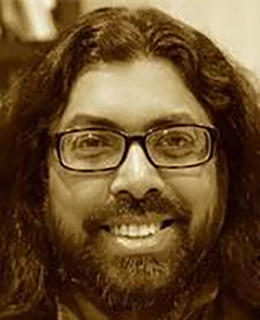 Dr. Pratim Sengupta
Positions
Professor
Werklund School of Education, Specialization, Learning Sciences
Research Chair, STEM Education (until 2020)
Werklund School of Education
Background
Educational Background
PhD Learning Sciences, Northwestern University, 2009
MS Physics, Northwestern University, 2003
MS Physics, Indian Institute of Technology, Kharagpur, 2000
Biography
Dr. Sengupta is a Full Professor of Learning Sciences and has also served as Research Chair of STEM Education. He completed his PhD in Learning Sciences at Northwestern University (2009). Prior to coming to the University of Calgary, Dr. Sengupta was a professor at Vanderbilt University's Peabody College, where he co-founded and chaired the Learning Sciences PhD program. He is the recipient of the NSF CAREER Award (2012) for his research on developing agent-based programming languages and integrating computational modeling in K12 science and math classrooms, a Paul D. Fleck Award from the Banff Center for Arts and Creativity for his work on public computing, and a Fellow of the International Society for Design and Development in Education. He moved to the University of Calgary in Fall 2015 as one half of a dual-career hire along with his partner, Dr. Pallavi Banerjee, who is a professor in the Sociology department. Prior to his career in the Learning Sciences, Dr. Sengupta attended Presidency College, Kolkata (India), the Indian Institute of Technology, Kharagpur (India) and Northwestern University (USA), where he received his undergraduate and graduate degrees in Physics.
Leadership
Executive Editor, Cognition and Instruction
Senior Editor, Oxford Research Encyclopaedia in Education
Research
Areas of Research
Scholarly Activity
My work is at the intersection of complexity, computing, science education and social justice. If you  are a prospective student seeking to work with me, please read this first. 
Most of my research projects are in partnership with my colleagues Dr. Marie-Claire Shanahan (Learning Sciences) and Dr. Ariel Ducey (Sociology) and our PhD students, with whom we work very closely.
A big part of my work since 2016 has been developing a new form of computational learning environments called public computing, jointly with Dr. Shanahan. (See links below, and read more: https://www.m3lab.org/research/public-computing)
I began my research career designing computational models and programming platforms for K-12 science and mathematics classrooms. This work has taken on phenomenological and critical phenomenological positions that are fundamentally focused on voicing, dialogicality and heterogeneity (as opposed to reductive views of computational thinking). Read more: https://www.m3lab.org/research/ctphenom
I spend a lot of time actually designing technologies and technological spaces along with my students and collaborators, and hanging out with public educators. 
Learn more about my research:
Interests:
Learning sciences
Programming languages
Critical theory
Agent-based computation
User-centered design
Participation in university strategic initiatives
Courses
| Course number | Course title | Semester |
| --- | --- | --- |
| EDER 61506 LEC 02 02 | Special Topics in EDER | 2021 |
| EDER 67845 LEC 02 02 | Spc'l Topics Learning Sciences | 2021 |
Projects
Public Computing Installations
FLOCKING SOUNDS, 2019 (Permanent Installation at Studio Bell, National Music Center, Calgary, Oct 2019 - current)
HACK THE FLOCK, 2018 (Permanent Installation at Telus SPARK, Calgary, Jan 2018 - current): https://www.ucalgary.ca/utoday/issue/2018-03-14/computer-coding-challenge-lets-young-learners-hack-flock
"VOICE YOUR CELEBRATION", 2018: Canada Day Installation at the Studio Bell, National Music Center, Calgary. (July 1, 2018). https://www.ucalgary.ca/utoday/issue/2018-06-29/voice-your-celebration-canada-day-create-maple-leaf-through-sound
"EXCHANGE ARCHIVE", Museum of Modern Art (MoMA), NYC, New York, (June - July,2013): www.theexchangearchive.com ; https://news.vanderbilt.edu/2013/05/31/moma-exchange-cafe/
"DIGIPLAY", University of Calgary - Werklund School of Education, https://www.ucalgary.ca/utoday/issue/2016-07-20/werklund-project-takes-learning-about-interactive-visualization-new-level
Awards
Fellow, International Society for Design and Development in Education (ISDDE),

Paul D. Fleck Award,

Banff Center for Arts and Creativity.

2019

Best Paper Award, 4th International Conference for STEM in Education ,

NSF CAREER Award,

2012

Best paper selections: IDC 2012; CSEDU 2013; CSEDU 2014,

Dissertation Year Fellowship,

Northwestern University.

2008

K.L. Chopra Award for "Best Final Year Research Project" (all departments),

IIT Kharagpur.

2000

Institute Proficiency Award, Best Final Year Research Project, Department of Physics and Metereology,

IIT Kharagpur.

2000
Publications
Voicing Code in STEM: A Dialogical Imagination.

Sengupta, P., Dickes, A., & Farris, A. V. MIT Press: Cambridge, MA. (2021)

Critical, Transdisciplinary and Embodied Approaches for STEM Education.

Sengupta, P., Shanahan, M.-C., & Kim, B. Springer: New York, NY. (2019)

Toward a Phenomenology of Computational Thinking in STEM Education.

Sengupta, P., Dickes, A., & Farris, A.V. Springer:New York. 49 – 72. (2018)

Unsilencing Critical Conversations in Social-Studies Teacher Education using Agent-based Modeling.

Hostetler, A, Sengupta, P, & Hollett, T (Sengupta and Hostetler are equal co-authors). Cognition & Instruction. 36(2), 139 – 170. (2018)

Boundary Play and Pivots in Public Computation: New Directions in Integrated STEM Education.

Sengupta, P. & Shanahan, M.-C. International Journal of Engineering Education. 33 (3), pp. 1124–1134. (2017)

Democratizing Children's Computation: Learning Computational Science as Aesthetic Experience.

Farris, A.V., & Sengupta, P Farris and Sengupta are equal co-authors). Educational Theory. 66 (1-2), 279–296. (2016)

Learning to Deflect: Conceptual Change in Physics through Use of Digital Games.

Sengupta, P., Krinks, K., & Clark, D. B. Journal of the Learning Sciences. 24 (2), 638 – 674. (2015)

Programming in K12 science classrooms.

Sengupta, P., Dickes, A.C., Farris, A.V., Karan, A., & Martin, D. Communications of the ACM. 58(11), 33-35. (2015)

Integrating Computational Thinking with K12 Science Education Using Agent-Based Computation: A Theoretical Framework.

Sengupta, P., Kinnebrew, J., Basu, S., Biswas, G., and Clark, D. Education & Information Technologies. 18(2), 351-380. (2013)

Learning electricity with NIELS: Thinking with electrons and thinking in levels.

Sengupta, P., & Wilensky, U. International Journal of Computers for Mathematical Learning. 14(1), 21-50. (2009)