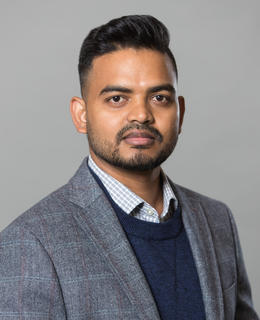 Positions
Postdoctoral Associate
Werklund School of Education, Specialization, Language and Literacy
Background
Educational Background
PhD Language and Literacy Education , University of British Columbia, 2022
MA TESOL with Applied Linguistics , University of Central Lancashire, United Kingdom ,
M.Ed. English Language Education , Tribhuvan University, Nepal,
Biography
Dr. Pramod Sah is a Postdoctoral Research Associate at the University of Calgary's Werklund School of Education. After completing his Ph.D. in language and literacy education from the University of British Columbia, where he was also a Killam Laureate and Sessional Lecturer, he briefly worked as a Postdoctoral Research Associate at the Open University, United Kingdom. Prior to beginning his research career, Dr. Sah lived and taught in both elementary and secondary schools in Nepal for about five years. His primary research focuses on the issues of language policy, language ideology, multilingual/translingual practices, epistemic injustice, and ethnic/racial discourses in the context of English as a medium of instruction (EMI) in both K-12 and higher education. One of his current research projects, funded by the British Council London, looks at the intersection of "gender" and "English-medium education" in low and middle-income countries. His research interests also include teacher education with a key focus on teacher agency and linguistic and cultural responsiveness in teacher preparation programs and policies. His research has appeared in international journals such as Applied Linguistics Review, Journal of Multilingual and Multicultural Development, International Multilingual Research Journal, Ethnicities, International Journal of Bilingual Education and Bilingualism, RELC Journal, and Asian Englishes. In addition, he has co-edited a special issue on "translanguaging in language teaching and learning" for RELC journal, and his two co-edited volumes on EMI in Asian universities are forthcoming with Routledge.
Research
Areas of Research
Language in Education Policies and Practices
English as a Medium of Instruction (EMI)
Language Planning and Policy
Multilingualism
Translanguaging
Race and Language
Language Ideology
Teacher Education
Projects
English-Medium Education in Low and Middle Income Contexts: Enabler or Barrier to Gender Equality?
Principal Investigator: Prof. Kristina Hultgren, The Open University, United Kingdom

Co-Principal Investigator: Dr. Pramod K. Sah

Funding Agency: British Council

Total Award: GBP 100,000.00
(2022-2023)
---
The Case for Using L1 to Explore ESL Students' Intersectional Identities
Principal Investigator: Professor Rahat Zaidi
Co-Investigator: Dr. Pramod K. Sah
Co-Investigator: Michelle Veroba
(2022-2023)
Awards
Killam Doctoral Fellowship,

The University of British Columbia, Canada .

2018

Mary Ashworth Scholarship ,

BC TEAL, Canada .

2018

Joseph Katz Memorial Scholarship ,

The University of British Columbia, Canada .

2018

Dean of Education Scholarship ,

The University of British Columbia, Canada.

2019

Mary Elizabeth Simpson Scholarship ,

The University of British Columbia, Canada .

2021

Mary Ashworth Memorial Graduate Scholarship ,

The University of British Columbia, Canada.

2021

President's Academic Excellence ,

The University of British Columbia .

2021