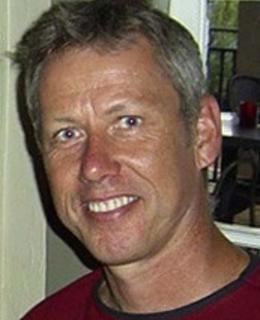 Peter Vize
Background
Educational Background
PhD University of Adelaide,
BSc Monash University ,
Research
Areas of Research
Activities
Highly coordinated mass spawning event. Corals spawn at the same time every year, and each species has a unique time window it which it but none of the other species on the reef spawn. This timing is quite amazing, and for some species is predicable to within 5 minutes from year to year. How do corals know it is time to spawn? Our working hypothesis is that corals respond to lunar and solar light (but how?) and release both gametes and a chemical signal that tells other nearby individuals to also release. We are investigating behavioral, chemical, molecular and cellular components of this synchronized spawning event. Field work is performed in the Gulf of Mexico (Flower Garden Banks), in the Dutch Antilles(Bonaire/Curacao) and on the Great Barrier Reef (Australia). In the Gulf our favorite species are the blushing star coral S. intersepta and the great star coral Montastraea cavernosa while over in Australia it is Acropora millepora.
Work in our lab has demonstrated that light receptors regulate the time at which corals spawn and that this is a direct response to light perception- biological clocks are not involved. We are currently exploring the role of entrained circadian / circalunar rhythms in selecting the date of spawning. Lab techniques include microarrays, proteomics, gene cloning, cell biology, and bioinformatics. Field techniques involve manipulating coral culture conditions using lunar and solar light and various pharmacological compounds to alter signal transduction pathways. A variety of field techniques are utilized including SCUBA (hot mixes, tri), rebreathers, ROVs and submarines. All field workers have advanced dive training.
We also have projects exploring coral ecology and the interaction between newly recruited corals (babies!), algae, and hervirorous vertebrates and invertebrates. This project utilizes a unique research platform that we built at a depth of 80' in the Flower Garden Banks National Marine Sancuary. The platform allows us to set up long term coral recruitment experiments under controlled conditions.
Awards
AHFMR Senior Scholar,

2001

National Kidney Foundation Young Investigator Award,

1996

Jane Coffin Childs Memorial Fund for Medical Research,

1990

First Class Honours,

1983
Publications
Session, A.M., Uno. Y., Kwon, T., Chapman, J.A., Toyoda, A., Takahashi, S., Fukui, A., Hikosaka, A., Suzuki, A., Kondo, M., van Heeringen, S.J., Quigley, I., Heinz, S., Ogino, H., Ochi, H., Hellsten, U., Lyons, J.B., Simakov, O., Putnam, N., Stites, J., Kuroki, Y., Tanaka, T., Michiue, T., Watanabe, M., Bogdanovic, O., Lister, R., Georgiou, G., Paranjpe, S.S., van Kruijsbergen, I., Shu, S., Carlson, J., Kinoshita, T., Ohta, Y., Mawaribuchi, S., Jenkins, J., Grimwood, J., Schmutz, J., Mitros, T., Mozaffari, S.V., Suzuki, Y., Haramoto, Y., Yamamoto, T.S., Takagi, C., Heald, R., Miller, K., Haudenschild, C., Kitzman, J., Nakayama, T., Izutsu, Y., Robert, J., Fortriede, J., Burns, K., Lotay, V., Karimi, K., Yasuoka, Y., Dichmann, D.S., Flajnik, M.F., Houston, D.W., Shendure, J., DuPasquier, L., Vize, P.D., Zorn, A.M., Ito, M., Marcotte EM, Wallingford JB, Ito Y, Asashima M, Ueno N, Matsuda Y, Veenstra GJ, Fujiyama A, Harland RM, Taira M, Rokhsar DS. (2016) Genome evolution in the allotetraploid frog Xenopus laevis. Nature 538(7625): 336-343.
A.R.Deans et al. (inc. P.D. Vize), the Phenoscape Consortium. (2014) Finding our way through phenotypes. PLoS Biology, in press.
Karpinka, J.B., Fortreide, J.D., Burns, K.A., James-Zorn, C., Ponferrada, V.G., Lee, Jacqueline, Karimi, K., Zorn, A.M. and Vize, P.D. (2014). Xenbase, the Xenopus model organism database; new virtualized system, data types and genomes. Nucleic Acids Res. 43: doi:10.1093/nar/gku956
Karimi, K. and Vize, P.D. (2014). The virtual Xenbase. Databases doi: 10.1093/database/bau108
Bhalla, N., Bentley, P.J., Vize, P.D. and Jacob, C. (2014). Staging the self-assembly process: inspiration from biological development. Artif. Life 20: 29-59.
Reichman, J.R. and Vize, P.D. (2014). Separate introns gained within short and long soluble peridinin-chlorophyll a-protein genes during radiation of Symbiodinium (Dinophyceae) clade A and B lineages. PLoS One 9(10); e110608
Davies, S.W., Matz, M.V. and Vize, P.D. (2013). Ecological complexity of coral recruitment processes: effect of herbivores on coral recruitment and growth depends upon substrate properties and coral species. PLoS One 8 (9): e72830
Segerdell, E., Ponferrada V.G., James-Zorn C., Burns, K., Fortriede J., Dahdul W., Vize, P.D. and Zorn, A.M. (2013) XAO: an enhanced ontology of Xenopus anatomy and development.  Journal of Biological Semantics 4:31 doi:10.1186/2041-1480-4-31
Neufeld, S.J., Zhou, X, Vize, P.D. and Cobb, J. (2013). mRNA fluorescence in situ hybridization to determine overlapping gene expression in whole-mount mouse embryos. Dev. Dyn. doi 10.1002/dvdy.23993
James-Zorn C , Ponferrada VG, Jarabek CJ, Segerdell EJ, Lee J, Snyder K, Bhattacharyya B, Karpinka JB, Bowes JB, Zorn AM and Vize PD. (2013) Xenbase; expansion and updates of the Xenopus model organism database. Nucleic Acids Res. 41: D865-870. DOI 10.1093/nar/gks1025
Bowes, J., Snyder, K., James-Zorn, C., Ponferrada, V.G., Jarabek, C.J., Burns, K.A., Bhattacharyya, B., Zorn, A.M. and Vize, P.D. (2013). The Xenbase literature curation process. Database 2013: bas046 doi:10.1093/database/bas046
Hilton, J.D., Brady, A.K., Spaho, S.A. and Vize, P.D. (2012). Photoreception and signal transduction in corals; proteomic and behavioral evidence for cytoplasmic calcium as a mediator of light responsivity. Biological Bulletin 223: 291-299.
Vize, P.D., Hilton, J.D. and Brady, A.K. (2012). Biological clock driven circadian transcriptional cycles in Acropora millepora. Proc. 12th ICRS. 12A-5; 1-5.
Brady, A.K., Snyder, K. and Vize, P.D. (2011). Circadian cycles of gene expression in the coral, Acropora millepora. PLoS One 6(9): e25072
Davies, S.W., Matz, M.V. and Vize, P.D. (2013). Ecological complexity of coral recruitment processes: effect of herbivores on coral recruitment and growth depends upon substrate properties and coral species. PLoS One 8 (9): e72830
Vize, P.D., Hilton, J.D. and Brady, A.K. (2012). Biological clock driven circadian transcriptional cycles in Acropora millepora. Proc. 12th ICRS. 12A-5; 1-5. 
Hilton, J.D., Brady, A.K., Spaho, S.A. and Vize, P.D. (2012) Photoreception and signal transduction in corals; proteomic and behavioral evidence for cytoplasmic calcium as a mediator of light responsivity. Biological Bulletin 223: 291-299. 
Brady. A.K., Snyder, K. and Vize, P.D. (2011). Circadian cycles of gene expression in the coral, Acropora millepora. PLoS One 6(9): e25072 
Hellsten, U, Harland, R.M., Gilchrist, M.J., Hendrix, D., Jurka, J., Kapitonov, V., Ovcharenko, I., Putnam, N.H., Shu, S., Taher, L, Blitz, I.L., Blumberg, B., Dichmann, D.S., Dubchak, I., Amaya, E., Detter, J.C., Fletcher, R., Gerhard, D.S., Goodstein, D., Graves, T., Grigoriev, I.V., Grimwood, .J, Kawashima, T., Lindquist, E., Lucas, S.M., Mead, P.E., Mitros, T., Ogino, H., Ohta, Y., Poliakov, A.V., Pollet, N., Robert, J., Salamov, A., Sater, A.K., Schmutz, J., Terry, A., Vize, P.D., Warren, W.C., Wells, D., Wills, A., Wilson, R.K., Zimmerman, L.B., Zorn, A.M., Grainger, R., Grammer, T., Khokha, M.K., Richardson, P.M. and Rokhsar, D.S. (2010) The genome of the western clawed frog Xenopus tropicalis. Science 328: 633-636. 
A.K.Brady, J.D. Hilton and Peter D. Vize (2009). Coral spawn timing is a direct response to solar light cycles and is not an entrained circadian response. Coral Reefs,28: 677-680 
Vize, P.D. (2009) Transcriptome analysis of the circadian regulatory network in the coral, Acropora millepora. Biological Bulletin 216; 131-137. (Editors pick- free full content)