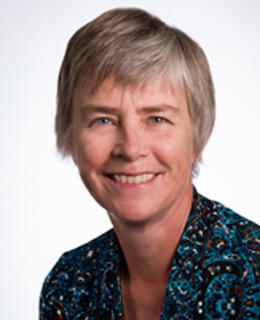 Peggy Hedges
Positions
Professor (Teaching)
Haskayne School of Business, Finance [FNCE]
Haskayne Teaching Fellow
Haskayne School of Business, Teaching and Learning
Background
Educational Background
B.S. Botany, University of Calgary, 1980
M.B.A. Finance, University of Calgary, 1986
Ph.D. Environmental Planning, University of Strathclyde, 2000
Biography
Peggy Hedges is a Teaching Professor and Teaching Fellow at the Haskayne School of Business at the University of Calgary, teaching in the areas of Finance and Strategy. She received a B.Sc. and M.B.A. from the University of Calgary and a Ph.D. in Environmental Planning from the University of Strathclyde. She is a Fellow of the Institute of Canadian Bankers (FICB) and a Fellow of the Canadian Securities Institute (FCSI). Previously Peggy served as the Academic Director - Westman Centre for Real Estate Studies and as the Director of the Doctor of Business Administration (DBA) program at the Haskayne School of Business.
Peggy teaches undergraduate, graduate and executive education courses and has a passion for teaching introductory courses. She has developed and taught corporate, personal, investment, capital budgeting, and public finance courses for the University of Calgary, Athabasca University, Mount Royal College, and the University of Northern British Columbia. She is also an officer in a firm which specializes in providing custom financial seminars to corporate and not-for-profit clients. She has received several nominations for the University of Calgary Student's Union Teaching Excellence Award and was the recipient of the Dean's Award for Teaching Excellence in the Haskayne School of Business.
Peggy has published papers in entrepreneurship, classroom and pedagogy techniques, small business financing, alternative funding for defined benefit pension plans, behavioral aspects of payday loan use, and risk analysis of catastrophic bonds. She has co-authored two Canadian text-books, one on corporate financial management and the other on investments and portfolio management.
Prior to joining the University, Peggy was a commercial lending manager at a large Canadian financial institution.
Courses
| Course number | Course title | Semester |
| --- | --- | --- |
| FNCE 672 LEC 01 | Introduction to Finance | 2022 |
| FNCE 672 LEC 02 | Introduction to Finance | 2022 |
| FNCE 447 LEC 01 | Capital Budgeting | 2023 |
| FNCE 447 LEC 02 | Capital Budgeting | 2023 |
| FNCE 601 LEC 01 | Managerial Finance | 2023 |
Publications
Hiding in plain sight: Exploring the complex pathways between tactical concealment and relational wellbeing.

David Jones, Tony Wall, Amy Kenworthy, Fiona Hurd, Suzette Dyer, Peggy Hedges, Shankar Sankaran. Organization. 473-489. (2023)

The Paradox of the Payday Borrower: A Case Study of the Role of Planned Behavior in Borrowers' Motivations and Experiences.

Irene Herremans, Peggy Hedges, Fereshteh Mahmoudian, Anne Kleffner, Mahrukh Tahir. Journal of Risk and Financial Management . (2023)

Canadian Orthodontics Practice: Bracing for Patients.

Janice Eliasson, Brent Snider, Peggy Hedges. Ivey Publishing. (2022)

Active Learning-Reflective Exercises for Face-to-Face and Remote Delivery of Governance and Business Ethics Classes.

Wood, Larry A, Hedges, Peggy L. Journal of Business Ethics Education. (2021)

Making Management (More) Relevant: Breaking Down Disciplinary Walls and Pursuing Neglected Independent Variables.

Abzug, R, Adewale, A, André, R, Derfus, P, Hedges, P, & Shymko, Y. Journal of Management Education. (2020)

Identifying Roadblocks and Pathways: A Librarian and Teaching Faculty Collaboration to Improve the Business Information Literacy of First - Year University Students.

Peggy Hedges, Zahra Anwar Habib Premji, Norman R Althouse, Justine Leslie Wheeler. (2019)

Librarian and teaching faculty collaboration: Early intervention to improve information literacy.

Peggy Hedges, Norman R Althouse, Justine Leslie Wheeler, Zahra Anwar Habib Premji. (2019)

The Walls Project: Making Management Relevant by Rethinking Disciplinary Boundaries.

Adeyinka Adewale, Pamela Derfus, Rae Andre, Yuliya Shymko, Rikki Abzug, Peggy Hedges. (2019)

Mapping the information literacy skills of first-year business students: A journey through lesson study.

Hedges P, Wheeler J, Althouse N, Premji Z. The Grounded Instruction Librarian. (2019)

Using debate to understand how unethical decisions can be made by ethical organizations.

Peggy Hedges. Journal of Business Ethics Education. (2018)

Brookfield Residential Properties: Identifying and Engaging Stakeholders.

Norman Althouse, Peggy Hedges, and Cheryl Brazell. Ivey Publishing. (2017)

It's Just LEGO® Until We Need a Plan: Teaching Managerial Processes.

Norm Althouse and Peggy Hedges. Decision Sciences Journal of Innovative Education. (2015)

Alberta Ballet: Proposal For Growth.

Edmund Gee and Peggy Hedges. Ivey Publishing. (2015)

Investment Analysis and Portfolio Management, First Canadian Edition.

Reilly, Brown, Hedges and Chang. Nelson Thomson Learning. (2010)

Practical Financial Management, Second Canadian Edition.

Lasher, Hedges and Fegarty. Nelson Thomson Learning. (2009)

Alternatives to Cash in Ensuring the Solvency of Defined Benefit Pension Funds.

Peggy Hedges, Ryan Lee and Norma Nielson. Benefits Quarterly, 24 (3),Third Quarter. (2008)

Effects of concentrated ownership and owner-management on small business debt financing.

Zhenyu Wu, Peggy Hedges and Shali Zhang. Journal of Small Business Management, Volume 45, Issue 4, October. (2007)

Deterioration in borrowing terms in small businesses: an agency perspective.

Peggy Hedges, Zhenyu Wu and Jess Chua. Journal of Small Business and Entrepreneurship, Issue 20 (1), January. (2007)

Practical Financial Management, First Canadian Edition.

Lasher, Hedges and Fegarty. Nelson Thomson Learning. (2006)