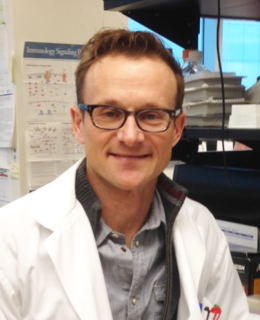 Dr. Paul Beaudry, MD, MSc, FRCPS(C)
Positions
Assistant Professor
Cumming School of Medicine, Department of Surgery | Pediatric Surgery
Member
Arnie Charbonneau Cancer Institute
Child Health & Wellness Researcher
Alberta Children's Hospital Research Institute
Background
Educational Background
B.S. Biological Sciences, University of Victoria, 1991
Doctor of Medicine Medicine, University of Calgary, 1998
M.S. Medicine, University of Calgary, 1995
Biography
Dr. Beaudry is a graduate of the University of Calgary Medical school where he also completed his Masters of Science degree. He did his General Surgery training in Calgary. This was followed by a research fellowship with Dr. Judah Folkman at Boston Children's Hospital. He went on to do his Pediatric General Surgery Fellowship at B.C. Children's Hospital. Dr. Beaudry joined the Pediatric General Surgery group at ACH in 2008 and since then has run a grant-supported lab investigating immunotherapy and metabolomics in neuroblastoma.
Dr. Beaudry has extensive oncology experience and represents ACH Pediatric Surgery with the Children's Oncology Group. He has also taken on quality and safety projects within ACH including a comprehensive program for improving the care of patients with central venous catheters, measuring quality indicators for Pediatric surgery patients, and improving our management of cancer patients with lung nodules.
Paul is an avid cyclist who has been inspired by some of the many mountain passes Europe has to offer, as well as the back roads of Alberta. He is supported by his wife, Carmen Brauer, a pediatric orthopedic surgeon and their teenage kids Ben and Anna.
Research
Areas of Research
Area of Focus
Immunotherapy for Neuroblastoma
Summary of Research
Thomas Mueller Phage Display ProjectPhage display is a molecular technique that allows for high-resolution comparison of molecules present on the surface of cancer cells.  Using phage display to compare neuroblastoma cell lines with varied invasive phenotypes, we have found evidence that the HGF-cMet cytokine pathway may be upregulated in neuroblastoma cells that are more invasive and likely to spread.  We are trying to determine if the phage display findings are correlative or actually mechanistically important for enabling neuroblastoma cells to spread.  If cMet activity is needed for the spread and survival of metastatic neuroblastoma cells, there are currently several experimental therapeutic options targeting cMet.  Current evidence suggests that there is only limited efficacy in targeting cMet in primary neuroblastoma tumors, but these findings open the possibility that cMet may be an important therapeutic target in metastatic cells, which are almost always the cause of death for neuroblastoma patients.  Oncolytic Virus Immunotherapy for Neuroblastoma Oncolytic viruses are naturally occurring viruses that have the ability to selectively infect and destroy cancer cells.  We have found that the members of the Rhabdovirus family of oncolytic viruses have tremendous potential for neuroblastoma treatment.  One Rhabdovirus, Vesicular Stomatitis Virus (VSV), has increased affinity for aggressive, treatment resistant neuroblastoma cells that over express the regulatory NMYC oncogene.  We believe however that the true therapeutic potential for oncolytic viruses resides not only their ability to infect cancer cells, but in their ability to activate the patients own immune system to attack the cancer cells.  We have developed immune-competent neuroblastoma animal models that are allowing us to explore the mechanisms by which the immune system is suppressed by neuroblastoma. 
Several approaches to overcoming this immune suppression have been discovered, and in conjunction with oncolytic virus therapy may provide a powerful new approach to neuroblastoma treatment. Serum Metabolomic Analysis of NeuroblastomaOne of the key challenges of neuroblastoma is its widely diverse biologic behavior.  At its most aggressive it is completely resistant to all current therapeutic approaches, leading rapidly to death.  At the opposite extreme it can be exceptionally benign, and can safely be observed without treatment.  Using our current approaches of imaging studies and tumour biopsies, we cannot reliably identify children whose neuroblastoma is at these extremes.  We have discovered that metabolomics, the analysis of hundreds or even thousands of small molecules produced by cells in our body, may provide a "fingerprint" that will improve our ability to predict the extremes of neuroblastoma behavior.  This could prevent unnecessary exposure to potentially toxic therapies for children with less aggressive forms of neuroblastoma.  Further, children with the most aggressive neuroblastoma types could be spared ineffective exposure to chemotherapy and instead be moved immediately into experimental therapeutic approaches in an effort to cure their disease.
Participation in university strategic initiatives