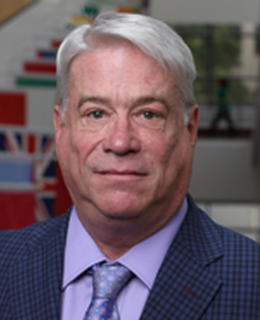 Norman Althouse
Positions
Professor (Teaching)
Haskayne School of Business, Strategy and Global Management [SGMA]
Contact information
For media enquiries, contact
Lauren Steeves
Senior Marketing and Communications Strategist
Phone: C (306) 717-32533
Email: lauren.steeves@ucalgary.ca
Background
Educational Background
B.B.A. Comm, Manag & Bus Admin, Athabasca University, 1992
M.B.A. Comm, Manag & Bus Admin, University of Calgary, 1993
Biography
Norm is a teaching professor in the Strategy and Global Management Area. He has taught at the University of Calgary since January 1995. His responsibilities include the coordination of the Introduction to Business Skills course, SGMA 217.
Norm also teaches Organizational Behaviour (OB) at the graduate level in the EMBA Program and the SEDV Program. Norm's primary research is in the Scholarship of Teaching and Learning (SoTL) focusing on developing methods and techniques to engage today's learner. Norm's other research interests include team building, gender issues in the workplace, and managerial decision-making. Norm is active in many professional conferences including the Academy of Management.
Norm is active in publishing SoTL articles, business cases, etc. Norm is the lead author on one of Canada's premier introduction to business textbook, "The Future of Business", ending its publication with the 5th edition in May 2019 (total of 5 editions, 15 years in publication). Norm's new textbook, Canadian Business, will be published and released in May 2019.
Norm is very active on committees at the Haskayne School of Business and other activities that enhance the students' experience.
Courses
| Course number | Course title | Semester |
| --- | --- | --- |
| OBHR 601 | Organizational Behaviour | Fall 2021 |
| SGMA 217 | Introduction to Business Skills | Fall 2021 |
| SGMA 217 | Introduction to Business Skills | Winter 2022 |
Awards
Book of the Year,

2007

Superior Service Award - Facutly,

2005
Publications
Mapping the information literacy skills of first-year business students: A journey through lesson study.

Norman R Althouse; Zahra Anwar Habib Premji; Justine Leslie Wheeler; Peggy Hedges. (2019)

Mapping the information literacy skills of first-year business students: A journey through lesson study.

Zahra Premji; Justine Wheeler; Peggy Hedges; Norman R Althouse. (2019)
Librarian and teaching faculty collaboration: Early intervention to improve information literacy.

Justine Wheeler; Norman R Althouse; Peggy Hedges; Zahra Premji. (2018)

Identifying Roadblocks and Pathways: A Librarian and Teaching Faculty Collaboration to Improve the Business Information Literacy of First - Year University Students.

Justine Wheeler; Peggy Hedges; Zahra Premji; Norman R Althouse. (2019)

Identifying Roadblocks and Pathways: A Librarian and Teaching Faculty Collaboration to Improve the Business Information Literacy of First - Year University Students.

Peggy Hedges; Zahra Anwar Habib Premji; Justine Leslie Wheeler; Norman R Althouse. (2019)