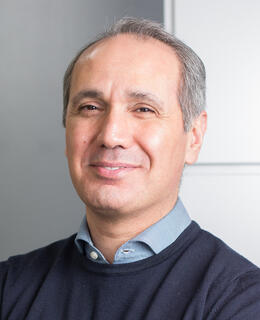 Dr. Nizar Jacques Bahlis, MD
Positions
Associate Professor
Cumming School of Medicine, Department of Oncology
Member
Arnie Charbonneau Cancer Institute
Background
Educational Background
Doctor of Medicine Medicine, Saint Joseph University, 1995
Biography
Dr. Bahlis is an Associate Professor of Medicine at the University of Calgary in the division of Hematology and Bone Marrow Transplantation and a member of the Charbonneau Cancer Research Institute. Dr. Bahlis received his medical degree in 1995 from St Joseph University - French Faculty of Medicine in Beirut. He then completed his internal Medicine residency at the State University of New York in Syracuse followed by a Hematology-Oncology fellowship at the University of Miami, Florida. Dr. Bahlis also completed a postdoctoral fellowship in cancer biology at the University of Miami under the mentorship of Dr. Lawrence Boise. Dr. Bahlis' clinical and laboratory research focus on the study of plasma cell dyscrasia, with particular interest in multiple myeloma genomics, single cell immune profiling and the development of novel therapeutics. He has received several awards and research funding from numerous agencies including the ASCO young investigator award, the Multiple Myeloma Research Foundation, The Leukemia and Lymphoma Society of Canada, Alberta Cancer Foundation, the National Institute of Health, the Terry Fox Foundations and the Canadian Institute of Health and Research (CIHR). His research work was published in many peer-reviewed journals including New England Journal of Medicine, Blood, JCO, Leukemia, Molecular Cancer Research and Clinical Cancer Research. Dr Bahlis also served on the editorial board for the journal Blood and on the review panels of several national and international funding agencies. He is a member of the American Society of Hematology (ASH) and served on the ASH plasma cell dyscrasia scientific panel and is a current member of the international myeloma society (IMS) education panel.
Research
Areas of Research
Summary of Research
Multiple myeloma (MM) is a hematological malignancy that affects bone marrow plasma cells and remains largely incurable. My laboratory is examining the signaling pathways and genomic alterations in multiple myeloma with the goal of discovering new molecular targets that may be translated into therapeutic applications. Aiming to improve the outcomes of patients affected by this disease, we have also established a Myeloma Genome Sequencing Unit with the goal to identify novel druggable genomic alterations and unmask the mechanisms of drug resistance.
We are also studying genomic instability in this disease, in particular the role of the proteasome-ubiquitin pathway in DNA damage repair. The human DNA damage response is reliant upon signaling using the small modifier protein called Ubiquitin (Ub). Since Ub is recycled by the proteasome, proteasome inhibitors (PI) have the effect of depleting free Ub pools such that the DNA damage-induced Ub-mediated signaling fails. We have found that MM displays a particular sensitivity to PI in combination with PARP inhibitors, and we are examining the molecular mechanisms underlying this effect.
Our laboratory has received funding from several national and international agencies including CIHR, Multiple Myeloma Research Foundation (MMRF), the Leukemia Lymphoma Society (LLS), the Cancer Research Society and the Terry Fox Foundation.
Awards
award,

2010

Merit Award,

2009

award,

2007

Merit Award,

Department of Mediicine.

2007

award,

2005

CMSA blood course teaching award,

.

2005

Merit Award,

Department of Medicine.

2005

award,

2001

ASCO young investigator award,

2000

award,

2000

Clinical and Translational Research Committee Award at the University of Miami,

2000

award,

1976

award,

1973