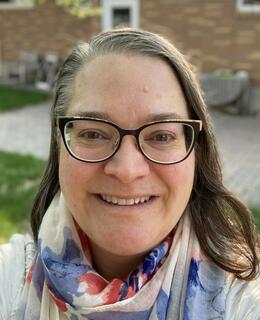 Background
Educational Background
B.Sc. (Honours) Chemistry, Dalhousie University, 1994
Doctor of Philosophy Chemistry, University of Calgary, 1999
Research
Areas of Research
Activities
Chemistry Education - How to support students when learning about chemistry, and, in large classes, how can technology help with this part. How to encourage students who are not training to be chemists to ask questions about the chemistry in their everyday lives.
Scientific Writing - How to develop student writing so that they can communicate clearly and concisely about a wide variety of scientific topics. How to develop information literacy skills and an appreciation of scientific evidence. How to self-reflect and self-assess their writing.
These research interests align with Dr. Sandblom's teaching responsibilities that include undergraduate introductory chemistry courses along with the Faculty of Science's writing course. For the Natural Sciences Program, she has taught courses that include students from all disciplines in science. These courses focus on the nature of science as an endeavour, on the impact of science on society, and on the importance of scientific communication.
Courses
| Course number | Course title | Semester |
| --- | --- | --- |
| CHEM 301 | The Chemical World | Fall 2020 and Fall 2021 |
| SCIE 311 | Write & Review Scientific Reports | Winter 2020 and Winter 2021 |
Awards
Nomination: Students' Union Teaching Excellence Award,

2005

Nomination: The Learning Partnership's National Technology Innovation Award,

2005

Students' Union Teaching Excellence Award,

2005