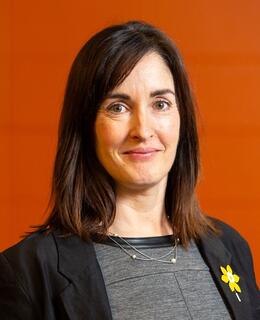 Dr. Nicole Culos-Reed, PhD
Positions
Professor
Faculty of Kinesiology
Full Member
Arnie Charbonneau Cancer Institute
Director
Health and Wellness Lab, Thrive Centre
Child Health & Wellness Researcher
Alberta Children's Hospital Research Institute
Background
Educational Background
Doctor of Philosophy Exercise and Health Psychology, University of Waterloo, 2000
MSc Social Psychology of Sport and Physical Activity, University of Oregon, 1996
BA Psychology, University of British Columbia, 1994
Biography
Nicole Culos-Reed is a Professor in the Faculty of Kinesiology at the University of Calgary, and also holds appointments with the Department of Oncology, Cumming School of Medicine, and with the Department of Psychosocial Resources, Tom Baker Cancer Centre. Nicole is the Director of the Health and Wellness Lab and the Thrive Centre, a dedicated fitness facility for individuals living with and beyond cancer. Nicole's expertise is in health and exercise psychology, with a focus on health behaviour change. Nicole's research focuses on developing, implementing, and evaluating sustainable community-based exercise oncology programs, building exercise into standard cancer care.
Nicole is a member of the Arnie Charbonneau Cancer Institute, and the Alberta Children's Hospital Research Institute.
Research
Areas of Research
Exercise Oncology
Exercise oncology implementation, and health behaviour change researcher.
Health and exercise psychology
Our team works on developing, implementing, and disseminating evidence-based exercise oncology programs. This includes supporting exercise behaviour change in all individuals living with and beyond cancer through our exercise oncology resources, including education and programs. Our work spans from pediatric oncology to individuals living with advanced cancer.
Health coaching
Effective communication to build a positive motivational climate is essential for supporting exercise behaviour change
Activities
Dr. Culos-Reed studies physical activity for cancer survivors, and focuses on utilizing a multidisciplinary perspective to understand and improve the quality of life of cancer patients and survivors. The goal of this research is to develop physical activity programs that positively impact the myriad of physical and psychological factors that cancer survivors experience, ultimately enhancing their quality of life.
Upcoming work includes providing greater accessibility and options for physical activity programs to the cancer survivor population, to examine the feasibility of lifestyle interventions at various stages of the cancer continuum (diagnosis, treatment, post-treatment, survivorship, and palliation), and to collaborate with other cancer centers to better understand the role of physical activity for different cancer types.
Participation in university strategic initiatives
Courses
| Course number | Course title | Semester |
| --- | --- | --- |
| KNES 253 LEC 01 01 | Intro Exer & Sport Psychology | 2021 |
| KNES 60342 LEC 03 03 | Special Topics | 2021 |
Projects
Ongoing Research
Please check out our website for up to date information on our ongoing projects in exercise oncology.
Awards
CAPO Award for Research Excellence,

CIHR – Institute of Cancer Research.

2019

2018 - Pathfinder's Award,

PROSTAID Calgary, Prostate Cancer Canada Clinical Network.

2018

Great Supervisor Award,

University of Calgary.

2017

Peak Scholars in Entrepreneurship, Innovation & Knowledge Engagement Award,

University of Calgary.

2017

City of Calgary's Community Achievement Award, Excellence in Education,

2014

Roger Jackson Centre for Health and Wellness, Faculty Excellence Award,

2013

University of Calgary Graduate Supervision Award, Nomination,

2013

AHFMR Population Health Investigator,

2002