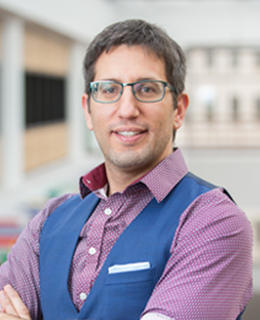 Naor Cohen, PhD
Positions
Assistant Professor (Teaching)
Haskayne School of Business, Organizational Behaviour and Human Resources [OBHR]
Contact information
For media enquiries, contact
Lauren Steeves
Senior Marketing and Communications Strategist
Phone: C (306) 717-32533
Email: lauren.steeves@ucalgary.ca
Background
Educational Background
Doctor of Philosophy Political communication, University of Calgary, 2014
M.A. Political psychology , Haifa University, 2007
B.A. Political Sciences and Communication, Haifa University, 2006
Biography
Naor Cohen is a tenure track Assistant Professor (Teaching) at Haskayne School of Business. He earned his Ph.D. in Communication Studies from the University of Calgary and holds an M.A. in Political Psychology and a B.A. in Political Sciences and Communication from the University of Haifa, Israel.
Naor teaches diverse courses, including Organizational Behaviour, Business Negotiation, and Ethical Leadership, and has authored several business cases related to these subjects.
Naor has been instrumental in undergraduate programs such as the Haskayne Academic Turnaround and the BComm Honours. His contribution to teaching was recognized when he was awarded the Taylor Institute Teaching Award in 2019.

His dedication to teaching excellence is further underscored by his SoTL research and interest in non-traditional grading systems and deceptive pedagogies.
Naor is currently acting as OBHR 317 Course Coordinator and a Haskayne Teaching Fellow. In his free time, he enjoys practicing Wing Chun Kung Fu, and cultivating and playing his guitars' collection. If you're wondering, his name is pronounced na-OR, although he will cheerfully answer to 'Nor,' Nay-or' or Nower', or just about anything else.
Research
Areas of Research
Ethical Leadership, Experiential Learning, Teaching Innovation, Proactivity and Resilience
Courses
| Course number | Course title | Semester |
| --- | --- | --- |
| OBHR 317 | Organizational Behaviour | Fall 2021 |
| OBHR 493 | Business Negotiations | Fall 2021 |
| OBHR 672 | Workiing with People | Fall 2021 |
| MGST 453 | Ethical Leadership | Winter 2022 |
| OBHR 317 | Organizational Behaviour | Winter 2022 |
| OBHR 493 | Business Nogotiations | Winter 2022 |
Awards
University of Calgary Teaching Award,

Taylor Institute for Teaching and Learning .

2019
Publications
Fresh Routes: Navigating Uncertain Times.

Cohen N., Moddy C. & Bilton, T., . Ivey Publishing. (2023)

Who Watches the Watchdog? Calgary Integrity and Ethics.

Cohen, N., Wilks, L. & Maeda, A., . The Case Centre. (2022)

Unconscionability: David v. Uber the Goliath.

Cohen, N. & Czaoikowski, C. Ivey Publishing. (2021)

Cyber Attack at the University of Calgary.

Cohen, N. & Heggerut, C. Ivey Publishing. (2020)

On the Duty to Host in International Law: Jacques Derrida and Political Literature.

Cohen, N. & Fuchs, I. Law Culture and Humanities, 18(1). 114-131. (2022)

What Does National Resilience Mean in a Democracy? Evidence from the United States and Israel.

Canetti, D., Waismal-Manor, I., Cohen, N. & Rapaport, C. Armed Forces & Society, Vol 40(3),. 504-520. (2014)