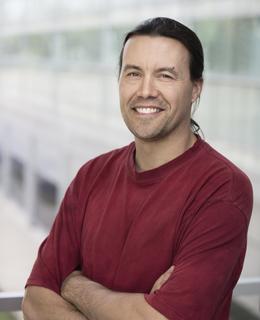 Dr. Mark Ungrin, PhD
Positions
Associate Professor
Comparative Biology & Experimental Medicine
Child Health & Wellness Researcher
Alberta Children's Hospital Research Institute
Associate Member
McCaig Institute for Bone and Joint Health
Background
Educational Background
B.Sc. Biochemistry, University of Waterloo, 1997
PhD Medical Biophysics, University of Toronto, 2005
Biography
During a co-op undergraduate degree I worked at Atomic Energy of Canada Ltd's Chalk River Laboratories (environmental research lab, and then molecular biology), and the Merck-Frosst Centre for Therapeutic Research in Montreal (prostanoid signalling), where I returned after graduation. I then moved to Toronto for graduate work in the Department of Medical Biophysics at the Princess Margaret Hospital's Amgen Institute, using the precursors to today's synthetic biology techniques to regulate telomerase activation in culture. Continuing a long-standing interest in the practical / translational aspects of regenerative medicine, I joined Peter Zandstra's Stem Cell Bioengineering laboratory at the Institute for Biomaterials and Biomedical Engineering. While there, I developed the "AggreWell" platform, and commercialized it in partnership with StemCell Technologies Inc. This relationship continues, supporting further development of the technology as well as industry work-experience opportunities for my trainees.
Research
Areas of Research
Organoid engineering
My primary research focus is in the area of micro-tissue / organoid engineering – that is, tissue engineering on the sub-millimetre scale. Many groups around the world are working on producing various clinically useful cell types from stem and progenitor cells. The next major challenge is in assembling these cells into something useful, so they can be delivered to the patient to treat disease, or used in research labs as new model systems to study tissue behaviour. The injection of single cell suspensions into a patient has proved challenging, as many cells die, or end up in inappropriate locations. Engineered microtissues have many advantages, in that they are still small enough to be introduced through the bore of a needle – thus avoiding the need for major surgery – but the introduced cells come with their own supportive micro-environment, functional connections to their neighbours, and are not subjected to the trauma of dissociation.
We collaborate with a number of groups in a wide range of organoid and tissue types in both academia and industry, and of the projects that are currently public, it is our work in the area of diabetes that is likely closest to the human clinic. In addition, we are currently pursuing a novel strategy for intervention in orphan diseases, with funding from the NFRF, and exploring various applications of synthetic biology tools to tissue and organoid engineering.
Biomanufacturing and development of supporting technologies
Beyond development and study of the microtissues and organoids themselves, we are also developing the next generations of my AggreWell organoid engineering platform, and understanding how cell manufacturing processes can be adapted to make scalable production economically sustainable. As a research tool, it has already had a significant international impact and is now one of the standard approaches for the large scale production of uniform size- and composition-controlled organoids across tissue types in both academia and industry. Among other examples this notably includes both 2021 papers reporting groundbreaking models of the early human embryo, as well as the preceding mouse models reported in 2018/2019. Current efforts are focused on establishing and validating microtissue / organoid production at scale for clinical applications, to provide a bridge for the large existing user base to translate their bench-scale findings to pre-clinical and clinical trials. Members of the group have received various recognitions for this work, including being chosen for Mitacs' 2019 Outstanding Innovation Award (Doug Kondro, in the PhD category) and my own naming as a University of Calgary PEAK Scholar.
We also have an interest in the use of 3D printing and other prototyping technologies to develop simulated body parts for medical training applications and veterinary prosthetics.
Research quality and reproducibility
Participation in university strategic initiatives
In the News
Une imprimante 3D permet a un coq de marcher a nouveau. Metro Belqique. (2015)