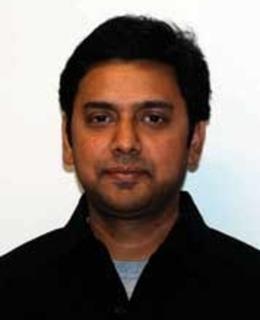 Marcus Samuel
Background
Educational Background
B.S. Agricultural Science, Tamilnadu Agricultural Univers, 1993
Doctor of Philosophy Plant Science, University of British Columbia, 2002
M.S. Agricultural Science, Tamilnadu Agricultural Univers, 1996
Research
Areas of Research
Activities
Research in my lab focuses on exploring the cellular signaling mechanisms that regulate compatible pollination events during plant reproduction and elucidating the complex interplay between compatibility and incompatibility pathways. 
Successful plant reproduction is dependent on a compatible interaction between the pollen/pollen tube and the pistil. Flowering plants cannot control the type of pollen grains that land on their stigma and have therefore evolved appropriate selection and recognition mechanisms to either accept or reject the pollen. During a compatible pollination event, following a favorable interaction between the pollen and the pistil, pollen tube grows through the style and fertilizes the ovule. In species of Brassicaceae (canola, broccoli, cabbage, Arabidopsis) which are characterized by dry stigmas, pollen recognition occurs at the earliest stages of pollen adhesion and hydration. Only compatible pollen is capable of inducing the stigma to release its resources such as water and other factors necessary for pollen growth, while incompatible pollen is blocked either prior to hydration or during attempts to penetrate the stigmatic barrier. The pollen-pistil interaction that occurs during this process is the major determinant of successful reproductive development. It also provides a unique system to study cell to cell communication/interaction, which is a critical underlying principle of development. I am particularly interested in utilizing the Brassica self-incompatibility (SI) system to understand the molecular mechanisms behind pollen-pistil interactions. SI is a genetic barrier that prevents self pollen from developing on the pistil. Plants utilize the SI system to eliminate inbreeding, and to promote hybrid vigor and genetic diversity. Molecular and genetic analyses of SI system have revealed a complex, receptor-ligand interaction-mediated, protein kinase-dependent signaling pathway that co-ordinates the rejection of "self" pollen. SI signaling is proposed to act through blocking compatibility factors from being delivered to the site of pollen attachment. Our goal is to identify the early signaling mechanisms that control compatible pollen-pistil interactions, and to identify signaling pathways and mechanisms through which SI negatively regulates this compatibility network. Given the fact that reproduction is the most important agronomic trait of a plant, understanding plant reproduction allows us to develop strategies to improve crop yield.
Courses
| Course number | Course title | Semester |
| --- | --- | --- |
| BIOL 371 | Comparative Biology of Plants and Animals | Fall 2022 |
| PLBI 543 | Plant Signaling and Development | Winter 2023 |
In the News
Canola protein needed for Pollination.
Publications
Northey, J, Siyu, L., Jamshed, M., Foo, E., Deb, S., Reid, J., McCourt, P. and Samuel, M.A., (2016). Farnesylation mediates brassinosteroid biosynthesis to regulate abscisic acid responses. Nature Plants, (Accepted, in press)
Uhrig, R.G., Labandera, A.M., Muhammad, J., Samuel, M.A. and Moorhead, G.B. (2016). Rhizobiale-like phosphatase 2 from Arabidopsis thaliana is a novel phospho-tyrosine specific PPP-family protein phosphatase. J Biol Chem, Jan 7. pii: jbc.M115.683656.
Sankaranarayanan, S., Jamshed, M. and Samuel M. A. (2015) Degradation of glyoxalase I in Brassica napus stigma leads to self-incompatibility response. Nature Plants, Article number: 15185 (2015)doi:10.1038/nplants.2015.185
Widdup, E. , Chatfield-Reed, K., Henry, D., Chua, G., Samuel, M.A. and Muench, D.G. (2015). Identification of detoxification pathways in plants that are regulated in response to treatment with organic compounds isolated from oil sands process-affected water. Chemosphere, 139(11): 47-53.
Sankaranarayanan, S. and Samuel M. A. (2015) A proposed role for selective autophagy in regulating auxin-dependent lateral root development under phosphate starvation in Arabidopsis. Accepted in Plant Signaling & Behavior. 10(3):E989749. APRIL 2015
Goring, D. R., Indriolo, E. and Samuel, M. A. (2014) The ARC1 E3 ligase promotes a strong and stable self-incompatibility response in Arabidopsis species: Response to the Nasrallah and Nasrallah Commentary. Accepted in Plant Cell. Oct;26(10):3842-6. doi: 10.1105/tpc.114.131243. Epub 2014 Oct 21.
Safavian, D., Jamshed, M., Sankaranarayanan, S., Indriolo, E., Samuel, M. A. and Goring, D. R. (2014) High humidity partially rescues the Arabidopsis thaliana exo70A1 stigmatic defect for accepting compatible pollen. Plant Reproduction, 2014 Sep;27(3):121-7. doi: 10.1007/s00497-014-0245-z. Epub 2014 Jun 29.Published online Jun 29, PMID: 2497397
Deb, S., Sankaranarayanan, S., Wewala, G., Widdup, E. and Samuel, M. A. (2014) The S-domain receptor kinase AtARK2 and the U-box/ARM-repeat-containing E3 ubiquitin ligase AtPUB9 module mediates lateral root development under phosphate starvation in Arabidopsis. Plant Physiology, Published online Jun 29, pp.114.244376.
Delmas, F., Sankaranarayanan, S., Deb, S.**, Widdup, E.*, Bournonville, C., Bollier, N., Northey, J.G.B., McCourt, P.†, and Samuel, M. A.† (2013). ABI3 controls embryo de-greening through Mendel's I locus. Proceedings of the National Academy of Sciences of the United States of America, 110(40): E3888-94. doi: 10.1073/pnas.1308114110. Epub 2013 Sep 16
Sankaranarayanan, S., Jamshed, M. and Samuel M. A. † (2013) Proteomics approaches advance our understanding of Plant Self-Incompatibility response. Journal of Proteome Research, 12(11): 4717-26. doi: 10.1021/pr400716r. Epub 2013 Oct 72013 Sep 18
Moeder, W., Garcia-Petit, C., Ung, H., Fucile, G., Samuel, M.A., Christendat, D. and Yoshioka, K. (2013) Crystal structure and biochemical analyses reveal that the Arabidopsis Triphosphate Tunnel Metalloenzyme, AtTTM3, is a tripolyphosphatase and is involved in root development. The Plant Journal, 76(4): 615-26. doi: 10.1111/tpj.12325. Epub 2013 Oct 17
Leishman, C., Widdup, E.E., Quesnel, D.M., Chua, G., Gieg, L.M., Samuel, M.A., and Muench, D.G. (2013). The effect of oil sands process-affected water and naphthenic acids on the germination and development of Arabidopsis. Chemosphere 93, 380-387.
Sankaranarayanan, S., Jamshed, M., Deb, S., Chatfield-Reed, K., Kwon, E.J., Chua, G., and Samuel, M.A. (2013). Deciphering the Stigmatic Transcriptional Landscape of Compatible and Self-Incompatible Pollinations in Brassica napus Reveals a Rapid Stigma Senescence Response Following Compatible Pollination. Molecular plant.
Hoser, R., Zurczak, M., Lichocka, M., Zuzga, S., Dadlez, M., Samuel, M.A., Ellis, B.E., Stuttmann, J., Parker, J.E., Hennig, J., and Krzymowska, M. (2013). Nucleocytoplasmic partitioning of tobacco N receptor is modulated by SGT1. The New phytologist.
Samuel, M.A., Tang, W., Jamshed, M., Northey, J., Patel, D., Smith, D., Siu, M., Muench, D.G., Wang, Z.Y., Goring, D.R. (2011) Proteomic analysis of Brassica stigmatic proteins following the self-incompatibility reaction reveals a role for microtubule dynamics during pollen responses. Molecular and Cellular Proteomics. Sep 1. 10.1074/mcp.M111.011338
Miles,G.P. and Samuel, M. A.,(2011) Living in the O-zone: Ozone Formation, Ozone-Plant Interactions and the Impact of Ozone Pollution on Plant Homeostasis. The Americas Journal of Plant Science and Biotechnology. 5 (special issue 1): 53-63.
Miles,G.P., Gill, R.I., and Samuel, M. A., (2010) Ectopic overexpression of SIPK in poplar renders plant hypersensitive to ozone. The Americas Journal of Plant Science and Biotechnology. 4 (special issue 2): 30-34.
Miles,G.P., Samuel, M. A., Chen, J., Civerolo, E. L., and Munyaneza, J.E. (2010) Evidence that Cell Death is Associated with Zebra Chip Disease in Potato Tubers. American Journal of Potato Research. 87:337–349.
Samuel, M.A., Chong, Y.T., Haasen, K.E., Aldea-Brydges, M.G., Stone, S.L. and Goring, D.R. (2009) Cellular Pathways Regulating Responses to Compatible and Self-Incompatible Pollen in Brassica and Arabidopsis Stigmas Intersect at Exo70A1, a Putative Component of the Exocyst Complex. Plant Cell. 21(9):2655-2671
Miles, G. P., Samuel, M. A. and Ellis, B. E. (2009) Suppression of MKK5 reduces ozone-induced signal transmission to both MPK3 and MPK6 and confers increased ozone sensitivity in Arabidopsis thaliana. Plant Signaling & Behavior. 4(8): 687-692.
Miles, G. P., Samuel, M. A., Ranish, J. A., Donohoe, S. M., Sperrazzo, G. M., Ellis, B. E. (2009) Quantitative proteomics identifies oxidant-induced, AtMPK6-dependent changes in Arabidopsis thaliana protein profiles. Plant Signaling & Behavior. 4(6): 497-505
Samuel, M.A., Yee, D., Haasen, K. and Goring, D.R. (2008) 'Self' Pollen Rejection Through the Intersection of Two Cellular Pathways in the Brassicaceae:Self-Incompatibility and the Compatible Pollen Response, Invited chapter for Springer book on Self-incompatibility, p173-191.
Samuel, M. A., Mudgil, Y., Salt, J. N. and Goring, D. R. (2008) Interactions between the Arabidopsis S-Domain receptor kinases and AtPUB-ARM E3 ubiquitin ligases suggest a conserved signaling pathway. Plant Physiology. 147(4): 2084-2095.
Samuel, M. A., Chaal, B., Lampard, G., Green, B. R. and Ellis, B. E. (2008) Surviving the passage: Non-canonical stromal targeting of an Arabidopsis mitogen-activated protein kinase kinase. Plant Signaling & Behavior. 3(1):1-7.
Hall, H. C., Samuel, M.A., and Ellis, B.E. (2007) SIPK mediates elicitor-specific defense responses. Molecular Plant Pathology. 8(5): 581-594.
Samuel, M. A., Salt, J. N., Shiu, S-H. and Goring, D. R. (2006) Plants with multifunctional ARM repeats: A Perspective. International Review of Cytology.253:1-26.
Miles, G. P., Sperrazzo, G. M., Donohoe, S M., Ranish, J. A., Samuel, M. A., Aebersold, R., Ellis, B. E. (2005) Proteomic-based analysis of AtMPK6 signaling in Arabidopsis thaliana. Comparative Biochemistry and Physiology, A-Molecular & Integrative Physiology, 141 (3): S255-S255.
Samuel, M.A., Hall, H. C., Krzymowska, M., Drzewiecka, K., Hennig, J. and Ellis, B. E. (2005) SIPK signaling controls multiple components of harpin-induced cell death in tobacco. Plant Journal. 42(3):406-416.
Samuel, M. A., Walia, A., Mansfield, S. and Ellis, B. E. (2005) Overexpression of SIPK in tobacco enhances ozone-induced ethylene formation and blocks ozone-induced SA accumulation. Journal of Experimental Botany. 56(418): 2195-2201.
Miles, G. P., Samuel, M. A., Zhang, Y. and Ellis, B. E. (2005) RNA interference-based (RNAi) suppression of AtMPK6, an Arabidopsis mitogen-activated protein kinase, results in hypersensitivity to ozone and misregulation of AtMPK3. Environmental Pollution 138(2):230-237.
Hamel, L-P., Miles, G.P., Samuel, M.A., Nicole, M-C., Ellis, B.E., Séguin, A and Beaudoin, N. (2005) Activation of stress-responsive mitogen-activated protein kinase pathways in hybrid poplar (Populus trichocarpa × Populus deltoides) Tree Physiology 25 (3): 277–288.
Miles, G. P., Samuel, M. A., Jones, A. M. and Ellis, B. E. (2004) Mastoparan rapidly activates plant MAP kinase signaling independent of heterotrimeric G proteins. Plant Physiology 134 (4): 1332-1336.
Samuel, M. A. and Ellis, B. E. (2002) Double jeopardy: Both overexpression and suppression of a redox-activated plant mitogen-activated protein kinase render tobacco plants ozone sensitive, Plant Cell 14 (9):, 2059-2069.
Miles, G. P., Samuel, M. A. and Ellis, B. E. (2002) Suramin inhibits oxidant signaling in tobacco suspension-cultured cells. Plant, Cell and Environment 25 (4): 521-527.Samuel, M. A., Miles, G. P. and Ellis, B. E. (2000) Ozone treatment rapidly activates MAP kinase signaling in plants. Plant Journal 22(4): 367-376