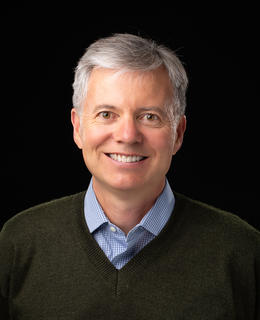 Dr. Marc J. Poulin, PhD, DPhil, FPhysiol
Positions
Professor
Cumming School of Medicine, Department of Physiology and Pharmacology
Professor
Cumming School of Medicine, Department of Clinical Neurosciences
Professor
Faculty of Kinesiology
Chair
Brenda Strafford Foundation Chair in Alzheimer Research
Full Member
Hotchkiss Brain Institute
Full Member
Libin Cardiovascular Institute
Full Member
O'Brien Institute for Public Health
Full Member
Mathison Centre for Mental Health Research and Education
Contact information
Administrative Assistant
Patricia Hyatt
patricia.hyatt@ucalgary.ca
I'm looking for...
Learning opportunities
Study participants
Background
Educational Background
D.Phil Human Cerebrovascular Physiology, University of Oxford, 2000
Ph.D Respiratory Physiology and Ageing, University of Western Ontario, 1993
F.Physiol Fellow, The Physiological Society of Great Britian , 2017
Certificate Programme Spécialisé de B.É.P.S Faculty of Kinesiology, Université Laurentienne, 1986
Certificat de Bilinguisme Université Laurentienne, 1986
Biography
Marc Poulin is Professor of Physiology in the Cumming School of Medicine (Departments of Physiology & Pharmacology, and Clinical Neurosciences) and the Faculty of Kinesiology. He is a member of the Hotchkiss Brain Institute, the Libin Cardiovascular Institute of Alberta, and the O'Brien Institute of Public Health. He also holds the Brenda Strafford Foundation (Endowed) Chair in Alzheimer Research. He obtained a Bachelor of Physical and Health Education (Honors) from Laurentian University (Sudbury, Ontario; 1986), an MA and PhD in Exercise Physiology from the University of Western Ontario (London, Canada; 1988 and 1993) and a DPhil in Respiratory and Cerebrovascular Human Physiology from the University of Oxford (New College; Oxford, UK; 1999). He is an internationally recognized leader in cerebrovascular regulation, sleep, high altitude physiology, and in the processing of biological signals. The Poulin Lab uses transcranial Doppler ultrasound, NIRS, neuroimaging, and novel approaches (i.e., dynamic end-tidal forcing technique) to probe human physiology in health, disease and across the lifespan. Dr. Poulin has also worked with a number of industrial partners (e.g., Polar Electro Oy and ALMA). Dr. Poulin has had the privilege of supervising over 200 trainees, including 20 postdoctoral fellows and over 25 graduate students. Poulin has a track record of supporting women in science with 63% of trainees identifying as women. Previous trainees hold faculty positions at top universities in Canada and abroad (France, Australia, Japan). Dr. Poulin has published over 120 scientific papers. His work has been received 7000 citations and has an H-factor of 46.
Dr. Poulin leads a graduate training specialization program in Mountain Medicine and High-Altitude Physiology at the University of Calgary. This program aims to recruit Indigenous Peoples of under-developed mountainous countries. Since 2010, he has been interacting with Canadian mining companies to better understand the challenges imposed on miners who work at high altitude in South America. He currently serves on the scientific advisory board of the International Hypoxia Symposia Conference series and served as Editor for the journal Experimental Physiology (Physiological Society, UK; 2013-2017). He holds grants from the Canadian Institutes of Health Research and the Natural Sciences and Engineering Research Council of Canada. Dr. Poulin is Co-Director of the NSERC BRAIN CREATE Interdisciplinary Training Program for New Neurotechnologies (2019-2026). This program has dedicated trainee positions for Indigenous trainees from across Canada.
Equity, Diversity, Inclusion: Dr. Poulin's research group strives to recruit and accommodate trainees with diverse training and backgrounds. Trainees have access to career development and advancement opportunities regardless of sex, gender and background. Dr. Poulin's trainees reflect a wide range of age (17-81 years), racialized groups and cultures. Dr. Poulin has supported trainees from many different countries including Canada, Brazil, France, Ireland, Italy, Japan, Nepal, Nigeria, Switzerland, UK and the USA.
Research
Areas of Research
Healthy Brain Aging and Dementia
Integrative Human Physiology
Sleep
High Altitude Physiology
Role of Exercise in Prevention and Management of Chronic Diseases
Participation in university strategic initiatives
Awards
Guenter Distinguished Achievement Award for International Health,

Cumming School of Medicine, University of Calgary.

2017

School of Human Kinetics Exceptional Alumni Award,

Laurentian University/Université Laurentienne.

2014

Watanabe Distinguished Achievement Award ,

Faculty of Medicine University of Calgary.

2008

AHFMR Heritage Research Prize for Medical Scholarship,

Alberta Heritage Foundation for Medical Research.

2005

Diploma, The International Summer School in Copenhagen,

Panum Institute, Copenhagen Denmark.

1999

Post-Doctoral Fellowship,

Heart and Stroke Foundation of Ontario, (Held at: Laboratory of Physiology, Univ. of Oxford, U.K.).

1996

Scholarship for Goethe Institute German Language Course,

Deutscher Akademischer Austauschdienst, Bonn Germany.

1996

Post-Doctoral Fellowship,

Medical Research Council of Canada, (Held at: Laboratory of Physiology, Univ. of Oxford, U.K.).

1993

Graduate Research Fellowship Faculty of Graduate Studies,

The University of Western Ontario.

1992

Graduate Studies Research Award, Faculty of Graduate Studies,

The University of Western Ontario.

1992

Advanced Studies Bursary,

Gerontology Research Council of Ontario.

1990

Graduate Studies Fellowship Health Research Personnel Development Program,

Ontario Ministry of Health.

1990

Ontario Graduate Scholarship,

Ontario Ministry of Colleges and Universities.

1989

Faculty Entrance Scholarship, Ph.D. program,

The University of Western Ontario.

1988

Faculty Entrance Scholarship, M.A. program,

The University of Western Ontario.

1986

CAHPER Student Award,

Canadian Association for Health, Physical Education and Recreation.

1985

Bourse pour etudier en francais,

Ministere des Colleges et Universites, Province de l'Ontario.

1982

Bourse d'Admission, programme specialise de B.E.P.S.,

Universite Launentienne.

1982