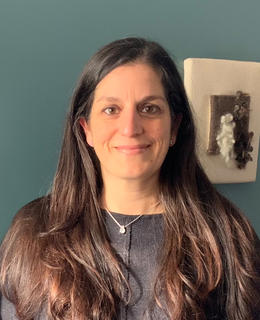 Positions
Associate Professor
Werklund School of Education, Specialization, Curriculum and Learning
Background
Educational Background
Doctor of Philosophy Sociology of Education, University of Toronto, 2015
M.S. , Pace Univeristy, 2007
B.A. Sociology and Cultural Studies, McGill University, 2004
Biography
Mairi McDermott is a mother-scholar who holds a PhD in Sociology of Education from the Department of Social Justice Education at OISE, University of Toronto. After completing her PhD she was an Eyes High Postdoctoral Scholar at the Werklund School of Education and in 2017 continued with the Werklund School of Education as Assistant Professor in Curriculum and Learning. Her teaching interests include critical qualitative research methods, the ways knowledges are produced, circulated, and embodied, and emotional dimensions of teaching and learning. Dr. McDermott's cultural and pedagogical work is inspired by her experiences as a New York City public high school English language arts teacher.
Professional & Community Affiliations
International Association for Maternal Activism and Scholarship (IAMAS) -- Steering Committee Member
Canadian Society for the Studies of Education (CSSE) – member
National Women's Study Association (NWSA) – member
Research
Areas of Research
Scholarly Activity
Dr. McDermott's research queries what kinds of teaching, learning, social, cultural, and political relations can move us beyond the existing habits and assumptions embedded in colonial ways of knowing, being, and relating in schools and society.  Through her various and interdisciplinary research, she is interested in drawing out voices, experiences, and identities that have historically been marginalized to mobilize the full spectrum of ideas in knowledge production.  Presently, her research centres mothering as an analytic to enliven and re-imagine broader historical and present socio-political injustices. Central concepts guiding her research include: difficult knowledge; affect and emotions in teaching and learning; story and epistemology; critical pedagogies; voice and identity; lived curriculum.
Interests:
Cultural studies
Feminist theory/research
Motherhood studies
Pedagogy
Power and knowledge production
Qualitative research
Sociology of education
Participation in university strategic initiatives
Courses
| Course number | Course title | Semester |
| --- | --- | --- |
| EDER 712 LEC 01 01 | Adv Research Methodologies II | 2021 |
| EDER 78307 LEC 01 01 | Adv Topics Curriculum & Learn | 2021 |
| EDUC 55604 SEC 03 S03 | Prof Learning K-12 (Comm) | 2020 |
Projects
Rhythms of Mothering and Life in the Academy
This research project has several related strands:
Intellectual Activism: On What Mothering and Solidarity in Higher Education Can Do [with Dr. Abby Palko]
Where are mother-scholars in DEIA initiatives and why should they be included? [with Drs. Katie B. Garner, Cindy Phu, and Nicole Willey]
Building Racial Equity in and across Motherhood [with Dr. Eshe Cole]
Maternal Curriculum, Motherhood, Race and Nation [with Dr. Akanksha Misra]
Mothering on the Tenure Track: A Qualitative Case Study [SSHRC funded]
---
An Exploration of the Systems and Societal Norms that Contribute to the Marginalization of Youth
A SSHRC funded youth participatory action research project in collaboration with Candace Lind (PI), Aliya Dosani, Christine A. Walsh, Brenda Juby, Mary-Lynn Wardle, and Sharon Friesen.
---
Past Research Projects
Affect, Embodiment, and Place in Critical Literacy: Assembling Theory and Practice [with Dr. Kim Lenters]
The Role Schools Play Concerning Wellbeing of Educators: A Pilot Project [with Drs. Marlon Simmons, PI, Jennifer Lock, and Rachael Crowder]
Leading first Nations, Metis, and Inuit Foundational Knowledge Learning in Calgary Board of Education [with Drs. Barb Brown and Sharon Freisen
Awards
Eyes High Postdoctoral Fellow in Literacy Studies,

University of Calgary.

2015
Publications
Mapping the terrains of student voice pedagogies: An autoethnography.

Mairi McDermott. Peter Lang. (2020)

Affect, embodiment, and place in critical literacy: Assembling theory and practice.

Kim Lenters and Mairi McDermott (eds.). Routledge. (2019)

Centering African proverbs, Indigenous folktales, and cultural stories in curriculum: Units and lesson plans for inclusive education.

George J. Sefa Dei and Mairi McDermott (eds.). Canadian Scholars Press. (2019)

Politics of anti-racism education: In search of strategies for transformative learning.

George J. Sefa Dei and Mairi McDermott (eds.). Springer. (2014)

Becoming a mother in the academy: A letter to my children.

Women negotiating life in the academy: A Canadian perspective [Springer]. 161-173. (2020)

Mo(ve)ments of affect: Towards an embodied pedagogy for anti-racism education.

Mairi McDermott. Politics of anti-racism education: In search of strategies for transformative learning [Springer]. 211-226. (2021)

Embodiment and the spatialization of race.

Mairi McDermott and Marlon Simmons. Contemporary issues in the sociology of race and ethnicity: A critical reader. 153-168. (2013)

Avoiding the missionary (dis)position: Research relations and (re)presentation.

Mairi McDermott and Athena Madan. Critical qualitative research reader [Peter Lang]. 235-245. (2012)