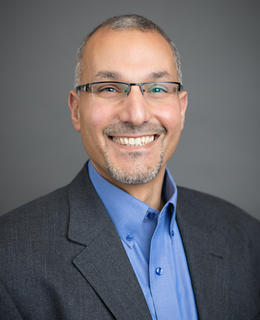 Maen Husein, BSc, MSc, PhD
Background
Educational Background
BSc Chemical Engineering, Jordan University Sci & Tech, 1995
Master of Science Chemical Engineering, McGill University, 1996
Doctor of Philosophy Chemical Engineering, McGill University, 2000
Biography
Dr. Husein is a Professor in the Department of Chemical and Petroleum Engineering at the University of Calgary in Calgary, Alberta. He received his BSc. in chemical engineering from Jordan University of Science & Technology (JUST), Irbid, Jordan, and his M.Sc. and Ph.D. in chemical engineering from McGill University in Montreal, Quebec. Dr. Husein is a registered Professional Engineer in the province of Alberta.
Research
Areas of Research
Nanotechnology; Environmental remediation; Enhanced oil recovery; Wastewater treatment; Well fluids
Dr. Husein's research interest is in the field of Energy & the Environment. His group is called the Nano-Technology for Energy and Environment (NTEE). With nanotechnology being a focal point for Dr. Husein's research, his group employs nanoparticles for heavy oil and bitumen extraction (e.g. nanoparticle-mediated polymer flooding, nanoparticle-stabilized foam), upgrading  (e.g. catalytic thermal and hydro cracking), enhancing the performance of drilling fluids and cement through nanoparticle-impregnation (e.g. fluid loss prevention, wellbore strengthening, drag reduction, cement strengthening), and produced water treatment to enable effective recycling (e.g. nanoparticle-modified membrane filtration, coagulation).
The industry relevance of Dr. Husein's research is evident through the spinout company nFluids as well as other projects supported by industry.
Below are fields of major focus:
Heavy oil upgrading by means of ultradispersed nanoparticle catalysts, sorbents, etc., mainly prepared in-house. Dr. Husein's group is looking into hydrocracking, thermalcracking, visbreaking and delayed coking.
Produced water treatment, including tailings and SAGD water. Membrane (ceramic and polymeric) filtration coupled with micelle formation is employed to remove organic contaminant. In addition, carefully designed biochars are used as adsorbents. In addition to the removal of organics, surfactants with very high affinity to heavy metals are used for the removal of heavy metals from contaminated water. Effort is also invested to optimize the scheme of coagulant and flocculant addition. This effort reduced coagulant dose by 50%, while maintaining same performance.
Novel drilling fluids containing nanoparticles have proved very effective at preventing fluid loss, thus reducing drilling cost as well as the environmental footprint of drilling operations. Both oil-based and water-based drilling muds have been tested. Moreover, the nanoparticle modified fluids were found to enhance lubricity and strengthen the wellbore to a great extent.
Effort was also focused on enhancing cement properties through nanoparticle impregnation. Results show 80% increase in the compressive strength of cement. The outcome of this research is multifold impact, especially since much less cement can be used to accomplish a given task.
Enhanced oil recovery (EOR) fluids impregnated with nanoparticles. In this endeavor Dr. Husein's group is looking to enhance the performance of polymer flooding and SGAD operation by couple polymers with nanoparticles and stabilizing steam foam with nanoparticles. In-house prepared and commercial nanoparticles are compared.
The research areas above require good foundations in the following subjects of chemical engineering: transport phenomena (mass, heat and momentum), colloid chemistry, reaction engineering and reactor design.
Participation in university strategic initiatives
Courses
| Course number | Course title | Semester |
| --- | --- | --- |
| ENCH 427 | Chem Engg Thermodynamics | 2018 - 2021 |
| ENCH 331 | Process Fluid Dynamics | 2014 - 2016 |
| ENCH 311 | Engg Thermodynamics | 2005 - 2012 |
| ENCH 511 | Chemical Process Design I | 2019 - ongoing |
| ENCH 531 | Chemical Process Design II | 2019 - ongoing |
| ENCH 619.74 / ENEN 619.13 | Special Problems: Colloid & Interface Science: Theory & Applications | 2020 - ongoing |
| ENCH 645 / ENEN 661 | Industrial & Produced Water Treatment | 2003 - 2018 |
| ENCH 643 | Env Engg Aspect Air Pollution | 2004 - 2006 |
| ENER 560 | Energy Engineering Thermodynamics | 2018 |
| ENCH 633 | Chemical Engineering Thermodynamics (Advanced) | 2022 |
Awards
Guest Professor,

China University of Petroleum (East).

2019