Lindsay Driediger-Murphy, DPhil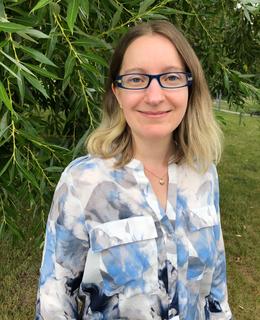 Associate Professor
Undergraduate Program Director
---
Web presence
During the COVID-19 pandemic the best way to contact me is by email.
Background
Biography
I completed a BA (Hons.) in Greek and Roman Studies at the University of Calgary (2005), followed by an MPhil (2007) and DPhil (2011) in Ancient History at the University of Oxford, UK. These studies were supported by funding from the Government of Alberta, Government of Canada, and the Faculty of Classics and University College, Oxford.
I taught as a Stipendiary College Lecturer in Ancient History at Oriel and Jesus Colleges (University of Oxford, 2011-2013) before joining the University of Calgary's Department of Classics and Religion in 2014.
I am currently the Department's Local Representative for the Classical Association of Canada, and a member of the Classical Association of Canada's Equity Committee.
I am a member of the editorial board of Phoenix.
Research
Areas of Research
Roman and Greek religion, history, and historiography
My research interests include Roman divination, ancient theologies, interactions between religions in antiquity, and Greek and Latin historiography.
I have published in such journals as Classical Quarterly; Greek, Roman, and Byzantine Studies; Phoenix; and Zeitschrift für Papyrologie und Epigraphik.
My monograph Roman Republican Augury: Freedom and Control, and an edited volume, Ancient Divination and Experience (co-edited with Professor Esther Eidinow) are available from Oxford University Press.
My current research projects include a study of 'The Nature of Roman Gods', which was supported by the Social Sciences and Humanities Research Council of Canada.
Courses
| Course number | Course title | Semester |
| --- | --- | --- |
| RELS 385 | Pagans and Christians | For my current course schedule, check the Classics and Religion website |
| GRST 205 | Introduction to Greece and Rome | For my current course schedule, check the Classics and Religion website |
| GRST 315 | Women and the Family in the Greek and Roman World | For my current course schedule, check the Classics and Religion website |
| GRST 499 | Topics in Ancient and Medieval Historiography | For my current course schedule, check the Classics and Religion website |
| GRST 345 | Rome: The Late Republic and Early Empire | For my current course schedule, check the Classics and Religion website |
| GRST 504 | Honours Thesis | For my current course schedule, check the Classics and Religion website |