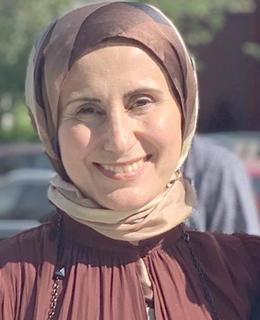 Dr. Lina Kattan, PhD. P. Eng.
Background
Educational Background
Doctor of Philosophy Civil Engineering (Transportation), University of Toronto, 2005
M.S. Civil Engineering (Transportation), American University of Beirut,
Bach of Eng. Civil Engineering, American University of Beirut,
Biography
Lina Kattan, is a Professor of Civil Engineering at the Schulich School of Engineering, University of Calgary. She is currently the Director of the NSERC CREATE program in Integrated Infrastructure for Sustainable Cities (IISC), which focuses on finding systematic solutions to understand the multifaceted needs of tomorrow's cities.
Lina is a member of the College of Scholars, Artists and Scientists of the Royal Society of Canada. She also sits on the Royal Society of Canada Council. Lina is also the recipient of the 2014 Killam Emerging Research Leader Award – NSERC category.
Research
Areas of Research
Transportation
Lina 's research program focuses on developing solutions to urban transportation problems with a special focus on Intelligent Transportation Systems, Emerging Vehicular Technologies, Connected and Autonomous Vehicle; Equity and Fairness in transportation, traffic flow theory and control; optimization of transportation network; Public transport operation; Dynamic Demand Modelling; and Traveller's Behavioural response to Emerging Transportation Technologies.
Participation in university strategic initiatives
Courses
| Course number | Course title | Semester |
| --- | --- | --- |
| ENCI 717 LEC 01 01 | Dynamic Trfc Flow Ntwrk Model | 2022 |
| ENCI619.01 | Integrated Infrastructure for Sustainable Cities | Fall 2021 |
Awards
2022 Killam Annual University of Calgary Professorship Award,

Killam.

2022

2022 ASTech Award Winner – Outstanding Achievement in Urban Development: Research,

ASTech.

2022

Member,

New College of Scholars, Artists and Scientists of the Royal Society of Canada.

2019

NSERC Discovery Accelerator Supplement (DAS),

Natural Sciences and Engineering Research Council of Canada (NSERC).

2020

GREAT Supervisor Award,

Faculty of Graduate Studies, University of Calgary.

2020

Peak Scholars,

University of Calgary.

2018

Transition Accelerator Fellow ,

Transition Accelerator (https://transitionaccelerator.ca/) .

2020

GREAT Supervisor Award,

Faculty of Graduate Studies, University of Calgary.

2018

Outstanding Teaching Excellence,

The University of Calgary.

2014

Killam Emerging Research Leader Award - NSERC,

2014

Early Research Excellence Award,

2010

Outstanding Teaching Excellence, Civil Engineering, University of Calgary,

University of Calgary.

2014

NSERC Discovery Accelerator Supplement (DAS),

Natural Sciences and Engineering Research Council of Canada (NSERC).

2014

2020 Schulich School of Engineering SSE Research Achievement Award,

University of Calgary.

2020

Schulich School of Engineering Graduate Educator Award,

University of Calgary.

2015

Schulich School of Engineering Research Collaboration Award,

University of Calgary.

2018

2021
Publications
Alpha-fair large-scale urban network control: a perimeter control based on a macroscopic fundamental diagram approach.

Nadia Moshahedi and Lina Kattan. Transportation Research Part C: Emerging Technologies. (2022)

A macroscopic dynamic network loading model using variational theory in a connected and autonomous vehicle environment.

Nadia Moshahedi and Lina Kattan. Transportation Research Part C: Emerging Technologies. (2022)

Path flow reconstruction in a road network with connected vehicles.

Mostafa Salari, Lina Kattan, Monica Gentili. . Transportation Research part C. Emerging Technologies. . (2022)

Estimation of Truck Origin-Destination Flows using GPS Data..

Merkebe G. Demissie and Lina Kattan. Transportation Research Part E: Logistics and Transportation. (2022)

Proportionally Fair Flow Markets for Transportation.

Soheila Aalami and Lina Kattan.. Transportation Research: Part B: Methodological . (2022)

Ramp metering control under stochastic capacity in a connected environment: A dynamic bargaining game theory approach.

Seiran Heshami and Lina Kattan. Transportation Research Part C: Emerging Technologies. . (2022)

Modeling the effect of sensor failure on the location of counting sensors for origin-destination (OD) estimation.

Mostafa Salari, Lina Kattan, William H. K. Lam, Mohammad Ansari Esfeh, Fu Hao. . Transportation Research Part C: Emerging Technologies. . (2021)

Applications of Passive GPS data to Characterize the movement of Freight Trucks - A Case Study in the Calgary Region of Canada.

Ashok Kinjarapu, Merkebe Getachew Demissie, Lina Kattan, and Robert Duckworth. . IEEE Transactions on Intelligent Transportation Systems. (2021)

Compound Generalized Extreme Value distribution for modeling the effects of monthly and seasonal variation on the extreme travel delays for vulnerability analysis of road network. .

Mohammad Ansari Esfeh, Lina Kattan, William HK Lam, Mostafa Salari, Reza Ansari Esfeh. Transportation Research -Part C. Emerging Technologies. (2020)

Road network vulnerability analysis with consideration of probability and consequence of disruptive events: A spatiotemporal incidents impact approach.

Mohammad Ansari Esfeh, Lina Kattan, William H. K. Lam, Reza Ansari, Mostafa Salari. Transportation Research part C. Emerging Technologies. (2022)

Understanding the Temporal and spatial interactions between transit ridership and urban land use patterns: an exploratory study.

Merkebe G. Demissie and Lina Kattan. Public Transport: Planning and Operations.. (2022)

Stochastic Microscopic based Freeway Traffic State and Spatial-temporal Pattern Prediction in a Connected Vehicle Environment.

Seiran Hesham and Lina Kattan. Journal of Intelligent Transportation Systems: Technology, Planning, and Operations. (2022)

Traffic Sensor Locations for Estimation of Multi-period Origin-Destination Demands with Covariance Effects.

Hao Fu, William H.K. Lam, Hu Shao, Lina Kattan, Mostafa Salari. Transportation Research Part E: Logistics and . (2022)

Fair Transit Trip Planning in Emergency Evacuations: A Combinatorial Approach. .

Soheila Aalami and Lina Kattan . Transportation Research -Part C: Emerging Technologies. (2021)

Accounting for Preference Heterogeneity for High Occupancy Toll Lanes in a Canadian City: A Latent Class Appro.

Adam Weiss, Mohammad Ansari, Seyed Shahab EsmaelNejad, Lina Kattan.. Transportation Letters: The International Journal of Transportation Research al of Transportation Research. (2022)

Modeling the effect of sensor failure on the location of counting sensors for origin-destination (OD) estimation. .

Mostafa Salari, Lina Kattan, William H. K. Lam, Mohammad Ansari Esfeh, Fu Hao. Transportation Research Part C: Emerging Technologies . (2021)

Road network vulnerability analysis with consideration of probability and consequence of disruptive events: A spatiotemporal incidents impact approach.

Mohammad Ansari Esfeh, Lina Kattan, William H. K. Lam, Reza Ansari, Mostafa Salari. . Transportation Research part C. Emerging Technologies. (2022)

Operational and Safety Impacts of Integrated Variable Speed Limit with Dynamic Hard Shoulder Running.

Karan Arora and Lina Kattan. Journal of Intelligent Transportation Systems: Technology, Planning, and Operations. (2022)

Modelling Electric Vehicle Charging Network Capacity and Performance During Short-Notice Evacuations. .

Craig MacDonald, Lina Kattan and David Layzell. International Journal of Disaster Risk Reduction . (2020)

A network-wide anticipatory control of an urban network using macroscopic fundamental diagram. .

Nadia Moshahedi, Lina Kattan and Richard Tay. . Transportmetrica B: Transport Dynamics. . (2020)

Variable Speed Limit Strategy with Anticipatory Lane Changing Decisions.

Bidoura Khondaker and Lina Kattan. Journal of Intelligent Transportation Systems: Technology, Planning, and Operations. . (2020)

Queue Length Estimation and Prediction model for Long Freeway Off-ramps.

Seiran Heshami and Lina Kattan. Journal of Intelligent Transportation Systems: Technology, Planning, and Operations. . (2020)

Analysis of demand-supply gap in public transit system based on census and GTFS data: A case study of Calgary, Canada.

Koragot Kaeoruean, Santi Phithakkitnukoon, Merkebe Getachew Demissie, Lina Kattan, Carlo Ratti. Journal of Public Transport: Planning and Operation, . (2020)

Transit Users' Mode Choice Behavior During Short-Term LRT Planned Service Disruption (PSD). .

Muhammad Arslan Asim, Adam Weiss, Lina Kattan, S. C. Wirasinghe. Journal of Transportation Research Record . (2021)

Integrating COVID-19 Health Risks into Crowding Costs for Transit Schedule Planning.

Kaushan W. Devasurendra, Saeid Saidi, S. C. Wirasinghe, Lina Kattan. Transportation Research Interdisciplinary Perspectives - the Special issue: The Liminality of COVID-19 and Transportation Research. (2021)

Waiting Time and Headway Modeling for Urban Transit Systems – A Critical Review and Proposed Approach. .

Mohammad Ansari Esfeh, Saeid Saidi, S.C Wirasinghe, Lina Kattan. Transport Reviews. (2020)

Social Distancing in Airplane Seat Assignments.

Mostafa Salari, R. John Milne, Camelia Delcea, Lina Kattan, Liviu-Adrian Cotfas. Journal of Air Transport Management. Vol 89: 101915. (2020)

Waiting Time and Headway Modeling Considering Unreliability in Service.

Mohammad Ansari Esfeh, S.C. Wirasinghe, Saeid Saidi, Lina Kattan. Transportation Research Part A – Policy and Practice . (2021)

Modeling Location Choice of Taxi Drivers for Passenger Pick-Up Using GPS Data.

Merkebe Getachew Demissie, Lina Kattan, S. Phithakkitnukoon, M. Veloso and C. Bento, . IEEE Intelligent Transportation Systems Magazine. (2020)

Principles of Least Action in Urban Traffic Flow.

Willem Klumpenhouwer and Lina Kattan. Transport Findings. (2020)

Optimization of Traffic Sensor Location for Complete Link Flow Observability in Road Network with Sensor Failure.

Mostafa Salari, Lina Kattan, William H. Lam, H. P. Lo and Mohammad Ansari Esfeh. Transportation Research Part B: Methodology. (2019)

Inferring and Modeling Migration Flows Using Mobile Phone Network Data..

Soranan Hankaew, Santi Phithakkitnukoon, Merkebe Getachew Demissie, Lina Kattan, Zbigniew Smoreda, and Carlo Ratti. IEEE Access. (2019)

Visualizing Public Transit System Operation with GTFS Data: A case study of Calgary, Canada. .

P. Prommaharaj, S. Phithakkitnukoon, M. G. Demissie, L. Kattan, and C. Ratti. Heliyon. (2020)

Optimizing Zonal Demand Responsive Transit Service under Heterogeneous Environment. .

Lin Wang, Steven Chien, S. Chan Wirasinghe, and Lina Kattan. . Special issue on Future Urban Mobility with MaaS - Editors: Dr. Paul Schonfeld, Young-Jae Lee, and Joyoung Lee. . (2021)

A New Design and Evaluation Approach for Managed Lanes from a Sustainability Perspective. .

Mohammad Ansari Esfeh and Lina Kattan, . International Journal of Sustainable Transportation. (2019)

Trip Distribution Modeling Using Mobile Phone Data: Emphasis on Intra-Zonal Trips.

Merkebe Demissie, S. Phithakkitnukoon and Lina Kattan. IEEE Transactions on Intelligent Transportation Systems. (2019)

Transit Signal Priority along a signalized arterial: A passenger-based Approach.

S. Mishra, L. Kattan and S.C. Wirasinghe. ACM Transactions on Spatial Algorithms and Systems, Special Issue on Mobility. . (2020)

Fairness and Efficiency in Pedestrian Emergency Evacuation: Modeling and Simulation..

Soheila Aalami and Lina Kattan. Safety Science. (2019)

Constructing Dynamic Origin-Destination Matrices and Measuring their Similarity using Taxi Trajectory Data: A Case study of Lisbon, Portugal.

W. Mungthanya, S. Phithakkitnukoon, S. MG. Demissie, L. Kattan, M. Veloso and C. Bento. IEEE Access. (2019)

Fair Dynamic Resource Allocation in Transit-based Evacuation Planning..

Soheila Aalami and Lina Kattan, . Transportation Research - Part C: Emerging Technologies. Paper also presented in 22nd International Symposium on Transportation and Traffic Theory (ISTTT22). (2018)

Understanding human mobility patterns in a developing country using mobile phone data..

MG. Demissie, S. Phithakkitnukoon, L. Kattan, and A. Farhan. Data Science Journal . (2021)

Deterministic and Stochastic Freeway Capacity Analysis Based on Weather Conditions.

Seiran Heshami, Lina Kattan, Zhengyi Gong and Soheila Aalami. Journal of Transportation Engineering, Part A: Systems. (2018)

Spatial Statistical Analysis of Infrastructure Systems in Calgary, Alberta.

Jason Hawkins, Lina Kattan, Patrick Hettiaratchi and Joshua Taron. Journal of Environmental Planning and Management. (2018)

Trade-Offs between Headway, Fare, and Real-Time Bus Information under Different Weather Condition. .

Md Matiur Rahman, L. Kattan, S.C. Wirasinghe. Journal of Public Transport: Planning and Operations. Volume 10, Issue 2, pp 217–240. (2018)

Optimization of Demand-Responsive Transit System Using Zonal Strategy.

Lin Wang, S. C. Wirasinghe, L. Kattan, S. Saidi. International Journal of Urban Sciences. (2018)

LRT Passengers' Responses to Advanced Passenger Information System (APIS) in case of Information Inconsistency and Train Crowding.

Lina Kattan and Yuan Bai. Canadian Journal of Civil Engineering. (2018)

Integrated Infrastructure for Sustainable Cities - A Review.

S. Saidi, L. Kattan, Poornima Jayasinghe, Joseph Patrick Hettiaratchi and Joshua Taron. Journal Sustainable Cities and Society. (2017)

A Framework for Evaluation of Complex Urban Rail Transit Networks Based on Generalized Passenger Cost.

S. Saidi, S.C. Wirasinghe L. Kattan and S. Esmaeilnejad. Transportmetrica A: Transport Science. (2017)

Concurrent Calibration of Microscopic Traffic Simulation Parameters and Estimation of Origin/Destination (OD) Flows based on Genetic Algorithms in a High-Performance Computer.

Reza Omrani and Lina Kattan. Journal of Transportation Engineering: Part A: systems. . (2017)

Analyzing Public Transit for Sustainability Performance, Transport Research Part D. Transport and Environment.

P. Miller, Alex de Barros, L. Kattan and Chan . Transport Research Part D. Transport and Environment. (2016)

Effect of time interval of bus location data on real-time bus arrival estimations.

Md. M. Rahman, Wirasinghe and L. Kattan. Transportmetrica A: Transport Science. (2016)

Long-term Planning for Ring-radial Urban Rail Transit Networks.

S. Saidi, S.C. Wirasinghe and L. Kattan. Transportation Research Part B: Methodological. (2016)

Variable Speed Limit: A Microscopic Analysis in a Connected Vehicle Environment.

Bidoura Khondaker and Lina Kattan. Transportation Research- Part –C: Emerging Technologies. (2015)

Canadian Prairie Tornadoes - Preplanning for Warning Issuance & Evacuations.

S. W. Durage, S.C. Wirasinghe, J.Y. Ruwanpura, L. Kattan, Shawn Marshall. International Journal of Disaster Risk Reduction. (2015)

Variable Speed Limit: An Overview..

Bidoura Khondaker and Lina Kattan . Transportation Letters: International Journal of Transportation Research. http://dx.doi.org/10.1179/1942787514Y.0000000053. (2015)

Probe-Based Variable Speed Limit System - A Sensitivity Analysis.

Lina Kattan, Bidoura Khondaker, Olesya Derushkina and Eswar Poosarla. Journal of Intelligent Transportation Systems: Technology, Planning, and Operations. (2014)

Bus Arrival Time Estimation in Real-Time for Varying Horizons..

Md. Matiur Rahman, S. C. Wirasinghe and L. Kattan. Transportation Research- Part –C: Emerging Technologies. . (2018)

Evacuation Behaviour of Households and Drivers during a Tornado - Analysis Based on a Stated Preference Survey in Calgary, Canada.

S. Durage, L. Kattan, S. Chan, Wirashinge and J. Ruwanpura. Natural Hazards. (2014)

Travel Behavior Changes and Responses to Advanced Traveler Information in Prolonged and Large-Scale Network Disruptions: A Case Study of West LRT Line Construction in the City of Calgary.

Lina Kattan, A. G. de Barros, and H. Saleemi. Transportation Research: Part F: Traffic and Psychology. (2013)

Modeling Traveler Response to Variable Message Sign.

Joydip Majumder, L. Kattan, Kh. N. Habib and T. Sh. Fung, . International Journal of Urban Sciences. (2013)

Bus Rapid Transit (BRT) – a review..

S.C. Wirasinghe, L. Kattan, M. M. Rahman, J. Hubbell, R. Thilakaratne, S. Anowar. International Journal of Urban Sciences. (2013)

Sensitivity Analysis of an Evolutionary based Time Dependent Origin/Destination Estimation Framework.

Lina Kattan and B. Abdulhai, . IEEE Transactions on Intelligent Transportation Systems. Vol. 13 (3), pp. 1442 - 1453. (2012)

Managing Speed at School and Playground Zones, in .

Lina Kattan, R. Tay and Sh. Acharjee. Accident Analysis and Prevention, . (2011)

A Multinomial Logit Model of Pedestrian-Vehicle Crash Severity .

Richard Tay, Choi Jaisung, L. Kattan and Khan Amjad, . International Journal of Sustainable Transportation. Vol. 5, No. 4, pp. 233 - 249. (2011)

Factors Contributing to Hit-and-Run in Fatal Crashes .

Barua Upal, Tay Richard and L. Kattan. Accident Analysis and Prevention. Volume 42, pp. 227- 233. (2009)

Kaysi Isam, Mahmassani Hani S., Arnaout Sati' and L. Kattan, 2000. Phasing out lead in automotive fuels: conversion considerations, policy formulation, and application to Lebanon. Transportation Research – Part D: Transport and Environment,.

Kaysi Isam, Mahmassani Hani S., Arnaout Sati' and L. Kattan. Transportation Research – Part D: Transport and Environment. Volume: 5, Issue: 6, pp. 403-418. (2000)
In the News
Colourful pilot project curbing speeding in Calgary community. Global News. (2019)