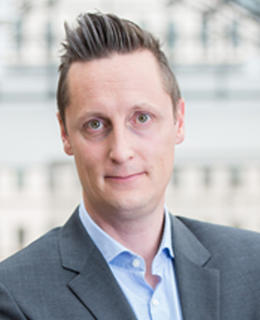 Leighton Wilks
Positions
Associate Professor (Teaching)
Haskayne School of Business, Organizational Behaviour and Human Resources [OBHR]
Associate Dean
Haskayne School of Business, Teaching and Learning
Background
Educational Background
B.A. Psychology, University of Calgary, 2000
M.B.A. Human Resources, University of Calgary, 2007
Biography
Leighton Wilks is a Senior Instructor and PhD candidate in Organizational Behaviour and Human Resources. His research interests include corporate social responsibility, strategic partnerships, cross-cultural management, international human resources management, negotiation, and ethics.
Leighton has a significant consulting background in diverse areas including real estate development, strategic planning, and cross-cultural training.
Leighton has received several academic awards and scholarships, including the Robert A. Wilson Doctoral Management Scholarship, the Human Resources Association of Calgary Graduate Scholarship, the Queen Elizabeth II Graduate Scholarship and the J. Armand Bombardier Internationalist Fellowship. In 2019 he was inducted into the University of Calgary Students' Union Teaching Excellence Hall of Fame and also received a Calgary Award for Community Achievement in Education.
Leighton holds a MBA (thesis-based) and a BA in Psychology from the University of Calgary. His dissertation research looks at corporate social responsibility within the oil and gas industry, with a specific focus on strategic partnerships that are enacted to achieve social value.
Awards
X-Culture 25 Best Instructors Award,

X-Culture.

2019

Calgary Award - Community Achievement Awards (Education),

City of Calgary.

2019

Commerce Undergraduate Society (CUS) Superior Service Award,

Commerce Undergraduate Society.

2019

University of Calgary Students' Union Teaching Excellence Award (Hall of Fame),

University of Calgary Students' Union.

2019

X-Culture 25 Best Instructors Award,

X-Culture.

2018

Commerce Undergraduate Society (CUS) Undergraduate Teaching Award,

Commerce Undergraduate Society & Haskayne Students' Association.

2018

Dean's Award - Teaching Excellence,

Haskayne School of Business.

2018

Haskayne Teaching Fellowship,

Haskayne School of Business.

2017

University of Calgary Internationalization Achievement Award – Academic Staff Member (New),

University of Calgary.

2018

University of Calgary Students' Union Teaching Excellence Award,

University of Calgary Students' Union.

2018