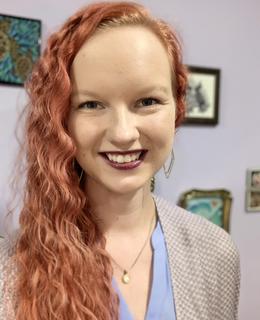 Positions
Student Assistant
Libraries and Cultural Resources
Background
Educational Background
MA English, University of Calgary, 2019
BA Honours English, University of Calgary, 2018
Biography
My primary research interests are located around the environmental humanities and radical revisionings of being in community — both pedagogically and practically — as a model of literary practice. My current work explores the intersections of environmental narratives, activism, and land-based embodied rhetorics of resistance. I am a Killam Laureate (2020-2022) and hold a Joseph-Armand Bombardier SSHRC Doctoral Fellowship: https://grad.ucalgary.ca/news/english-student-explores-how-we-understand-climate-change-through-narrative.
I have forthcoming research on environmental vulnerabilities, marginalized bodies, and climate crisis in Jesmyn Ward's Salvage the Bones (book chapter forthcoming, early 2023) and the ecoGothic and vegetal horror in Shirley Jackson's We Have Always Lived in the Castle (co-authored with Amy LeBlanc).
Some recent publications include:
Nature as radical space in queer young adult narratives (Research on Diversity in Youth Literature)
Archival practice and public-facing pedagogy in Canadian audio archives (English Studies in Canada)
Eco-conscious memory and the power of story (Herbaria 3.0)
I am currently a researcher on the SSHRC-funded, multi-institutional SpokenWeb project: https://spokenweb.ca/mistakes-in-the-sound-archive-an-interview-with-leah-van-dyk/.
I am also the former Director (2020-2022), President (2019-2020), and member of the Anti-Racism and Decolonization Community Collective (ARDCC) of the English Department Graduate Association (EDGA).
Research
Areas of Research
Environmental Literature and Eco-Criticism, Indigenous Literatures, Cultural Studies, Pedagogy, Gender and Sexuality
Courses
| Course number | Course title | Semester |
| --- | --- | --- |
| ENGL 253.02 | Poetry | Winter 2022 |
| ENGL 509/677 - non-marking | Remediating the Archive | Winter 2022 |
| ENGL 265 | Intro to Creative Writing | Fall 2021 |
| ENGL 251 | Literature and Society | Winter 2021 |
| ENGL 251 | Literature and Society | Fall 2020 |
| ENGL 405 - Non-marking | Middle English Literature: The Canterbury Tales | Spring 2020 |
| ENGL 307 | Literature After 1700 | Winter 2020 |
| ENGL 305 | Literature Before 1700 | Fall 2019 |
Awards
Izaak Walton Killam Pre-Doctoral Scholarship,

Killam Laureates.

2020

Joseph-Armand Bombardier Canada Graduate Scholarship Doctoral Award,

SSHRC.

2020
Publications
Access and Public-Facing Pedagogy in Digital Archival Production.

English Studies in Canada. Vol. 44, no. 2, pp. 37-51. (2020)

Into the Woods: Queer Natures in Malinda Lo's Ash.

Research on Diversity in Youth Literature. vol. 3, no. 1, pp. 1-22. (2021)

(De)composing Gothicism: Disturbing the (eco-)Gothic in Shirley Jackson's We Have Always Lived in the Castle.

Amy LeBlanc. Forthcoming. (2022)
Salvaging Vulnerabilities: Climate Crisis and Marginalized Bodies in Jesmyn Ward's Salvage the Bones.

Jesmyn Ward: New Critical Essays. (2022)